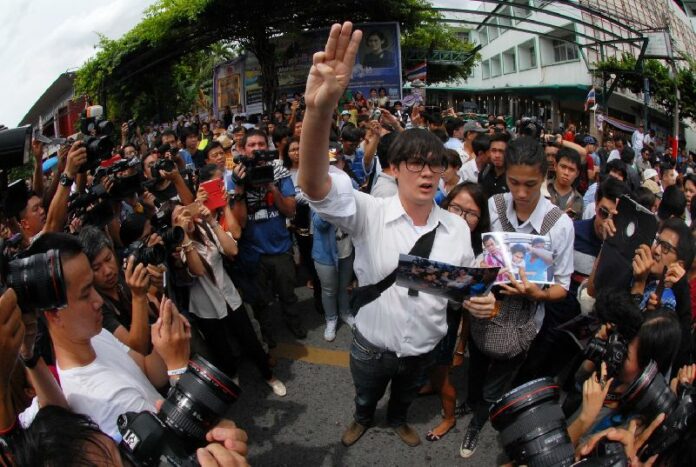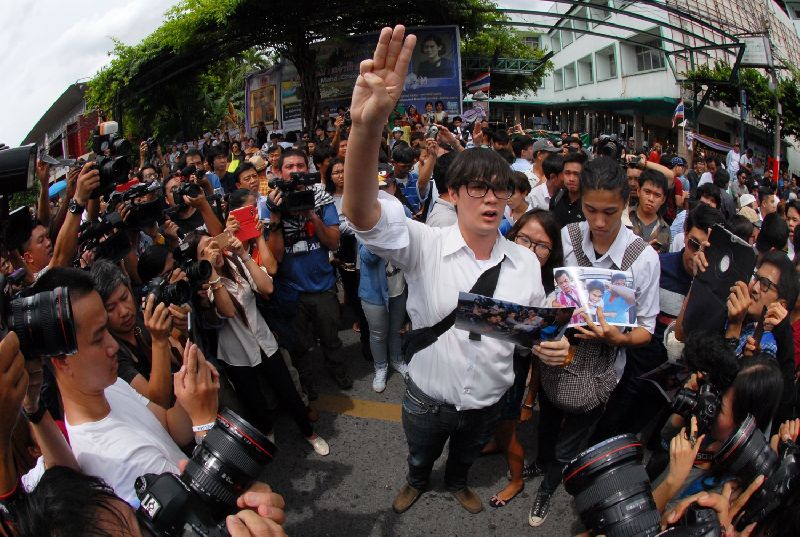 BANGKOK — Seven pro-democracy activists successfully filed complaints against three security officers who allegedly abused them during a protest last month, following a stand-off with police that lasted for nearly seven hours yesterday.
The seven activists are among those charged with violating the junta's ban on protests by staging an anti-coup "sit-in" in Bangkok on 22 May – the first anniversary of the 2014 coup d'etat. Police and army officers forcefully broke up the peaceful demonstration by dragging each activist away from the scene.
The seven activists, most of whom are university students, arrived at Pathumwan Police Station at around 1 pm yesterday to file complaints against two army and one police officers who allegedly kicked, punched, and taunted them during the crackdown.
Police initially prevented the group from entering the police station, leading to a seven-hour standoff, until Col. Burin Thongprapai, an officer from the martial court, arrived at the scene and negotiated with the activists. Acting on Col. Burin's command, police finally permitted the activists' legal representatives to file the complaint on their behalf at around 8 pm.
After an hour, their lawayers emerged and declared they had successfully filed the complaint against the three security officers, identified as Pol.Col. Charut Saruttayaporn, Col. Suwit Ketsri, and Lt.Col. Passakorn Kularawiwan.
The seven activists, who had been joined by around 60 other student activists and supporters, then dispersed from the scene without any arrests.

The seven pro-democracy activists who filed a complaint against security officers after a seven hour stand-off outside Pathumwan Police Station in Bangkok, 24 June 2015.
The activists who filed the complaint are Rangsiman Rome, 22; Chonthicha Chaengrew, 22; Ratthapol Supasopon, 22; Songtham Kaewpanpruek, 23; Pornchai Yuanyee, 24; Pakorn Areekul, 26; and Abhisit Sapnaphapan, 29.
The charges filed by the activists are largely symbolic, as security officers are exempted from any legal prosecution if a martial court deems their actions "not excessive" and committed within "sincere intention," according to an order issued by junta leader Prayuth Chan-ocha on 2 April.
Despite photographic evidence of the forceful crackdown, leading government officials have also denied that security officers acted excessively.
Of the nine people charged in connection with the 22 May demonstration, one reported to police voluntarily on 22 June. Chartchai Kaedum, who had campaigned against the former government toppled by the current junta, said he was only observing the protest, and was mistaken as an activist by a plain-clothed army officer.
Another suspect, Nachacha Kongudom, was arrested at a hospital yesterday morning, where she was being treated for tonsilitis. She was taken to martial court and granted bail on the condition that she does not join any political activities.
Kritsadang Nutcharus, a lawyer who represented Nachacha and the seven activists at Pathumwan Station last night, has argued that the 22 May demonstration was a lawful expression of opinion.
"The authorities should open their hearts and listen to the activists, instead of suppressing different opinions," Kritsadang said.
Kritsadang also criticized the decision to issue arrest warrants on the seven activists for failing to surrender themselves before the 19 June deadline given by police. According to Kritsadang, the activists were unable to report to police on 19 June, and had announced their intention to report on 24 June, but police ignored their request for a postponement.
"I'd like to ask the officers to repeal these arrest warrants, because the action of these young people are simply symbolic," Kritsadang said. "The officers should talk to the activists and reach some understanding."
Rangsiman, one of the seven activists, told reporters he believes the police are attempting to "politically bully" him and his friends. He also accused the police of lying to the activists on the night of 22 May by reportedly saying they would not face any charges.
"We asked the police to release us without any condition, and the police agreed and promised they wouldn't file charges," Rangsiman said. "But they ended up charging us and issuing arrest warrants later."
He also told the media yesterday, "Let me repeat that we were not here today to surrender ourselves, but to file charges against the police for assaulting us when they arrested us. We resolutely reject any form of dictatorial power of the government and the security officers."