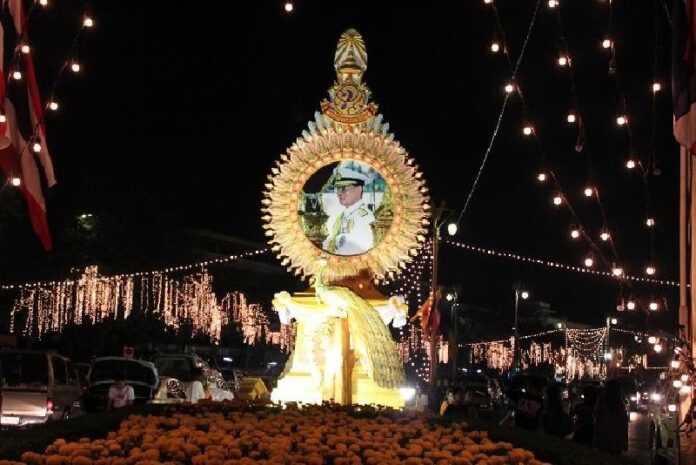 CHIANG RAI — A Chiang Rai man was sentenced to five years in prison today for destroying a portrait of His Majesty the King a year ago, despite his lawyers' insistence that he was mentally disabled.
Samak Pante, 49, was found guilty of defaming the monarchy and sentenced by a military tribunal a year after he was arrested for dismantling a giant, roadside portrait of King Bhumibol.
Samak was charged with defaming the monarchy under Section 112 of the Thai Penal Code – a law known as lese majeste. He was sent to stand trial under the martial court. The 87-year-old monarch is widely revered in Thailand, where banners and portraits of him can be found on almost every street and building.
Today the military court found Samak guilty of the charge, which carries a maximum penalty of 15 years in prison and sentenced him to 10 years in jail. The jail term was ultimately halved because Samak pleaded guilty. He was also fined 50 baht for carrying a weapon when he was arrested last July.
In the verdict, the court rejected the defense's argument that Samak suffered from mental illness and has a history of destroying objects around him. Samak's lawyer also argued his client had sought hospital treatment for his mental conditions.
Police immediately escorted Samak to a prison after the verdict was read.
Although lese majeste prohibits only libelous and threatening remarks made to His Majesty the King, Her Majesty the Queen, the Heir-Apparent and the Regent in the letter of the law, in practice the law has been interpreted to cover any action or remark generally deemed negative toward the royal institution.
Enforcement of lese majeste has been significantly stepped up after the royalist Gen. Prayuth Chan-ocha staged a military coup against an elected government in May 2014. Per Prayuth's order, the military court has been granted jurisdiction to try civilians in criminal cases that "affect national security," including lese majeste.
In May this year, a court sentenced a 65-year-old woman to three years in jail for kicking a portrait of King Bhumibol in front of a Bangkok court building. Although the court recognized the woman, Thitinand Kaewchantranond, had been diagnosed with a mental illness, it argued that she could have attempted to restrain herself from doing it.
Related stories:
Mentally Ill Woman Jailed for Kicking King's Portrait
Thai Royalists Thank Prayuth for Suppressing Discussion of Monarchy
Thai Junta to Diplomats: Lese Majeste is 'Cultural Offense'
For comments, or corrections to this article please contact: [email protected]