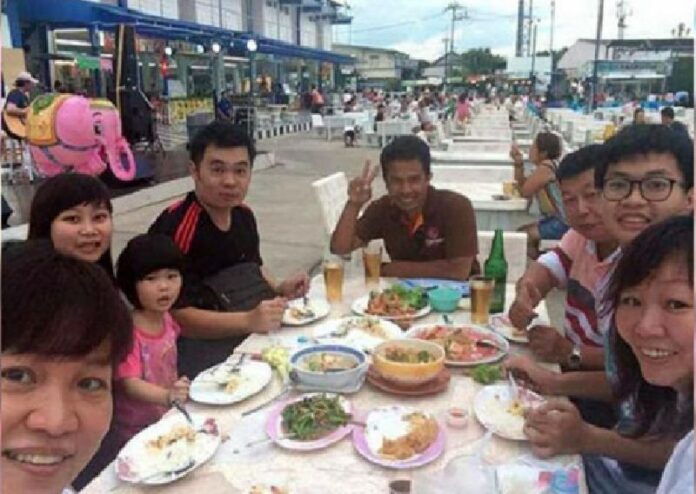 BANGKOK — Terror was unleashed on an unprecedented scale in Bangkok on a Monday night as an explosion, clearly intended to inflict maximum carnage, tore through a tourist site important for both secular and sacred reasons, turning Monday evening's usual bustle into a horror of blood and human remains.
Twenty people died in the 6:55 pm blast on 17 Aug., the worst such incident in the modern Thai state's history. More than 150 were injured.
While authorities vow to track down those responsible, and vectors of blame and suspicion are cast, attention must not stray from those who lost their lives.
Khaosod English is committed to gathering information about those whose lives ended last night or in the following hours, so that we may honor them respectfully and not let them be forgotten in the flurry of iterative news updates.
Though little is known of them at this time, some only names and nationalities, we will endeavor to learn more that we can share who they were in life.
This is a work in progress. If you are a family member, have reliable information or belong a news outlet with information to share, please contact us.
Here are the deceased, based on what we know about them so far.
---
Ms. Nam-oi Saengchan, 30, of Thailand
Nam-oi worked at a gift shop in the Lat Krabang area, her older sister Chantakansinee Sriwaranukul told Khaosod English. She was visiting Erawan Shrine to pray with two other friends. After the bomb went off, Chantakansinee said her family spent the rest of the night frantically searching for Nam-oi and only learned about her death on the following morning.
---
Mr. Suwan Sattayaman, 30 of Thailand
Suwan, called "Od," was born with a disability affecting his arm. He couldn't raise it much. But that didn't stop him planting incense and candles for the worshipers who swarmed the Erawan Shrine daily. His main job was keeping it clean. He would travel about two-and-a-half hours back to Ratchaburi, sometimes with his father who also worked in Bangkok, to visit the home his family built entirely with money provided from his job at the shrine. They had just visited home Sunday, and his cousin Pichet Sakhonsith remembers Suwan – an avid cockfighting fan – asking the family to take care of one of his favorite roosters. He had a 6-year-old boy and a fiancee. The two planned marrying soon.
"It's the wish of his mother that her son will be at his own home," Pichet said.
---
The following five victims were relatives who traveled to Bangkok together by train from Malaysia two days before the bombing. Only two of the seven family members praying at the shrine on Monday night survived: Neoh Hock Guan, 55, and his five-month pregnant daughter, 33-year-old Neoh Ee Ling.
"Right now all I have left is my daughter and her child, and I don't know how much her pregnancy was affected," Hock Guan told reporters at the hospital on Tuesday.
Ms. Lim Saw Gek, 49 of Malaysia
Lim Saw Gek was the wife and mother of the two surviving family members who were paying respect to Erawan shrine when the bomb detonated. She died alongside her sister, son, granddaughter and son-in-law. She also survived by her 71-year-old mother, the matriarch of the family, who was at home in Malaysia when the bomb detonated. Saw Gek and her husband Hock Guan ran a successful pastry business from their home in Butterworth, Penang. When she wasn't baking cakes, Saw Gek was firing up "very delicious" dishes from at thick book of recipes she had been compiling for more than 30 years, said Lim Gim Seong, a friend of the family. For several years, she spent every Thursday preparing and delivering meals to a nursing home.
Ms. Lim So See, 52 of Malaysia
Lim So See was reported missing for several days after the blast, but her remains were identified on Wednesday. Her sister, who also died in the bombing, was the wife and mother of the only two family members who survived the blast. So See worked as a hairdresser in Singapore, where she lived with her 24-year-old son. He told Khaosod English she had many talents, like singing and belly dancing, and was "beautiful, smart, outgoing, approachable and fun."
Mr. Lee Tze Siang, 35 of Malaysia
Lee Tze Siang died alongside his 4-year-old daugher Lee Jin Yuan while he was visiting the shrine on Monday night. Of the seven family members who traveling together in Bangkok, only his 33-year-old pregnant wife, Neoh Ee Ling, and his father-in-law Neoh Hock, 55, survived. He ran a clothing business in Penang and was described by a friend as a gentle and polite family man.
"During festivals, he'd be the one buying all the food for us," his sister, Lee Tze We, 27, told Malay Mail.
Ms. Lee Jing Xuan, 4 of Malaysia
4-year-old Lee Jing Xuan is the youngest known victim of the bombing. Of the six relatives who accompanied her at the shrine, only her mother, who was five months pregnant with a third child and her 55-year-old grandfather survived. Her father, aunt, uncle and grandmother also died in the blast. She is also survived by her 6-year-old brother, who did not accompany the family on the trip to Thailand.
Mr. Neoh Jai Jun, 20 of Malaysia
Neoh Jai Jun, a 20-year-old student at a university in Taiwan, was visiting Bangkok with six of his relatives during a school break when the bomb claimed five of their lives. He died alongside his mother, aunt, brother-in-law, and niece. Only his father and sister survived. A friend of the family in Penang said Jai Jun was a hard-working student, who formed a tight-knit group of friends from secondary school and university.
Five of seven members of a Malaysian visiting the Erawan Shrine Monday were killed. Earlier this photo was taken of them eating in Bangkok with a local guide, seated at center. Neoh Ee Ling, second from left, and her father Neoh Hock Guan, third from right, were the only two to survive. Ee Ling's young daughter and husband died, as did Hock Guan's wife. Photo: Sin Chew Daily
---
Ms. Arcadia Pang Wan-chee, 24 of Hong Kong
Pang Wan-chee, 24, went by the name Arcadia. She was traveling with 19-year-old Chang Wing Yan and a Thai girlfriend who also died in the blast. They were reportedly visiting the shrine in a group of five at the time. Two others survived their injuries. Arcadia was studying human resource management at the Institute of Vocational Education in Hong Kong, BBC reported.
---
Ms. Vivian Chan Wing Yan, 19 of Hong Kong
Chan Wing Yan, a 19-year-old British national went by the name Vivian. She was traveling with another friend from Hong Kong, 24-year-old Pang Wan Chee, and a Thai girlfriend who also died in the blast. They were reportedly visiting the shrine with two others, who survived their injuries. Vivian graduated from the prestigious Harrow International School in Hong Kong in 2014 and went on to study law at the University of London's School of Oriental and African Studies. She had recently transferred to BPP University in London. Numerous tributes written on a Facebook page created to honor Vivian's memory describe her as a warm and generous spirit with a sunny smile.
"You're cheerful and kind, always there to make us laugh," read a post signed by Jeff Lok. "You were one of the first faces I came to know at university and had one of the brightest smiles I'd ever seen," Serene Reza wrote.
Friends say Vivian was a passionate foodie who maintained a blog and popular Instagram account. On the day of the bombing, Vivian published a final Instagram photo of a crab dish, accompanied by an enthusiastic review of what she described as "one of the best seafood restaurants in Bangkok."
---
Ms. Melisa Liu Rui Chun, 34 of Singapore
Melisa died on the spot after the bomb exploded on Monday night. She was with her 35-year-old husband, Ng Su Teck, who was injured by glass shards from the explosion, according to Straits Times. She worked for the Singapore branch of the French insurance company AXA. Her brother was one of seven Singaporeans injured in the blast.
---
Lioe Lie Tjing, 61, from Indonesia
Lioe was killed while she was visiting the shrine with her husband, Hermawan Indrajaja, 61, who was taken to a hospital intensive care unit for treatment.
---
Ms. Gao Yu Zhu of China
---
Mr. Diwo Chengi of China
---
Ms. Suchada Niseeda, 32 of Thailand
Suchada hailed from the Chiang Kan district of Loei province. Her husband Santi Thetchan said Suchada would walk past Ratcharasong intersection after leaving her job at Standard Chartered Bank Thailand to catch a bus home. Before getting on the bus Monday, she and another bank colleague, Pranee Seesuwa, stopped by to pray at the shrine before continuing home. Both died in the blast. Suchada leaves behind her husband and 9-year-old daughter. She was to be cremated Saturday.
"I am really sad. I want to ask them, why did they not care about other people?" Santi said.
---
Ms. Pranee Seesuwa, 39 of Thailand
When Pranee felt troubled and needed someone to talk to, she would ask her friend and bank colleague Suchada Niseeda to join her for a prayer at Erawan, maybe get a bite to eat afterward before heading home to the Din Daeng area, her mother, Chantee Lao-udee said. At least once a year during New Year, Pranee would head home to Bueng Kan province, which is about as northeast as one can get in Thailand without being in Laos. She just arrived back in Bangkok on 3 Aug. from a rare second visit home this year, a return delayed because she was delighted to be together with her four siblings.
"My daughter joked that soon she might get to stay home forever and not have to go to work, because last night she dreamed she was fired by the bank director. I never thought that her words would be last time I saw her," Chantee said.
---
Ms. Waraporn Changtham, 45 of Thailand
Not much is know about Waraporn Changtham yet, but that she worked for herself.
---
Mr. Yutthanarong Singharor, 38 of Thailand
Yutthanarong was often traveling around his native Bangkok. That was his job – delivering documents for his company located on the eastern fringe of Bangkok's cosmopolitan core, just past Udom Suk. About an hour before the bomb went off, he phoned his brother to tell him he was making a run to deliver a document at CentralWorld, located catty-corner from the shrine. That was their last conversation.
"I don't know how to live my life from now on," Kritsuda Narongplian, his wife, said.
---
Huang-Yu Lan of China
---
Sao Qimg of China
---
Wang Da of China
---
Khaosod English correspondent Sally Mairs contributed to this report.
Related stories:
Police Widen Hunt for Bombing 'Network'
Bangkok Shrine Bombing: Those Who Died
Day in Photos: Expressions of Grief, Unity After Terror Attacks
Briton Dies in Bangkok Shrine Bombing
Despite Lack of Evidence, Thai Media Points Blame at Uighurs
Tourists Narrowly Escape Second Bangkok Bombing in 24 Hours
Bangkok Shrine Bombing: Police Hunt Backpack Man
Tourists Among 19 Killed by Bomb at Bangkok's Erawan Shrine
To reach us about this article or another matter, please contact us by e-mail at: [email protected].