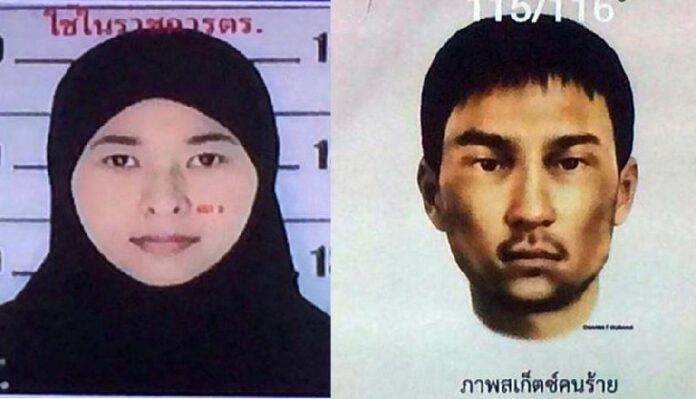 BANGKOK — Arrest warrants for a Thai woman and a foreign national suspected of involvement in the bomb attacks earlier this month were issued this afternoon following a second raid conducted in the capital's Min Buri district.
Following the arrest of a foreign man in Bangkok's eastern suburbs and a second raid elsewhere turned up a large quantity of bomb-making materials, a court this afternoon issued fresh warrants for two more people suspected of involvement in the 17 Aug. Erawan Shrine bombing.
"We would like to ask owners of apartments, dorms or rental houses that have foreign residents whose appearances match these descriptions to immediately contact security officers, because these individuals may have materials that could be dangerous to the buildings and other residents," Lt. Gen Prawuth Thawornsiri, police spokesman, said this afternoon in a televised address.
One warrant is for 26-year-old Wanna Suansan, a Thai woman said to have rented out a Min Buri room raided Saturday night, where authorities said they found bomb-making materials. The other suspect is an unnamed man whose nationality has not been confirmed.
In a photograph of what authorities said is Wanna's national ID card, she is shown wearing hijab. The other suspect is an unnamed man whose nationality has not been confirmed, Prawuth said.
Investigators at the Maimuna Garden Home on Rath Uthit Road in Bangkok's Min Buri district on Sunday.
Forty soldiers and police officers converged on a Min Buri apartment building where they believe Wanna was staying. They discovered illegal materials including two bags of fertilizer, gunpowder, bolts, remote-controlled toys, electric bulbs and digital watches, according to Prawuth.
The building is located in a Muslim enclave near a mosque and shops selling hijab and halal food.
According to Police Col. Susak Parakmakul, a senior officer with the Bangkok Metropolitan Police, previous arrests were made in the same district two years ago of suspected bomb makers. He declined to conclude whether the fertilizer and gunpowder found in Saturday's raid was related to Erawan Shrine bombing.
"We have to wait for the forensic police to investigate the evidence in details to determine whether these [evidence] are related to the bomb incident at Ratchaprasong intersection," Susak said yesterday.
Materials investigators said were recovered from the home of a suspect arrested Saturday in the capital's Nong Chok district.
There have been no further arrests since the first apparent break in the case led to the arrest of a foreign man, whose nationality and name have yet to be verified, at an apartment in the Nong Chok district on Saturday. Police said they found a large amount of bomb-making materials and fake Turkish passports. The man is currently being detained at an army base for interrogation.
However both Somyot and police spokesman Lt. Gen. Prawuth Thawornsiri said the amount of materials and explosives recovered so far could have been used for possible future attacks.
"It's possible," Prawuth said yesterday. "There were around 10 detonators in his room."
The break in the case came after investigators spent nearly a week searching through phone traffic data near the site of the attack and found "Turkish phone numbers" using international roaming services, according to an unidentified police source in a Bangkok Post report.
Prawuth said yesterday interrogation of the suspect has yielded useful information, although he has not confessed to being involved.
"As for the interrogation of this suspect, I cannot disclose the details yet, but I can assure you that it's very useful for the case. I also cannot yet confirm the nationality of this suspect. After the military completed interrogation, they will send him to police for legal prosecution," Somyot said.
In a special order issued by junta chairman and Prime Minister Prayuth Chan-ocha in April, soldiers are permitted to detain individuals and search properties without court warrants.
Twenty people were killed and more than 150 injured in the bomb that struck Erawan Shrine on 17 Aug. Another bomb exploded in the water next to Sathorn Pier on 18 Aug., though no one was injured by the blast.
Before today, police had issued two arrest warrants for two suspects: a yellow-shirted man seen in CCTV placing his backpack at Erawan Shrine minutes before the bomb went off, and a blue-shirted man seen in security camera kicking a bag into the canal next to Sathorn Pier.
The man arrested Saturday, identified in a forged Turkish passport as Adem Karadag, was "definitely one of the team" behind the bombings, Prawuth said yesterday.
Somyot today sought to assure the public of its safety.
"Government and security force have expressed concern and are monitoring situation around the country closely, because the confiscated items were large amount of explosives could have been used in other incidents. However, the people can rest assured that security officers can maintain the situation."
No one has taken credit for the bombing, leading to speculation ranging from Thailand's internal political divide and southern separatist movement, to far-right Turkish fascists angered by Thailand's deportation of Uighur refugees, or even a faction of the Thai military.
Meanwhile, a 3 million-baht bounty for suspects in the Erawan Shrine bombings set by the police force will go to the police investigators who tracked down and arrested the foreign man on Saturday, Somyot said.
Police had promised to pay the bounty to any member of the public who has information leading to arrest of the suspects behind the bombings, but Somyot said they have in fact received no useful tips from the public.
"I will present it to the investigation team because they managed to arrest the suspect at the apartment," he said.
Outgoing national police chief Somyot Pumpanmuang this morning showed the cash officers will receive for Saturday's arrest.
Related stories:
Police Search for More Suspects After Arrest
Floundering Bomb Investigation Deepens Doubts About Competency
No Longer Whole, a Family Buries its Dead and Waits for Answers
City Officials Bridle at Claims of Broken CCTVs
Bangkok Bombing Dragnet Yields 142 Unrelated Arrests
Bangkok Bomber May Have Fled Thailand: Police
Man Dropped Bag into Water Night Before Sathorn Pier Blast
Seen Often on Sathorn 10, Suspect Thought to Use Fake Turkish Passport
Leaked Police Report Tracks Lead Suspect Before, After Bombing
1M Baht Bounty for Bangkok Bomb Suspect
Bangkok Shrine Bombing: Those Who Died
Despite Lack of Evidence, Thai Media Points Blame at Uighurs
Tourists Narrowly Escape Second Bangkok Bombing in 24 Hours
Bangkok Shrine Bombing: Police Hunt Backpack Man
Tourists Among 19 Killed by Bomb at Bangkok's Erawan Shrine
To reach us about this article or another matter, please contact us by e-mail at: [email protected].