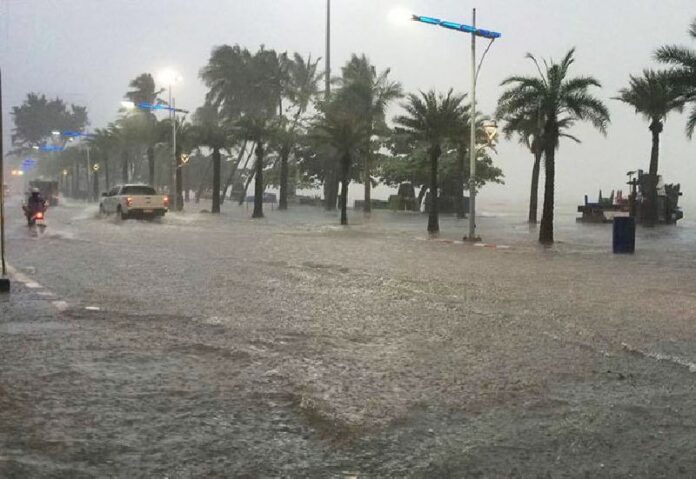 BANGKOK — A powerful tropical storm from the South China Sea is causing havoc over the southern and eastern regions of Thailand, with devastating floods that threaten to cut off some communities from the outside world.
Since arriving over Thailand on Tuesday, tropical storm Vamco has unleashed heavy rainfall and gales of wind causing floods and damage in various locales, and its effects will continue to be felt through tomorrow, the Meteorological Department said.
In the last 24 hours, there were reports of heavy rain and flooding caused by Vamco in at least four provinces: Chonburi, Trat, Chumphon and Trang.
Southeast of Bangkok in Chonburi province, home to the popular resort town of Pattaya, floods hit many roads and alleys, including a beach-front road where many restaurants, hotels and bars are located.
Floods were also reported at main roads around Sattahip district, causing major traffic jams that lasted for several hours.
While many shops were forced to close down because of the storm, one roadside restaurant on Sukhumvit Road decided to stay open for customers nonplussed by the deluge.
Owner Sophon Thongsamrit said typical flooding only reaches the front of his shop.
"But this time, it's really severe," Sophon said. "It flooded my shop. But I don't know why I should just close it down. It's better to just continue my business. It would be a unique experience for the customers, too."
Diners roll up their pants and make do at this Chonburi restaurant.
Meanwhile, local authorities in the southern province of Chumphon dispatched workers to fix a bridge in Pa To district, which has been damaged by the flood.
The bridge, which passes over Lang Suan River, is the only transport link connecting villages to the outside world. It is also a way to a popular river rafting destination for tourists there.
Wongsasiri Promchana, governor of Chumphon, said authorities are also monitoring any possible landslide in the province.
Flooding today in Chumphon province.
Flooding today in Chumphon province.
Flooding yesterday in Chonburi province.
Flooding yesterday in Chonburi province.
Flooding yesterday in Chonburi province.
To reach us about this article or another matter, please contact us by e-mail at: [email protected].