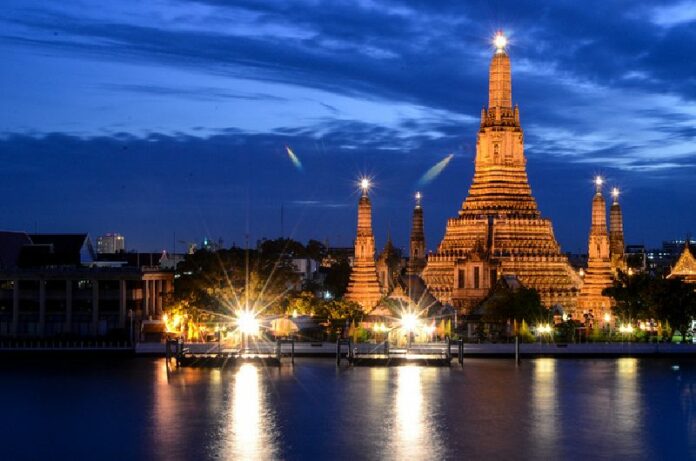 BANGKOK — Ring in the holidays with no ATM fees, free Wi-Fi, free public transportation and an epic countdown at a world-famous landmark, all year-end gifts tourism officials have proposed the ruling junta place under the public's Christmas tree.
A top tourism official called Monday for a raft of feel-good freebies, the highlights of which included a walking street around Wat Pho, and moving the official countdown ceremony to Wat Arun for a light and sound show over its famous stupa. The temple party will end at 10pm to allow revelers to enter the New Year in prayer.
"Thailand's image we want people to memorize as we enter the ASEAN community, is the Wat Arun Temple waterfront," Minister Kobkarn Wattanavrangkul said in televised comments Monday.
The military government has been pulling out all the stops to promote the Wat Arun countdown, reportedly appealing to international news networks such as CNN to feature it in their coverage.
Kobkarn said the temple's beautiful setting would attract international news outlets to feature Thailand, including people quietly praying, which she deemed a uniquely Thai celebration. She claimed 17 million nationwide prayed overnight last year.
The ministry also asked for junta approval to lift the ATM withdrawal fees Dec. 31 to Jan. 3 to stimulate spending. Mobile phone service providers AIS, DTAC and True Corp. have agreed to let customers use their Wi-Fi networks for free during the same period.
On countdown night, the BTS Skytrain will extend its operating hours to 2am.
Kobkarn said she believes these policies would bring in an additional 12 billion baht during the festive season compared to last year.
The head of the national tourism authority also floated a "grateful children" tax break under which domestic travelers could deduct expenses for travel made with their parents. It would currently replace a general deduction allowance for local tourism expenses of up to 15,000 baht.
"We will discuss with the Ministry of Finance to propose the tourism tax policy for grateful children," Yuthasak Supasorn, head of the tourism authority, told Thairath. "We will use the same model as the current deduction for those who buy health insurance for parents."
Yuthasak said with 500 million baht more spent on domestic marketing, tourism revenue was expected to reach 9 billion baht next year. International arrivals was anticipated to hit 1.6 trillion baht.