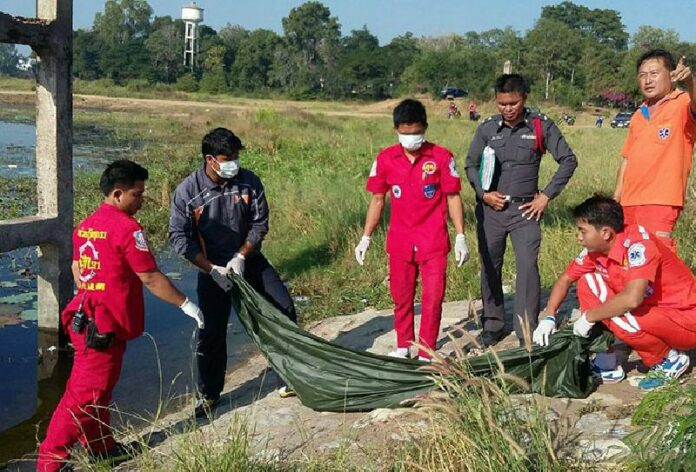 By Teeranai Charuvastra
Staff Reporter
NAKHON RATCHASIMA — An undertaker dumped a body he'd only partially cremated into a reservoir supplying residential drinking water because he was too tired to carry it further, police in Nakhon Ratchasima province said today.
After incompletely cremating a man's body, Manas Sribuadaeng, 63, stopped short of the designated burial site because – as he later told police – he just became too tired along the way. So he wrapped the body in a bag and dumped it into the Huay Yang Reservoir.
Local residents discovered the body yesterday and alerted the police, who alerted the media, who initially speculated the deceased was a victim of some gruesome murder. Police later tracked the remains to Manas, an undertaker at a temple two kilometers from the reservoir.
"We investigated the incident and found out that the undertaker dumped it into the water," said Worawuth Leksunthorn, a local police officer. "We asked him why. He said he failed to cremate the entire body and wanted to bury the rest. But he's old. He's almost 70. He didn't make it to the burial site and threw it in the water."

Manas told police whose body the partially burnt corpse belonged to; Lt. Col. Worawuth said they're awaiting DNA results to confirm it's who he said it was. For now, they have not charged him with any crime.
"As far as I see it, I think he was telling the truth, but we have to confirm the facts before we can charge him," Worawuth said.
At the least, Manas will be charged with violating public cleanliness laws, he added.
It wasn't clear whether anyone was concerned about possible health effects, as Worawuth said local residents often use the water for drinking and other uses.
When asked about any possible health and environmental impact, an official at Kok Kruad Municipal Office referred a reporter to the local office Royal Irrigation Department, which was said to have jurisdiction over the reservoir. Officials at the irrigation department were not immediately available for comment.