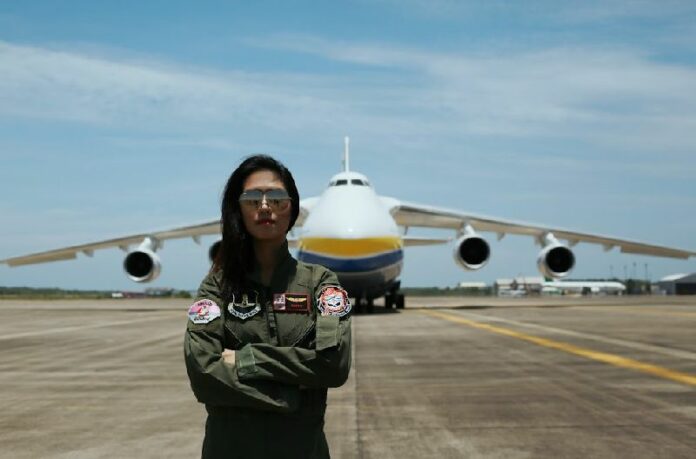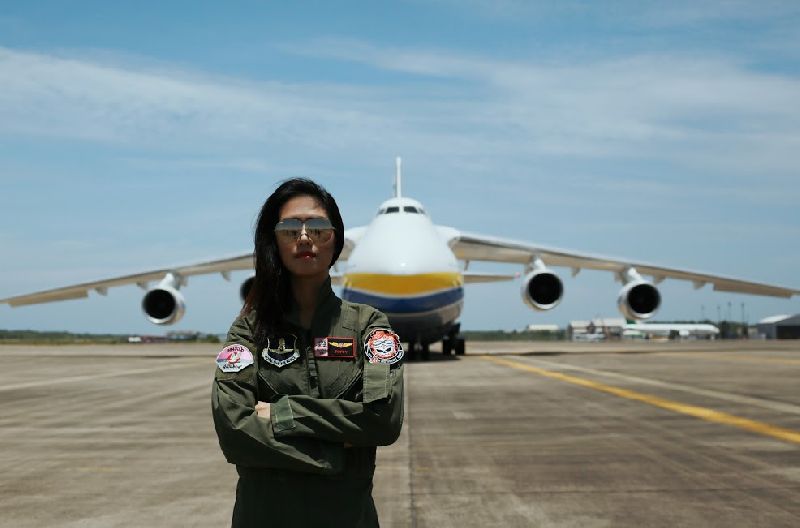 BANGKOK — When I first met Chatchuma Thanisaranont, I hardly recognized her without her signature olive-green flight suit adorned with mission patches, pair of aviators and bright red lips.
That's the public image of a woman who enjoys pulling Gs in high-performance aircraft and recovering from terrifying stalls. She's built a loyal social media following within the aviation community and actively encourages young women to consider becoming pilots. In fact, when I met her recently, she was holding a contest for one of her fans to accompany her on an observation flight.
Her nickname is "Toff," short for Toffee. Expecting a boy, her parents had picked out "Top," so her arrival necessitated a slight tweak. They got more than they bargained for, as today Toff lists mechanical engines, cars, trucks, jet skis, and planes among the things she's most interested in.
"I don't really care about beautiful things," she says. "I just want them to be fast."


Photo: Chatchuma Thanisaranont / Facebook
Toff's call sign is "Redhot," derived from her choice of lipstick color.
We started our conversation comparing our favorite military aircraft: Mine: the F-104 Starfighter, "the missile with a man in it." Toff: the supersonic Northrop F-5T Tigris operated by the Royal Thai Air Force.
"The plane, sitting in the hangar, is just so handsome. So smart," she says, in a tone of smitten respect for the inanimate jet fighter.
A deep admiration for the F-5 started when Toff's father, an aircraft mechanic in Korat's Wing 1, was assigned a new role: Chief Aircraft Mechanic at the Udon Thani airbase, where a fleet of F-5s were stationed. As soon as she learned to ride a bicycle, she would pedal over to the hangar and watch her father's team disassemble and overhaul the sleek ground-attack aircraft.
Chatchuma's ardor for aviation is apparent and complete. That she has "the right stuff" to be a fighter pilot is in little doubt.
Only she's not. She can't be. Women are not allowed to fly in the Royal Thai Air Force.


Toff hotdogs through some aerial acrobatic maneuvers
"My father laughed when I said I wanted to be a fighter pilot; he said maybe when the time comes, things will change." She waited, but the laws never changed. She applied to be an air hostess after finishing college to stay close to the aviation field, "At the time, my English wasn't good enough to pass the second round." Not getting the call back turned out to be a good thing.
"I realized that I really didn't want to be in the cabin serving drinks, I wanted to be in the front seat flying the plane." She set her sights on becoming a commercial pilot.
Getting off the ground in this career path is proving an uphill battle. To start with, flag carrier Thai Airways does not accept female pilots.
It was the proliferation of low cost carriers in 2009 that created a viable flight path for women pilots in the kingdom. Toff enrolled in ground school with the Royal Thai Air Force Civil Training Division and started working on her private pilot's license. What started as a flying club during the early days of Siamese aviation has now become Squadron 604, operating as part of the military out of Don Mueang Airport.

Toff celebrates after her first successful solo flight May 1, 2014. Photo: Chatchuma Thanisaranont / Facebook
Right now she's training to receive her Instrument Rating, a license that allows her to fly multi-engine airplanes at night or in poor visibility, relying strictly on cockpit instrumentation. She's training on the Pacific Aerospace CT-4, a fully aerobatic military trainer known for its positive handling characteristics. Does she like it?
"I've pulled 4Gs on that plane, of course I love it!" she says, smiling.
She's not the only one who loves it, her cockpit selfies garner hundreds of "likes" on her Facebook page.
"I wanted a way document my progress and get other people into it," she says.
Toff hopes her online persona to inspires other young women to consider a career in aviation.
"I make sure to take the time to answer all the messages from aspiring pilots," she says. "I usually ask them where they're at in life. It takes a lot of planning. When little girls ask, I always ask them how serious they are, because in the future, it might be possible for females to fly in the RTAF."
Even if the government changed the rules barring females from entering air cadet school tomorrow, the 32-year-old is already above the maximum age allowed to enter. Still, she embodies the message she has that women have "the same capacity as a man in the cockpit. We have the same spirit."
She urges the government to give them a chance because, "if they never let us in, they'll never know what we're capable of."
For now, Toff's next move is heading to the United States, where she can earn a commercial pilot's license which will allow her to take wing for any of the low cost carriers in the region.

Toff's call sign 'REDHOT' was derived from her choice of lipstick color. Photo: Chatchuma Thanisaranont / Facebook
Correction: An earlier version of this article misidentified the data of Chatchuma Thanisaranont's first solo flight as Aug. 26, 2014. It was May 1, 2014.