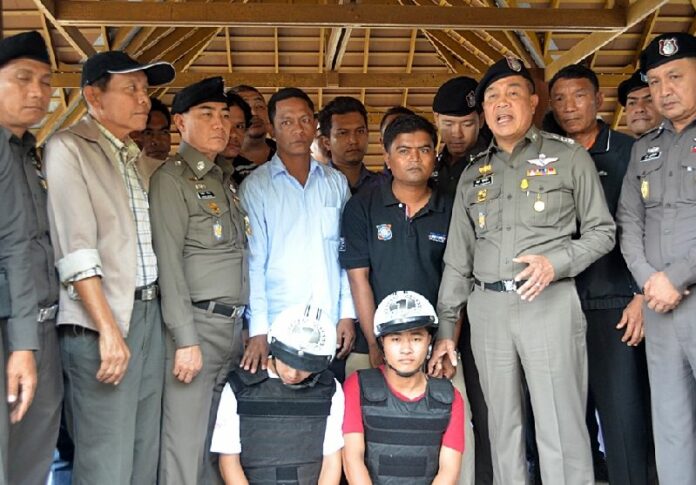 BANGKOK — Lawyers representing two Burmese men accused of murdering a pair of British backpackers in southern Thailand last year called again for their acquittal acquittal last night, four days before the verdict is read.
Repeating their central arguments throughout the four-month trial, lawyers for Zaw Lin and Wai Phyo said in a statement Sunday night that the evidence against them is deeply flawed, and that their confessions were obtained under torture.
"All of this evidence was not collected, tested or analysed in accordance with internationally accepted standards such as ISO 17025," the statement said. "This evidence should not be considered as satisfying beyond reasonable doubt that the accused violently raped and murdered the female deceased or murdered the male deceased."
The two Burmese migrant workers, who are both 22, were accused of murdering British tourists David Miller and Hannah Witheridge on Koh Tao on Sep. 15, 2014. The suspects were also accused of raping Witheridge. The court on neighboring Koh Samui is due to rule on the charges Thursday.
The lawyers described as highly questionable claims from police that DNA evidence implicated the men. According to the lawyers, DNA found on the murder weapon did not match that of the accused, and the investigators' forensic procedures failed to meet international standards.
Police investigators have said they are confident the DNA collected from the crime scene, murder weapon and Witheridge's body link the men to the crime.
The defendants' lawyers, who are members of the Lawyers Council of Thailand and representing the two defendants pro-bono, called for the charges to be dismissed in their closing statement filed in October.
In yesterday's statement, the lawyers also noted Zaw Lin and Wai Phyo were arrested and interrogated without proper legal representation or a qualified interpreter.
The two men initially confessed to committing the murders and rape because they were tortured by police, the statement added.
"The challenges faced to Thailand's law enforcement and justice systems in this case also cast a serious shadow over the safety of tourism in Thailand," said the statement.
Zaw Lin and Wai Phyo were arrested in late October 2014, around two weeks after the double murders. The pair initially confessed to killing Miller and Witheridge, but later retracted their confessions, saying they were coerced under torture by police. Authorities have repeatedly denied any torture was used..
The pair has been held at a prison on Samui island since their arrests in October, 2014. They face the death penalty if found guilty.
Related news:
Koh Tao Murders: Defense Asks Court to Drop Charges
Koh Tao Murders: DNA on Weapon 'Does Not Match' the Accused
Lack of Evidence, Local Media Coverage Adds to Mystery of Koh Tao Murder
Koh Tao Trial Resumes, Court Shown Footage of Victims' Final Night
Koh Tao Murder: Top Forensic Scientist to Testify for Defense
Koh Tao Murders: Newspaper Apologizes for Implicating Official's Son
To reach us about this article or another matter, please contact us by e-mail at: [email protected].

Follow Khaosod English on

and

Twitter

for news, politics and more from Thailand.