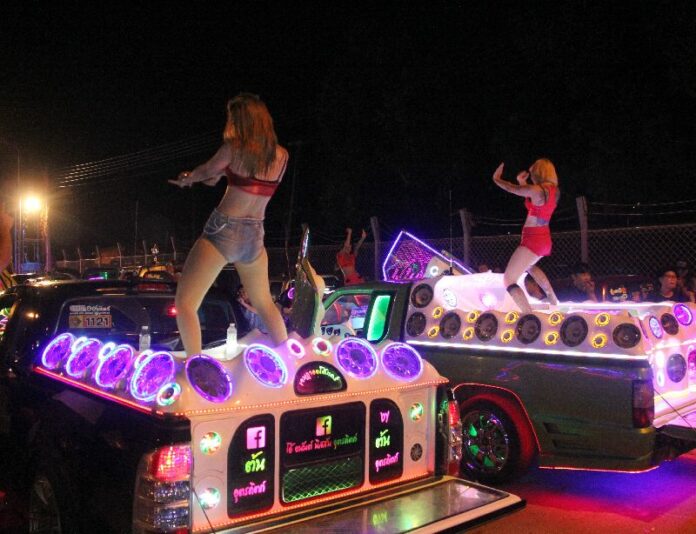 UTTARADIT — A mayor in northern Thailand said he's sorry for allowing a sexualized dance show to be featured in a state-sponsored New Year party last night.
Uttaradit City Mayor Samrarn Euachirawanic, told reporters today that he was not aware that the dance show was to be included in the event, and promised that such a mistake would never happen again.
"I'd like to apologize the people of Uttaradit," Samrarn said with an apologetic wai.
The event was organized by a local sound equipment club, who billed it as both a car sound system show and New Year party. It took place in front of Uttaradit Railway Station Sunday night, with more than 30 vehicles parked on the roads, displaying their sound systems.
Controversy started after a group of scantily-clad female dancers climbed onto the pick-up trucks and started dancing in a sexually-suggestive way. Some of the dancers and onlookers were also seen drinking alcohol.
Such dancers, known as coyotes, are a common sight in concerts and bars throughout the country, but are considered offensive by the more conservative Thais.
Complaints about the event soon surfaced on social media, with some comments calling on Samrarn to take responsibility over the issue, since the event received endorsement from the City Office.
Speaking to reporters today, Samrarn said his office did indeed give the greenlight to the sound equipment club's party and closed off two road lanes for the event, but he said the club did not tell him about any sexy dance show.
"It was Sunday, when traffic isn't bad, so I allowed them to organize activities until 6pm, and there was no mention about coyotes whatsoever," Samrarn said.
He said he would also reprimand the organizers for the act.
The incident is far from the first time coyotes made appearance in events organized by state agencies. In January, local officials in Trat were forced to apologize for including a coyote dance in a National Children's Day celebration, while in September a party held by the Ministry of Labour also featured coyote dancers.
To reach us about this article or another matter, please contact us by e-mail at: [email protected].
Follow Khaosod English on
and
Twitter
for news, politics and more from Thailand.