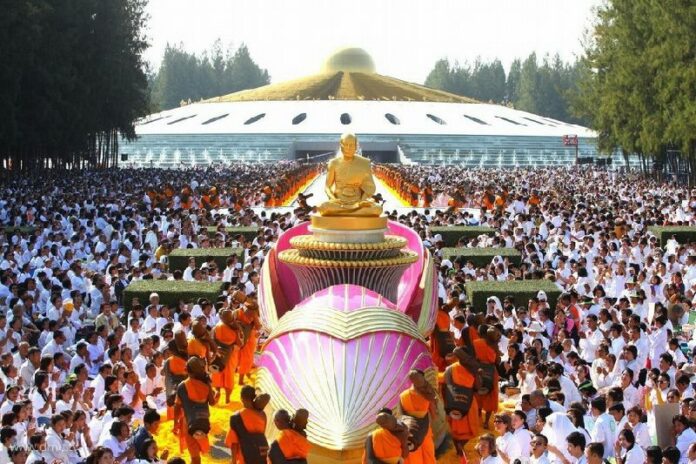 PATHUM THANI — A monk procession planned by the Dhammakaya sect in northwestern Bangkok metro, has been indefinitely postponed by local officials, following a protest from angry local Buddhist residents.
Gathering in front of Pathum Thani City Hall today, the protesters say the march, which is billed as a "pilgrimage" (Dhutanga) and due to take place on Jan. 2, will cause a massive traffic jam in the area and lead people to a heretical form of Buddhism.
"The majority of people disagree with Dhamakaya's pilgrimage, because Buddhist dharma states that any monk pilgrimage that causes trouble to laymen is forbidden," said Attapol Arunoros, a community leader and the protest organizer. "Whatever monks do, they must not cause trouble to people. So, we are here to oppose [the march] within the boundary of the laws, and we do so peacefully."
Pathum Thani governor Surachai Khan-asa (in brown uniform) listens to protesters' demand at the rally today.
Accepting the protesters' letter of complaint in person, Pathum Thani governor Surachai Khan-asa said he will order the Pilgrimage to be postponed indefinitely.
The controversy is the latest confrontation between mainstream Buddhism and Dhammakaya, a small but well-organized Buddhist sect that commands strong support among affluent people.
A pilgrimage (Dhutanga) organized by the Dhammakaya Buddhist sect in Bangkok as seen In this January 2013 photo published by Dhammakaya website. / www.dmc.tv
Dhammakaya is well known for its extravagant temples and elaborate ceremonies. A frequent activity is the Dhutanga, in which hundreds of monks march across major cities, while thousands of worshippers line the roads to shower them with marigolds – a flower Dhammakya leaders say represents the wealth and richness that awaits the faithful in this life and the next.
Although many businesspeople, politicians and high-ranking officials are known to be supporters of Dhammakaya, the sect draws suspicion from large portions of mainstream Buddhists, who feel that the movement is corrupting Buddhist teachings with its focus on earthly wealth.
Kiw Arunoros, another protest organizer, said he and other Buddhists took offense at Dhammakya's interpretation of Buddhist doctrines.
"For example, the showering of marigolds. Marigolds are for worshipping. They are not for monks to trample on. This kind of thing will cause misunderstanding among the people," Kiw told reporters.
He added that previous Dhammakaya marches in the past four years always led to traffic jams in Pathum Thani.
Surachai, the Pathum Thani governor, stressed to reporters that the Dhammakaya march is only postponed, not canceled.
"It may be impossible for us to cancel the activities by Dhammakaya entirely, because we have to meet with many other relevant agencies, in order to reach a conclusion that satisfies both sides, and satisfies people that are troubled by Dhammakaya's activities," Surachai said.
But protest leader Attapol threatened to escalate the protest if local officials ignore their demand.
"Next time, we will invite Luang Puu Buddha Issara to be our leader in the campaign against the Dhutanga," he said, referring to a well-known hardline Buddhist activist who led anti-government protests in 2013-2014.
To reach us about this article or another matter, please contact us by e-mail at: [email protected].
Follow Khaosod English on
and
Twitter
for news, politics and more from Thailand.