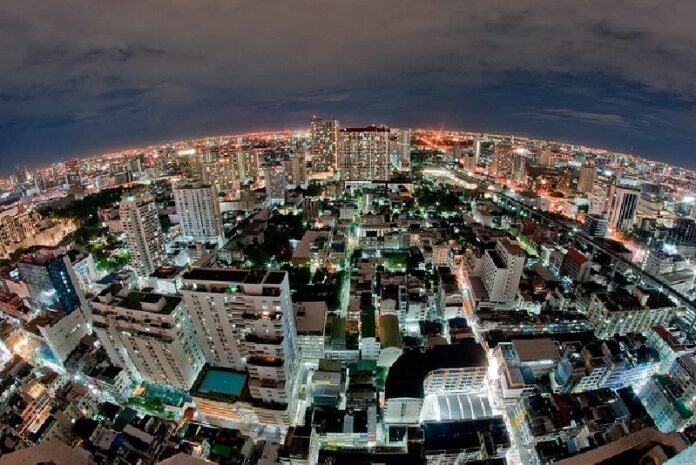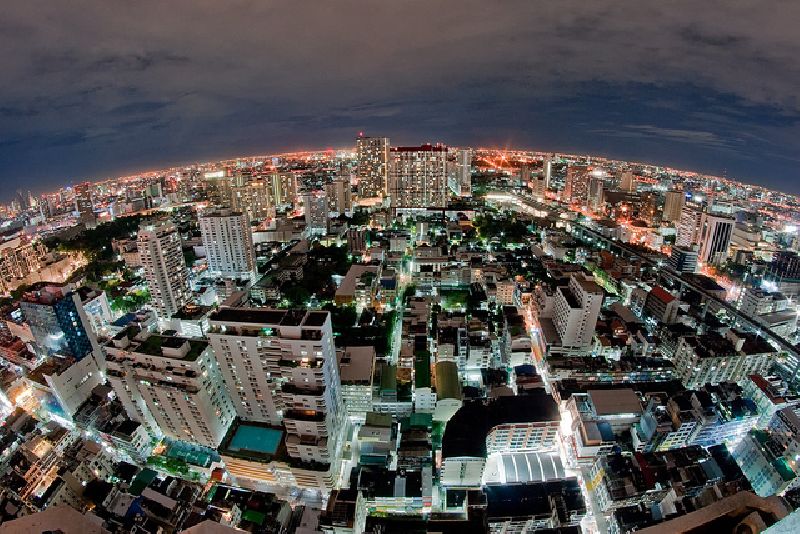 BANGKOK — Each New Year comes with new expectations, and Bangkok always amazes us in some way. A lot of change happened during 2015 and, little by little, the City of Angels was gradually transformed.
What will Bangkok look like in 2016? How will the city change? We asked some experts to contribute their thoughts, to help us better imagine how our beloved city will alter in the next twelve months.
The purple line first test run on Dec.14, 2015 before it officially begins operating in August, 2016. Photo: BMCL / Facebook
More options, less cards, same price
When the Mangmoom (spider) card comes into effect in August, passengers can finally carry only one integrated piece of plastic for both the BTS and MRT.
With the Purple Line finally added to the minimal skytrain network in the same month, suburban Bangkok and Nonthaburi will finally gain the direct access to the heart of the city (though you still have to depend on the bus to travel from Tao Poon to Bang Sue station because they will not be physically linked yet by then).
With four more routes of mass rapid transit due to come to auction, Bangkokians can hope for the day that public transport networks will eventually cover every corner of the city.
With Khlong Lat Phrao finally being cleared to pave the way for an alternative transport through canal, travel could become faster and cheaper.
The achitect and writer of "Bangkok: Handmade Transit", Yanyong Boon-Long, once said the idea of a hybrid network connecting the BTS and MRT with hundreds of canals, was the most interesting idea that City Hall has come up with in 20 years and in 2016, he still insisted the same thing.
"In the age of Rama V, people in Bangkok could use canals to access more parts of the city than what we can access by BTS nowadays. It's abandoned infrastructure."
But does it also mean we are going to have better transportation in 2016, or even in the ensuing years? An architect known for his keenness to develop better transportation for the metropolis, said the biggest issue remains the same, the ticket price.
"Most people who use the skytrain are tourists," said Yanyong Boon-Long. "The big question is how to make it more accessible."
For him, lowering the ticket price is not the best solution. "The price can remain the same, but wages have to be increased."
Khlong Ong Ang on Nov.16 after the 28-day demolition of the historic Saphan Lek market.
The cleanup continues
If there is one word that best described Bangkok in 2015, it definitely goes to "reorganization."
The largest grey-black market Khlong Thom, the oldest toy and electronics market Saphan Lek, landmark amulet market, Tha Prachan, to name a few, were among the areas cleared up by City Hall during the past year responding to junta policy to reclaim public space.
Some markets are gone forever and some stayed but without small stalls spilling out onto the nearby sidewalks. The campaign has drawn praise from those who are glad to see the law implemented and criticism from those who think it has also swept the life away from the city.
Whatever side you take, it continues. The man behind the crackdown, Maj. Gen. Wichai Sangprapai, said the next targets of 2016 start with Pak Khlong Flower Market and Bang Lamphu and will then continue to the well-known shopping zone, Pratunam.
An advisor to the Bangkok Governor said he even planned to reorganize areas on the Thonburi side of the city, citing Ban Kae market as an example.
As Thailand has just entered the ASEAN Community, Maj. Gen. Wichai said it was even more important to organize the capital city.
"We definetely need to keep going," he said. "More than 90 percent of people support this policy."
"Some said we oppress the poor, but why can't they see that it's all illegal."
A coffee shop with a retro interior in Bangkok old town offers old-fashioned breakfast at high prices. Photo: Matichon TV
Bangkok is dead?
In 2015, we found ourselves headed to Chinatown area at night when we wanted to drink at a new hip bar, while on our way back from Khaosan Road, we saw a number of old buildings transformed into stylish, yet old-fashioned looking hostels, especially on Charoen Krung Rd. Apparently, cultural tourism brought life back to Bangkok's old town.
But does that also mean life and money brought back for local residents? A researcher who works closely with local community argued it was not the case.
"I dare to say Bangkok is dead, it is actually been dead already for a long time ago," said Walailak Songsiri from the Lek-Prapai Viriyahpant Foundation. "Without humans, it cannot be a city."
With the reorganization idea, which she claims forces poorer people to abandon the town, plus the unorganized policy of urban planning that makes the area unaffordable for locals, Wilailak said "Next year, we will see a lot more redevelopment and fewer people."
Despite the effort of young entrepreneurs to arrange a local integrated tour, Walailak asked "Do you actually have real human life for them to see or are you just lying to yourself?"
When pricey fake vintage style breakfasts can be found in buildings that force out restaurants with 30 years of history, due to high rents, Walailak seems unwilling to hope for a better future.
"Where are the roots of all those coffee shops? Now we have become a city without roots and experience to contribute [to the people]."