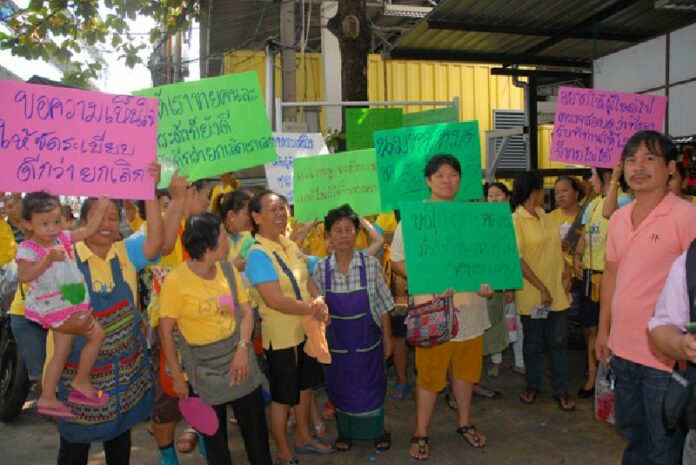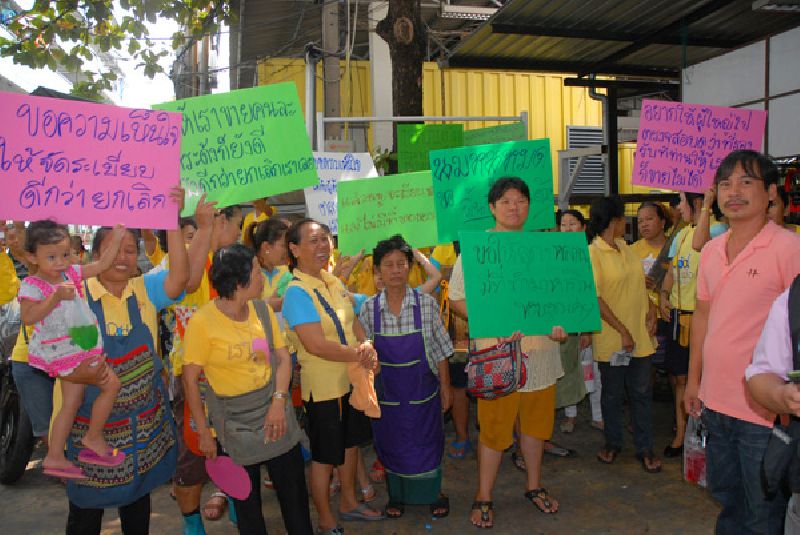 BANGKOK — It's a routine that's become predictably familiar: City moves in to clear sidewalks, vendors cry foul, vendors leave.
On Monday morning it played out on streets near Huai Khwang intersection, an area that for 30 decades has been a lively area famous for cheap street food and fashion, with vendors protesting a City Hall announcement this morning that from this day forth, all stalls on the sidewalks of the night market have to go.
At least 100 vendors in yellow shirts gathered to protest this morning, saying they were not happy with a nearby, indoor location the Bangkok Metropolitan Administration, or BMA, encouraged them to relocate to.
The BMA said it notified vendors in May 2015 it had revoked their permission to operate on the sidewalk, saying it had received many complaints about the market.
BMA officials this morning launched their effort to clear both sides along Pracha Uthit and Pracha Songkhro roads as part of its ongoing campaign to reclaim public space.
Similar efforts have been carried out since the 2014 military coup in places such as Silom Road and several historic markets in Chinatown and near the Grand Palace.
The BMA said vendors have been notified of the redevelopment effort and can move into the second floor of the Huai Khwang market building's second floor, which has space for 390 stalls.
Vendors said they were concerned it would be difficult to attract customers since they would be inside up on the building's second floor instead of visible on the street. There is apparently not enough space for everyone in the building, which has neither an elevator nor restrooms.
BMA authorities said they would seek another location to accommodate the more than the estimated 500 vendors.
Beginning at 6pm today, barriers would be set up on the walkways to prevent the stalls from returning, though some vendors vowed to continue selling at their usual locations.
City workers cleaned the sidewalks Monday morning near the Huai Khwang market. Photo: @Pr_bangkok / Twitter
Related stories:
Amulet Market Gone, City Swivels to Flower Market and Banglamphu
Say Goodbye to Bangkok's Famous Tha Prachan Amulet Market
Demolition Day: Dismantling of Saphan Lek Begins
One-Year Reprieve Sought for Saphan Lek Market
City Hall Denies Colluding With Developer to Demolish Saphan Lek
Vendors Revolt as BMA Moves to Demolish 'Saphan Lek'