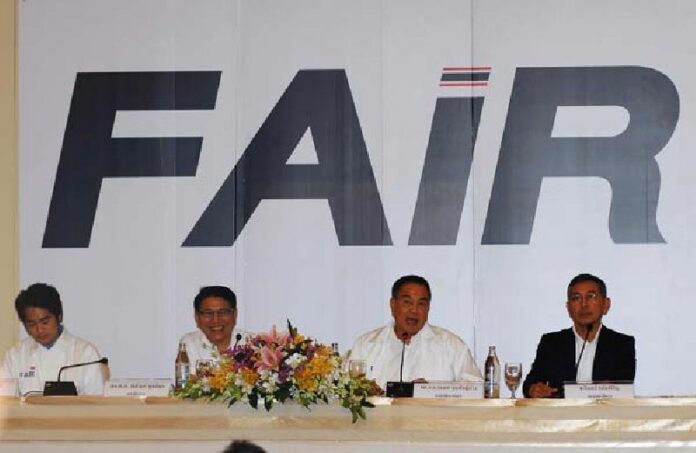 BANGKOK — Looking to expand the organizational culture he oversaw as Thailand's top cop, the former national police chief-turned-president of Thai football today appointed his successor – the current police chief – to head the company behind the Thai Premier League series.
In his first meeting since his landslide win Feb. 11, newly elected Football Association of Thailand chief Somyot Pumpanmuang announced that Gen. Chakthip Chaijinda, who succeeded him as head of the Royal Thai Police, will serve as president of Premier League Thailand Co. Ltd.
The company is responsible for arranging the nation's largest football competition. Somyot told reporters it was normal for top brass to be involved in organizations such as the state railway, national airline carrier and other large concerns.
Gen. Somyot, who sought the presidency after setting aside plans to lobby for legalized gambling, outlined other initiatives.
In his first week on the job, the man famous worldwide for giving his police a cash bounty for arresting a bombing suspect, has encouraged the public to send money to a bank account he says will help achieve a dream: Getting Thailand into the World Cup.
He claimed the private sector has already contributed 5 million baht to his "Send the Thai Team to the World Cup Fund."
Any fans eager to support Somyot's efforts to get Thailand into the World Cup can transfer money to account No. 127-240-870-2 at Siam Commercial Bank's Chokchai 4 branch.
Somyot's reign over Thai football follows the long and contentious presidency of Worawi Makudi. During his four terms, Worawi was attached to a series of scandals and accusations of corruption, few of which stuck until he was convicted of forging documents last year in relation to his 2013 re-election. Fifa later suspended him.
To clean the slate, Somyot said he's dismissed all contracts the association signed prior to today, including all employment contracts except for permanent staff. He also lifted all previous bans placed on football teams under the Worawi administration and urged them to drop all ongoing litigation.
The freshly installed president moved back the first match of the Thai Premier League to March 5 from Feb. 27.