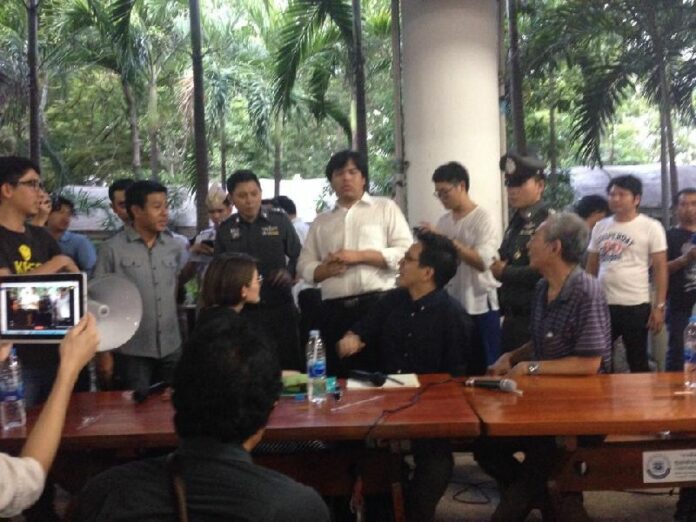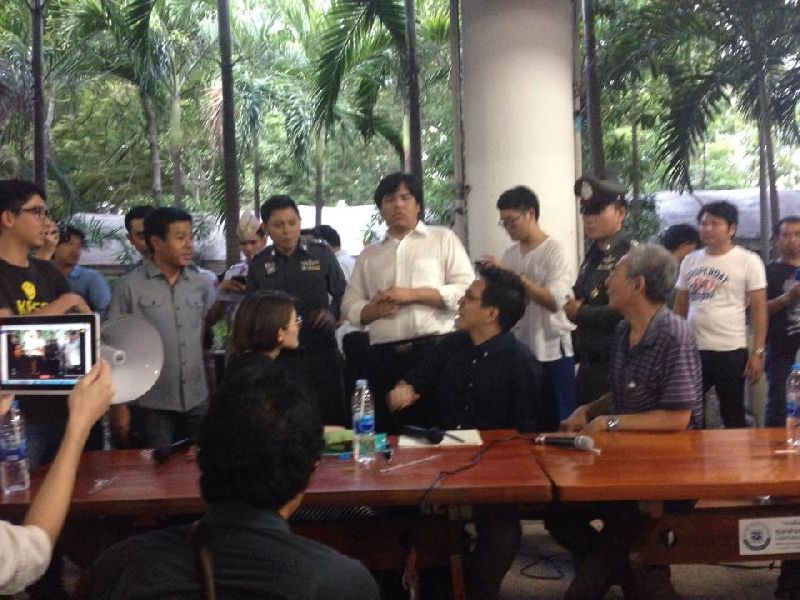 By Pravit Rojanaphruk
Senior Staff Writer
BANGKOK — Citizens have a duty to not buy into state propaganda, be critical of the powers that be and resist censorship, anti-coup activist Sombat Boonngamanong said at a symposium yesterday.
Sombat was among five speakers invited to speak Thursday on the topic of online censorship by the Thammasat Student Union at the Pridi Banomyong lawn on the Tha Prachan campus.
He cited a recent, "very crazy" example of a man arrested for privately sending a link to a music video mildly mocking junta leader Gen. Prayuth Chan-ocha as an example of the absurdity of the military regime's pursuit of censorship online.
People should not allow state propaganda to lead them by the nose like cows, he said.
"What's our duty? We are the governed, and if someone puts a lead through our nose, your duty is to remove it. We have to stop behaving like children," he said.
Sirawith Rojwattanasiri, a panelist and member of student discussion group Youth Network of Bangkok, received the junta's blessing for Thursday's event after tweaking the topic for the "Politics on Fiberoptics: Do Not Share, Do Not Click Like." Sirawith thanked the junta for permitting the discussion and said he welcomed state censorship of the internet because people can then assured of getting only "good" information.
"The good thing about it is that they can select only good things for us to consume," he said, adding that terrorism could be combated if the junta goes forward with its plan to route all internet traffic through a single gateway under its control.
"I think it's a good thing the government can control what [information] we consume although the negative side is that people do not have freedom," said the student from a prestigious Bangkok high school.
Natchaphon Sae Tan, a Thammasat University student and panellist, said he's more worried about the state censoring what it thinks is unsuitable.
"I have no problem with the media being biased because you can decide by yourself," he said. "I'm more concerned if the state were to remove media B and C and only leave us with media A."
Arthit Suriyawongkul of the Foundation for Internet and Civic Culture – formerly known as the Thai Netizen Network – said he worries the single gateway project would enable officers to censor content online without seeking a court order as now required under the Computer Crime Act.
He said censorship proponents argue that it takes too long. In recent weeks a junta-appointed censorship committee has tried winning support from Google and other major service providers to waive their usual legal requirements.
Sombat, who's facing sedition and computer crime charges for calling for peaceful opposition to the junta online, said criticism of junta leader Prayuth should not be regarded as a threat.
"Criticizing Prayuth won't ruin the country," he declared loudly to the crowd.
Sombat sought to underscore what he sees as the junta's absurd paranoia over the internet.
He told the audience about a thick file of his Facebook posts used in his interrogation after his 2014 arrest for trying to organize peaceful resistance to the junta online.
"But I'm not a bomb maker," Sombat said.
Sombat has since receded from the limelight, which he said is for pragmatic reasons.
"I am now rather well-behaved not because of the laws, but because they have guns. Everyone is just trying to censor themselves. I swear, I dare not click 'Like' on posts by people such as Somsak, and I believe there're many people like me," he said, referring to Paris-based exiled historian Somsak Jeamteerasakul, who often posts messages that risk being deemed as defaming the monarchy by authorities.
Related stories:
Libel Unclear in 'Illegal' Video Mocking Prayuth
Thailand Asks Google to Bend Censorship Rules
Pravit Rojanaphruk can be reached at [email protected] and @PravitR.
Follow Khaosod English on Facebook and Twitter for news, politics and more from Thailand. To reach Khaosod English about this article or another matter, please contact us by e-mail at [email protected]od.co.th.