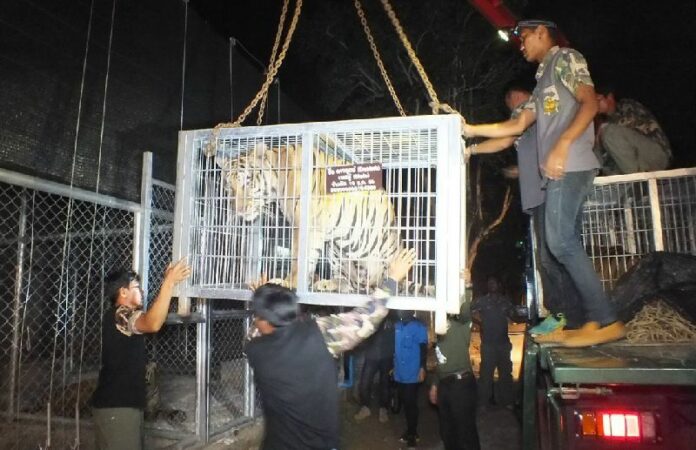 By Teernai Charuvastra
Staff Reporter
KANCHANABURI — Authorities have rejected a zoo application from a commercial tiger temple that had been defying wildlife laws for years, though its administrators said they will apply again soon.
Wat Pha Luang Ta Bua Yanasampanno, aka the Tiger Temple, hoped to gain legal status for its horde of 147 tigers by applying for the zoo permit about two months ago, but temple lawyer Saiyood Pengboonchoo said by telephone Saturday that the wildlife department has rejected their application.
The temple has been keeping and breeding tigers without a permit for years, in violation of the national laws on protected wildlife.
---
5 More Big Cats Removed from 'Tiger Temple'
---
After years of sporadic, failed efforts to get the temple to surrender its tigers, five were transfered to state custody in January, and another five on Tuesday.
Saiyood said the application was rejected on technical grounds: The temple's zoo blueprint lacked several security functions, and by the time it redrafted the plan, the 60 days allotted for the application had expired.
"We will submit the application again." Saiyood told Khaosod English. "Now we have completed the application. In the past, we consulted the experts too little."
According to the lawyer, he has personally asked four of the eight committee members to take a look at the new application, and they all agreed that it would pass.
"I haven't talked to the other four members yet, but I believe the application is complete," Saiyood said, adding that the temple still need several documents, such as criminal records for the applicators and financial affidavit of the temple.
The 60-day period will start counting down once all of these documents are filed, he said.
Wildlife authorities have been slowly moving tigers from the commercial temple in recent weeks. Of the 147 tigers said to be residing there, 10 have been taken away to state-owned shelters.
Saiyood said the temple will simply buy back all the tigers once the zoo permit is granted.
Animal welfare activists opposed to the temple have criticized law enforcement agencies for their apparent reluctance to take concrete legal action against the influential monks who operate the highly profitable temple.
Related stories:
5 More Big Cats Removed from 'Tiger Temple'
5 Big Cats Removed Overnight from 'Tiger Temple'
'Tiger Temple' to Sue NatGeo Over Damning Report
Temple Refuses to Release Tigers, Again
Asian Black Bears Seized From Thailand's Tiger Temple
Thailand's Tiger Temple Ordered to Give up Tigers
Teeranai Charuvastra can be reached at [email protected] and @Teeranai_C.
Follow Khaosod English on Facebook and Twitter for news, politics and more from Thailand. To reach Khaosod English about this article or another matter, please contact us by e-mail at [email protected].