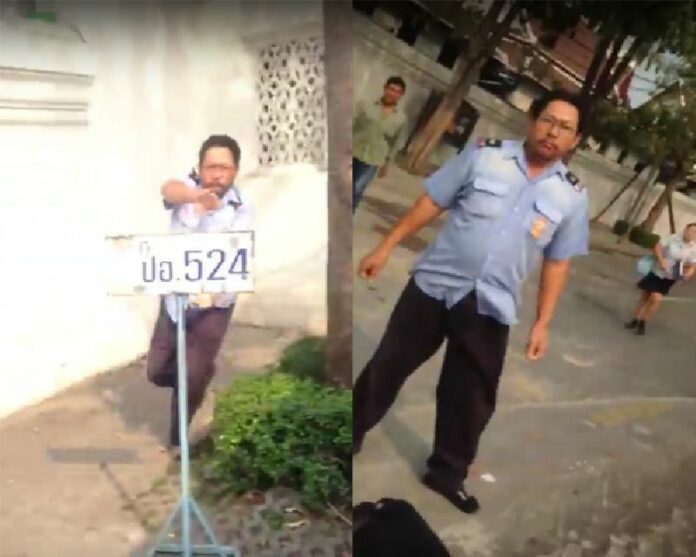 BANGKOK — The public square that is Pantip.com has again proven an effective place to name and shame after a video showing a bus driver's violent rampage led to his being gently fined and suspended.
In the video posted Sunday, Pantip user Kolia described being attacked by the driver of bus No. 524 after he confronted him over skipping a stop prior to the final stop near Wat Pho where the passenger had been waiting for a ride. In the video, a scowling man in a bus driver uniform is seen in full-tilt rage attempting to throw a road sign at the cameraman.
"I intended to ask and also speak for the passengers to let him know if the bus doesn't stop at its stop, we are affected," Kolia wrote.
Kolia said he was waiting at the bus stop near Bank of Thailand on Samsen Road in order to travel to the last stop near Wat Pho when he saw bus No. 524 roll by on the inner lane without any apparent attempt to pick up passengers at the bus stop.
Kolia wrote that he noted the bus' license plate and went to seek an explanation from the driver himself when he reached the final stop near Wat Pho via another bus.
The passenger claimed that he was hit once by the furious driver and also fell, resulting in slight injuries that required treatment at hospital.
The Bangkok Mass Transit Authority, or BMTA, on Monday called in for questioning route operator Bangkok Union Service 524 Ltd. and its driver Buala Thongphu.
Buala admitted he was the man in the clip. He was fined 1,000 baht and suspended seven days. Authorities said he was placed on probation and will be punished seriously if found guilty a second time.
Failure to stop properly is a frequent complaint of Bangkok's public bus service, as is letting passengers off in lanes far from the curb.
While BMTA encourages passengers to use official channels such as its 1348 hotline to file complaints, its effectiveness is debated.
"Usually we will secretly take photos of the license plate and driver to file a complaint on the website. I also did this myself, and it just went silent," wrote Pantip user KongKamlangnaksuebpandib.
But user Kolfparin said he got lucky with the hotline.
"Bus No. 8 drove terribly, cutting off my car, so I called," he wrote. "After that they called back to inform me they had investigated, and the driver was fined 500 baht."