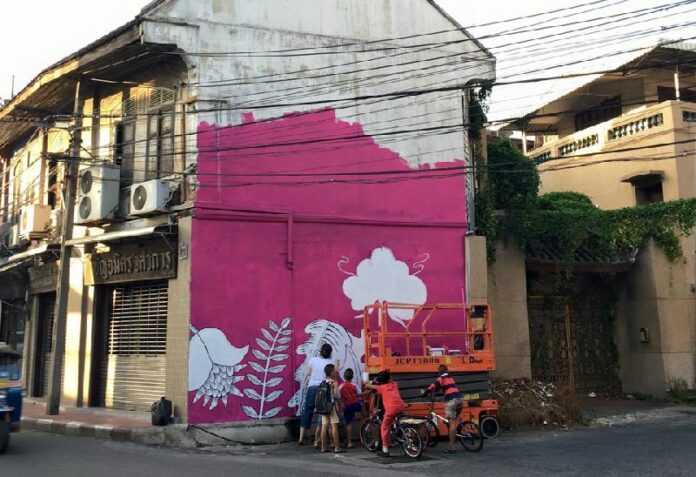 BANGKOK — From handmade wooden cheese platters and designer lanterns to abstract paintings and art installations, Gallery Hopping Night returns later this month for an excuse to tour the capital's historic streets.
At least nine participating galleries in the lower Silom Road and Charoen Krung Road riverside area will host special events such as live performances, panel discussions and more from late afternoon until 11pm on March 18.
The nine art spaces confirmed so far include Atta Gallery, Bridge Cafe & Art Space, Cho Why, Kathmandu Photo Gallery, Most, Paw Dee Contemporary Thai Craft, Serindia Gallery and The Jam Factory.
The Gallery Hopping Night began in late 2014 and usually occurs on the third Friday every two months or so. They are organized by the Creative District Gallery Hopping Night community,
Here is a list of the upcoming edition's highlights:
Group Art Installations at Bridge
Three artists – Pisitakun Kuantalaeng, Anita Bacic and Dan Burman – will exhibit their art installations in "Reflecting On Otherworlds," an interdimensional approach to concepts from distinct angles.
The event's opening reception starts at 7pm on Friday at Bridge on Soi Charoen Krung 51. It runs through April 9.
To get to Bridge, head to BTS Saphan Taksin and take exit No. 4.
Photo Exhibition at Cho Why
In 2015, photographer Walter Astrada traveled on his Royal Enfield motorbike from Spain to Asia. He'll show his snapshots taken along the nine month, epic journey at "The Journey" Friday through the end of March at Cho Why.
Cho Why is located on Soi Nana 17 near Charoen Krung Road.
Cheese Platters Craft Display
Canadian-born, Bangkok-based wood crafstman Faisal Malik will show off his very specific talent for creating signature cheese platters. Of course this means there will be wine and cheese found March 18 at Paw Dee.
Paw Dee is a craft-friendly space located on Soi Charoen Krung 36.
Lantern Show
Appreciate a night filled with "lantern-mosphere" at The Lantern Show.
Lamps designed by five talented artists — Jackkrit Anantakul, Kathy Macleod, Luke Satoru, Jeanie Sriphiromrak and Marc Stuart — and crafted by local lamp artisan Uncle Chor Seng will be raised on the night of March 18 to light up the Charoen Krung area.
Abstract Paintings "Purify
Painter Sudaporn "Som" Teja, whose works have been displayed in Paris and Singapore, will show her recent abstract effort at "Purify" on March 18 at Serindia Gallery.
Serindia Gallery is located on Soi Charoen Krung 36.
An updated line-up of galleries and activities for Gallery Hopping Night can be found online.