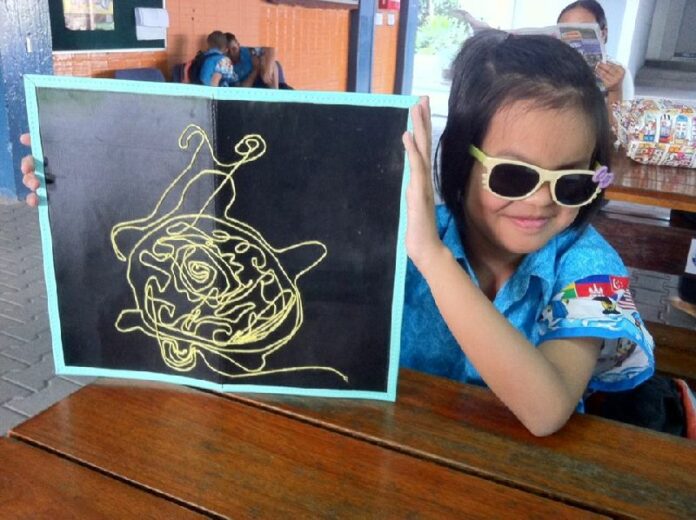 BANGKOK — A group of visually impaired children will experience the world of visual arts for the first time Tuesday with the help of a dozen sighted artists.
Nearly 20 children and well-known artists will use special drawing kits to create works to be displayed alongside each other at the Please Touch Exhibition coming to the Bangkok Art and Culture Centre.
The 12 well-known artists include Wutigorn Kongka, political cartoonist Chai Rachawat, Wisut "Tum" Ponnimit and National Artist Ittipol Tangchalok. They will use the same kits created for blind and visually impaired children to express themselves in tactile form for visitors to enjoy whether they can see or not.
They will draw using Lensen, a system which uses a pen, velcro pad and yarn to allow the sight-impaired to express thoughts and communicate through touchable, protruding lines.
Lensen was developed by Klongdinsor Co., a Bangkok company which develops creative products for the disabled. Company Founder Chatchai Aphibanpoonpon said it has been in use for two years already.

"I want regular people understand the world of the blind, and how they imagine their surroundings," Chatchai said by phone Thursday afternoon. "In meantime, I also want blind kids to finally appreciate artworks made by Thai famous artists."
The Please Touch Exhibition runs for 10 days Tuesday through March 24 at the Bangkok Art and Culture Centre. The young artists will be present for the opening reception.
On March 20, visually impaired musicians from the Network of Music and Arts of Persons with Disabilities will perform live along with a drawing contest and discussion session about the artists' inspiration.
Chayanit Itthipongmaetee can be reached at[email protected] and @chayaniti92.
Follow Khaosod English on Facebook and Twitter for news, politics and more from Thailand. To reach Khaosod English about this article or another matter, please contact us by e-mail at [email protected].