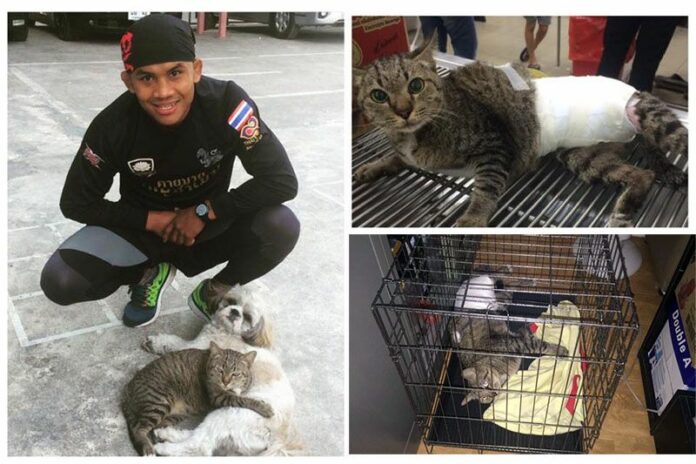 BANGKOK — In his rise to becoming Thailand's most beloved kickboxer, Buakaw Banchamek probably made a few enemies along the way.
But he has no idea who it was that slashed his pet cat Tiger on Sunday night and left him fighting for his life at an animal hospital.
"I feel heartbroken. Tiger is like a member of our gym," Buakaw 33, said over telephone Thursday. "When he's around, he likes to snuggle my legs. He likes to play with me. I even put him on my bed when I go to sleep sometimes."
According to the multiple-title winning Muay Thai champion, Tiger was behaving strangely when he stumbled back into his Banchamek Gym on Monday morning after a night out. Buakaw said he did not notice the injuries because the cat hid from everyone for the entire day.
Buakaw said it wasn't until Tuesday when Tiger crawled into his office that he saw what looked like deep slash wounds to the cat's haunches. He immediately took Tiger to an animal hospital and on Wednesday filed a complaint with police.
"I have a dog, and he's a friend of Tiger. I'm afraid something will happen to my dog, too, so I alerted the police," Buakaw said.
The boxer said he also found out another cat in the neighborhood that often played with Tiger was attacked in a similar but more brutal manner. That cat, which died, suffered a slash wound so large he was nearly decapitated, Buakaw said.
"I'm perplexed," Buakaw said. "I have no dispute with anyone, and everyone in the neighborhood has no problem with my cat and dog. They admire them."
Although Buakaw wanted to file a charge under the animal cruelty law, he had to settle for merely filing a report because he could not prove for certain a human attacked his pet. Col. Saksith Meesawasdi, commander of Lat Phrao Police Station, said police have not yet determined what caused the cat's injuries.


Buakaw Banchamek talks to police Wednesday in Bangkok. Photos: Banchamek Gym / Facebook
"We still don't know what caused the wounds. There's only wounds," Saksith said. "If it was a human with intent to hurt the cat, then it falls under the [animal abuse] law."
But Buakaw said he's pretty convinced it was a person. "Police told me he could have been assaulted by another animal. But that's hard to believe, because his friend was also slashed to death."
Like Buakaw, Col. Saksith said he's in the dark about who could be responsible for the assault.
"We have no suspect, we have no clues, and we have no trace. We are looking for information, but it will take us several days," the police colonel said.
Buakaw said Tiger's vets told him the cat has only a 50-50 chance to survive, and they are having trouble treating his infected wound.
Buakaw's not the only one feeling down about Tiger's assault. His dog friend, Fighter, has been in poor spirits since the incident, Buakaw said.
The two animals enjoyed a warm inter-species relationship. Buakaw said the brown-and-black striped tabby, whose stocky build reflects that of his owner, even stood up for Fighter.
"He and Fighter, they like to play with each other. Now, Fighter is downcast. He just looks around for Tiger," Buakaw said. "And the other day something lovely happened. Other dogs came inside our gym and they bullied Fighter because he's a small dog. And Tiger jumped in there to help his friend and scared off the dogs!"
Buakaw wants to see whoever hurt his pet cat brought to justice.
"Now that I've seen him suffer like this, I'm heartbroken. I want to find the person responsible to be punished. But now I'm in the dark."
Teeranai Charuvastra can be reached at [email protected] and @Teeranai_C.
Follow Khaosod English on Facebook and Twitter for news, politics and more from Thailand. To reach Khaosod English about this article or another matter, please contact us by e-mail at [email protected].