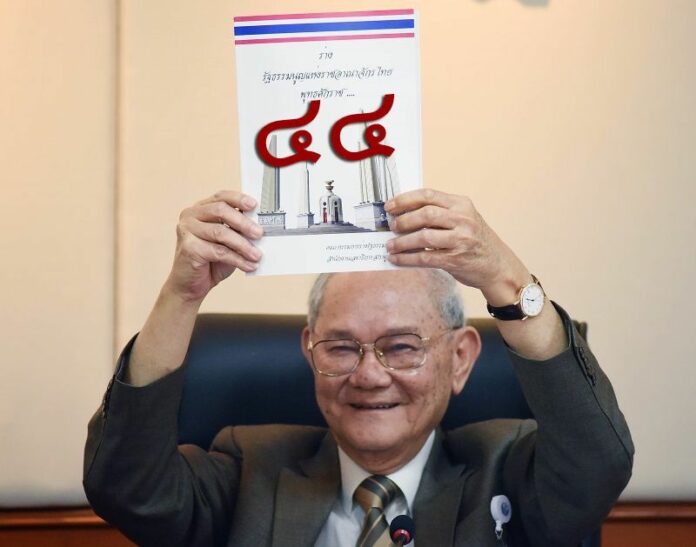 By Konachnan Rightsamuth
BANGKOK — Days after the usual naysayers criticized the final version of what would be the nation's 20th semi-permanent legal framework, the Constitution Drafting Committee announced today it has solved all outstanding issues and concerns with one weird trick.
"Legal scholars have long told us the strength of a charter can be found in how few articles it contains," chairman Meechai Ruchuphan said, citing the seven originally written into that of the United States. "We're going to outdo them all by having only one article."
In the third and final draft charter released Friday, all 279 articles have been replaced by Article 44 from the junta's interim constitution.
"Article 44 is like the stem cell of our legal DNA. It can be anything at any time. This will afford us tremendous creativity in applying the appropriate laws for every eventuality."
The charter still weighs in at more than 100 pages: They literally just replaced every article with the same language granting junta leader Prayuth Chan-ocha absolute power to enact anything as law with the stroke of a pen.
"Where some see a type of nihilism, contempt for civil society and the foundations of anarchy, we see tremendous flexibility," he said.
Related stories:
Just Throw Rice, Junta Orders This Dry Songkran
Tourists to Be Issued 'Balcony Bounce Suits'
Prayuth to Croon at Charity Concert
Ed. note: We trust that as a discerning and beautiful reader of Khaosod English, you already knew this was a joke (check the date).