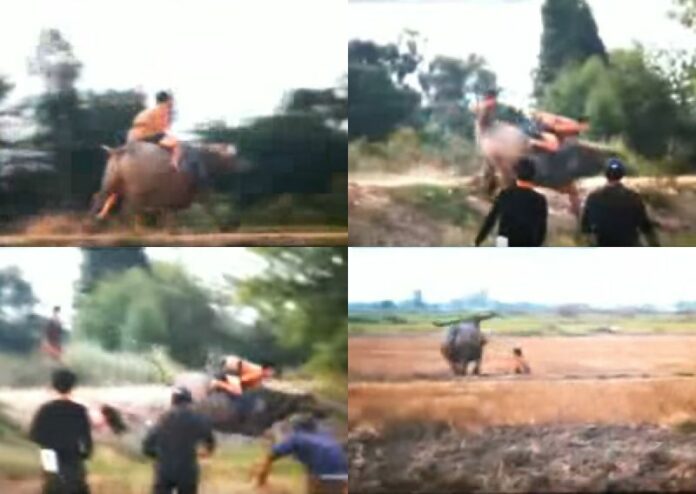 SUPHAN BURI — A romantic scene turned frightening for two actors – and amusing for the internet – when they became trapped atop a runaway buffalo yesterday while shooting a soap opera.
Suteewan "Baitoey RSiam" Taveesin and Martin Midal were filming yet another remake of "Mae Nak" for Channel 8 in a Suphan Buri province field when the buffalo they were riding suddenly galloped away, throwing Baitoey and Martin. Neither was seriously injured.
The 29-year-old singer-actress best known for her 2013 hit "Splash Out," was taken to a local hospital to be treated for "shock" before being transferred Bangkok's Vejthani International Hospital.
The Danish-Thai actor Martin, 24, was cut on the chin by one of the buffalo's horns.
The production crew reportedly believe the accident occurred because they didn't pray to local guardian spirits in the area before beginning the shoot.

Suteewan "Baitoey RSiam" Taveesin and Martin Midal during the shooting on Tuesday

"Mae Nak Phra Khanong" is one of Thailand's best-known and oft-told stories. Part ghost story and part romance, it tells the story of Thailand's most famous spirit Mae Nak, who died while giving birth.

Photo: Channel 8 / Facebook