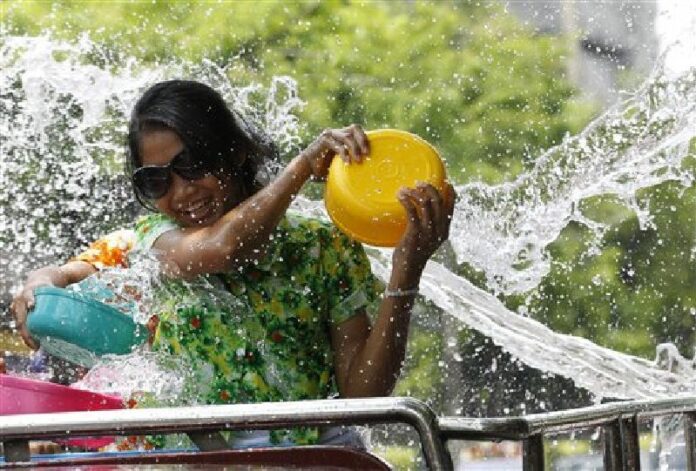 BANGKOK — Drought? What drought? Bring out the water guns!
Thailand may be going through its driest period in 20 years. But the country's military government wants visitors from around the globe to know that the biggest water fight in the world is still on.
So, get your buckets, hoses and other gear ready for the three-day nationwide street party that begins Wednesday to mark the Thai New Year.
"We can still use water for the new year festival. It's not that dry," said a government spokesman, Sansern Kaewkamnerd. The government has instructed the Tourism Ministry to make sure foreign tourists don't misunderstand the severity of the drought and cancel holiday plans out of concerns the water supply will be cut off, he said.
After all, there are millions of dollars at stake.
The Tourism Authority of Thailand expects this year's holiday will generate more than 15 billion baht (USD$427 million) for the tourism sector and attract half a million visitors in a span of five days.
Songkran is a major tourist attraction. Revelers line the streets, or prowl the roads in pickup trucks, armed with water guns and plastic bowls and douse anyone in sight. Some areas are closed to traffic for wet and wild street parties with loud music, booze and dancing.
In this April 13, 2014 file photo, a foreign tourist holds a water gun as she takes part in a water fight during traditional Thai New Year celebrations or Songkran festival in Chiang Mai province, northern Thailand. Photo: Apichart Weerawong / Associated Press
Rare controversy has preceded this year's water fight, with environmentalists and other critics calling for festivities to be curtailed.
"Instead of mindlessly wasting water, New Year revelers should be mindful of the crushing drought," a local newspaper said in an editorial last week calling for "a dry Songkran" to show solidarity with the country's farmers.
Twenty seven of Thailand's 77 provinces have been declared drought zones with the lowest level of rainfall in more than two decades. Farmers have been ordered to curtail their water use and scale back planting. Tap-water rationing is in effect in certain provinces.
And yet Thailand's military government is playing down the dry spell and says it is powerless to crimp such a popular national holiday.
"As the prime minister has said, Songkran brings happiness to the Thai people, and canceling it would be too difficult," Sansern said.
A ban would also be hugely unpopular both with Thais and tourists.
In past promotions, the tourism authority has played up the party scene, urging tourists "to get wet and wild" and "be part of the largest street water fight the world has to offer." In 2011, TAT used the holiday to organize a Guinness World Record attempt for the world's largest water pistol fight, drawing more than 3,400 people to a 10-minute shootout in central Bangkok.
The prime minister, a former general who has dictatorial powers after toppling a civilian government in 2014, has bristled at the notion of canceling Songkran.
"I will not ban water throwing, that's impossible," Prayuth Chan-ocha, the prime minister, said in response to a proposal for government controls on holiday water use. He added dismissively, "Parents should teach their children to use less water and not splash it around for three days and three nights."
Prayuth is calling for strict measures this year during the festivities, but not related to water rationing. The junta is putting a damper on dancing and indecent attire, saying specifically that women and trans-genders who show too much skin will face arrest.
"I have told officials, police and soldiers that there should be no women — or transgender women — dressed provocatively or dancing on the backs of trucks," Prayuth said. "If they do, they will be arrested."
Environmentalists say the government should get its priorities straight.
"The government should tell people the truth that the drought is bad. They should not try to cover up the truth," said Smith Thammasaroj, chairman of the Foundation of National Disaster Warning Council. "If people keep thinking we have enough water, it could badly hurt agriculture and farmers."
"They shouldn't worry about clothing and covering up the body," he said. "They should worry about the drought."
Some cities, including Bangkok, have taken it upon themselves to dilute this year's festivities.
Bangkok city hall has ordered a 9 p.m. curfew on water fights and is trying to keep the festival to three days, excluding the weekend — measures that it says will save 5 billion liters of water.
Chief adviser to the Bangkok governor, Wanlop Suwandee, made a highly publicized proposal that party goers put down their guns and instead use handheld spray bottles, the kind that one uses on indoor plants to make leaves wet.
In this April 10, 2016 photo, vendors stand near water pistols as they wait for customers in Bangkok. Photo: Sakchai Lalit / Associated Press
The idea struck many as laughable in a city where water guns are not mere pistols, but large pump machine guns often with water storage tanks worn as backpacks.
A 22-year old university student, Krit Pongchaiassawin, said he has no plan to enter into battle firing a gentle mist.
"Are you kidding me?" said Krit, while shopping for a water gun at a Bangkok outdoor market. "I would get laughed off the street if I had a spray bottle. People would see that and just dump more water on me."
Story: Jocelyn Gecker / Associated Press
Related stories:
'Sexist' Songkran Safety Posters Removed by Police
Women Will Be Arrested For Indecency During Songkran, Prayuth Says
Thaksin Tells Junta to Mind the Drought, Not His New Year Gifts
Chinese Dams Blamed for Exacerbating Southeast Asian Drought
Songkran Will Go On Despite Drought: Tourism Authority
To reach us about this article or another matter, please contact us by e-mail at: [email protected].
Follow Khaosod English on
and
Twitter
for news, politics and more from Thailand.