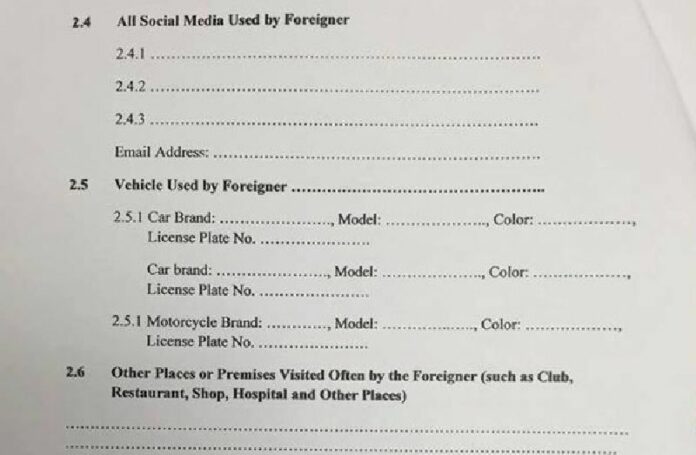 By Todd Ruiz and Sasiwan Mokkhasen
BANGKOK — Foreign nationals residing in Thailand are being asked to disclose personal information to the government, including their bank details and where they hang out online and offline.
Internal documents obtained earlier this month by Khaosod English showed the Immigration Bureau would ask foreigners for personal details about places they frequent in the virtual and real worlds, additional information to be filed before they can extend their visas or complete the routine 90-day reports required to reside legally in the kingdom.
In recent days, a number of people have reported on Twitter and online forums frequented by expats that they have received the new forms at the Immigration Division 1 office and One-Stop Service Center at Chamchuri Square. Both are in Bangkok.
Apart from the basic information, the form requires details about what social media they use, details of vehicles they use including license plate numbers, and "places or premises visited often by the foreigner … such as club, restaurant, shop, hospital and other places." The form also asks for their bank account numbers.
Chatchawan Wachirapaneekhun, deputy commissioner of the Immigration Bureau's crime suppression unit, said providing the information was not mandatory.
"We won't force them to fill it out," he said. "We won't bother with their social media – if they aren't doing anything wrong."
Maj. Gen. Chatchawan, who wrote the new form, said he personally urged immigration offices nationwide to collect the information on March 22. It is purportedly for recording information of all foreigners entering and living in the kingdom. It indicates the information will be used to record of residence in the country according to articles 37 and 38 of the 1979 Immigration Act.
Chatchawan said in the past, immigration lacked sufficient information about foreign nationals living in Thailand when problems arose. He said the new information was being sought to help track down foreigners when problems arose.
He said that the information would soon be integrated under the same linked information system. Some of the information such as bank account details, he said were already required for extended stays.
"We are considering national security," he said. "Considering entering the ASEAN community and the increasing terrorism problem, some people escape after committing a crime, and we cannot track them down."