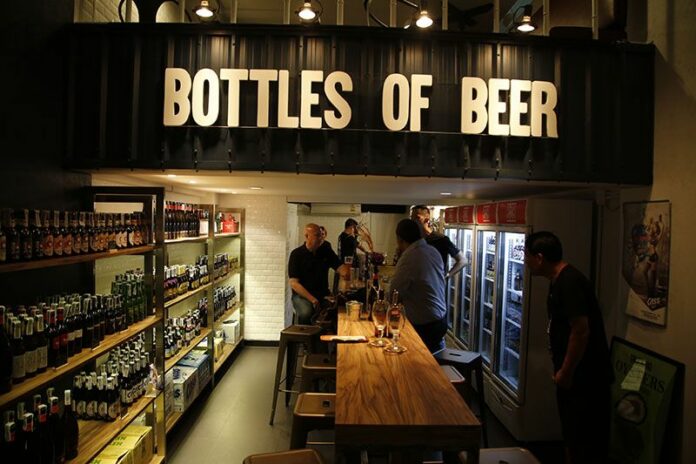 BANGKOK — Craft beer, once a niche interest, is now mainstream. Even sub-par joints are slinging the hoppy stuff, with one or two 200-baht brews found on most drink menus. Where can it go from here?
While Thai-made craft beer is picking up steam, newcomer Bottles of Beer presents another model: Selling imports at wholesale prices to be consumed on the premises with some kick-ass Malaysian and Thai street food.
Walk into BOB's location on the otherwise unremarkable Soi Sukhumvit 34 and find a dedicated bottleshop, not a bar. A row of refrigerators flank one side of the room while a series of shelves occupy the other side of the shophouse joint.
---
Brewing Discontent: Frothy Passions Erupt When Thai Craft Beer Goes Big
---
In the middle is one long table, the kind that's perfect for knocking back a few brews, and that's exactly what the Singaporean-Thai venture encourages patrons to do.
Bring a thirst and friends. If you drink six beers at BOB, you get them at wholesale prices. That means fine, imported brews run mostly between 150 baht and 200 baht. Things like a full range of Hitachino Nest Beers from Japan, and Epics straight outta Utah.


Some of BOB's beers
With a selection from just about every importer, the hardest part is choosing which six suit your taste.
But that's where the food comes into play. It's easy to pair just about anything with Asian street food. The man behind the operation is Singaporean, and that means a spotless kitchen and a menu that features some Malaysian specialties with a twist, such as satay made from crocodile and ostrich meat.

Crocodile and ostrich satay
Across the street from BOB are street vendors serving up a selection of Southeast Asian fare. Again, the Singaporean influence comes into play here, as it feels more like a controlled hawker model rather than the unregulated norm of Thai street stalls.
The bottle shop-cum-bar model is popular elsewhere in the world, but nowhere in Bangkok has quite embraced it like BOB. With incredible street food, a wholesale pricing model, and Singaporean standards, it's clear that BOB is likely to be a hit with the hop-headed craft beer crowd.
Bottles of Beer is open from 5:30pm to 12:30am daily and can be reached on foot from BTS Thong Lo.
Correction: An earlier version of this story misidentified Epic beer is coming from Colorado. While the beer is brewed there, the brewery is based in Utah.
Related stories:
Brewing Discontent: Frothy Passions Erupt When Thai Craft Beer Goes Big
'Wishbeer' Craft Beer Reopens in Elevator Factory