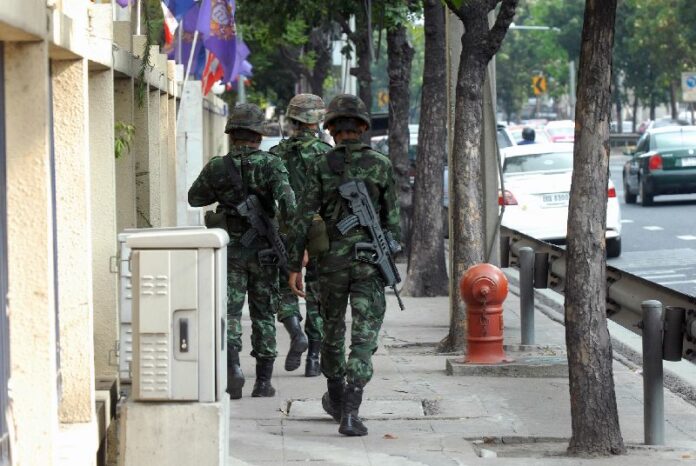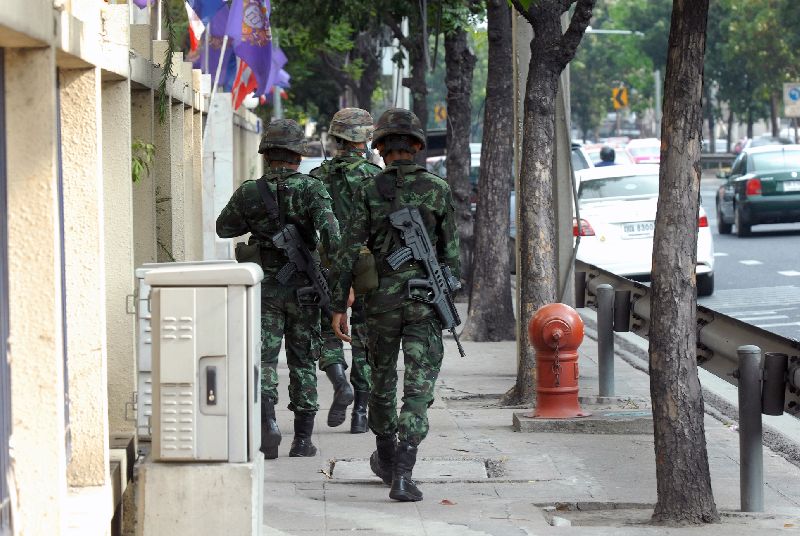 BANGKOK — At least two of eight people abducted from their homes by the military this morning managed the Redshirt movement's Facebook pages, the movement's leaders have confirmed.
Redshirt leader Jatuporn Prompan said Noppakao Kongsuwan and Vararattana Mengtrakul, who along with six others were taken away by soldiers early Wednesday morning, are his close aides and admins of his official page.
Military Abducts at Least 4 Across Thailand
"They are like my [younger] brothers and sisters in my team," Jatuporn said.
He said Noppakao and Varattana also run the official Facebook page for Redshirt umbrella organization United Front of Democracy Against Dictatorship, or UDD.
Jatuporn's deputy, Weng Tojirakarn, confirmed that Noppakao and Varattana engaged in social media work for his movement.
The revelation of the pair's ties to the UDD seems to be the only indicator at the moment to why they were abruptly detained.
Jatuporn has since taken control of his page, while the UDD page remained online but had not been updated since Tuesday.
All eight people are reported to be in military custody, but only five have been identified: Noppakao, Varattana, Harit Mahaton, Nithi Kooltanasilp and Suphachai Saibutr.
According to Jatuporn, Noppakao and Varattana are being held at the 11th Army Circle headquarters in Bangkok.
Reached for comment, junta spokesman Winthai Suvaree said he knew little of the circumstances, but understood that up to 10 people may have been arrested. None has been charged yet, he said.
Winthai said he was told they committed unspecified violations of the Computer Crime Act.
Both Jatuporn and Weng said they did not know Harit, Nithi and Suphachai, or know why they were targeted by the military. Jatuporn said he heard that the three ran several anti-government Facebook pages together with Noppakao and Varattana.
"They are on the same team," Jatuporn said. He also said he believes that one of the three – he was not sure which – works for Sombat Boonngam-anong, founder of a pro-democracy group called Red Sunday.
Sombat could not be reached for comment, but one of the abducted eight, Noppakao, once worked as his bodyguard.
Jatuporn said he has delivered a protest to Winthai about the abduction of Noppakao and Varattana.
"I told him, if you have a problem with what my Facebook says, it should be my problem. They should take it up with me," Jatuporn said, adding that he has requested a meeting with Noppakao and Varattana at the army base, though Winthai was unable to confirm if his request will be granted.
He also defended Noppakao and Varattana's roles in the Redshirt movement.
"It's not a secret. It's nothing complicated," Jatuporn said. "These two are on the side of democracy … they are activists themselves, and they offer to help us out by running our Facebook pages."
Since seizing power from the Redshirt-backed government in May 2014, the junta has quashed free expression but has been frustrated in its attempt to get ahold of social media communities, where discussion of political and taboo subjects remain relatively free.
Related stories:
Anti-Coup Minister Gets New Charge, Could Face 14 Years Behind Bars 
Watana Charged for Criticizing Junta Deputy Chief's 'Sexist' Comments
Military Arrest Facebooker Over Park Graft Infographic
Thai Junta Leader Deflects Concern Over Mass Surveillance Bill
Citizens Should Resist Online Censorship, Advocates Say