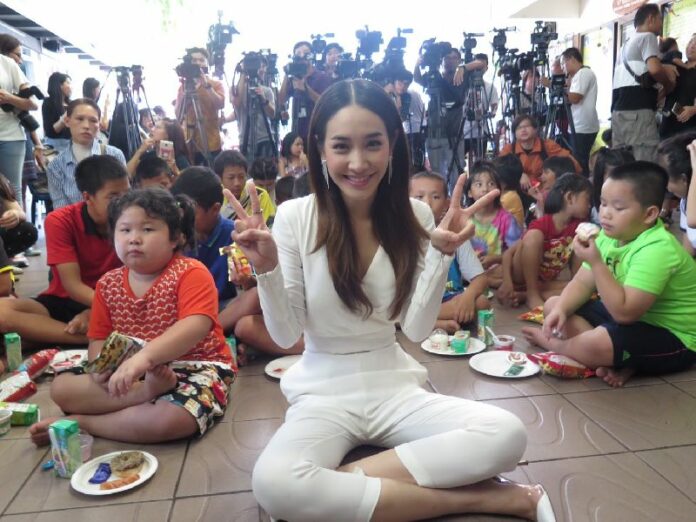 BANGKOK — Flanked by homeless orphans, a soap star staged a news conference today to offer a simple answer for her critics. That mountain of untaxed Hermes bags she treated herself to for her birthday in Singapore? She left them there.
Days after Pechaya Wattanamontri ran afoul of customs officials for flaunting piles of boxes on Instagram, the actress told reporters at a Bangkok orphanage Thursday that she in fact never brought all the bags, priced at upward of 100,000 baht each, into the country.
---
Soap Star's Singapore Shopping Spree Sparks Social Media Backlash
---
"I did buy them, as seen in the photos I posted on my IG," Pechaya said at the orphanage where she was doing charity work to mark her 27th birthday. "But when I traveled to Singapore, I only took one piece of luggage, because I was only there for two days, so it's impossible to bring all of that stuff back to Thailand."
Pechaya did not say where or with whom she left the bags, but said she'd pay all appropriate taxes when she fetched them from Singapore.
The photos were first posted to Instagram on April 20 but were later deleted after some internet users raised uncomfortable questions about the three-letter word.
Questions about taxes owed were raised in the media, and Pechaya declined to explain herself, deferring questions until her appearance at the orphanage today. Public displays of piety and charity are routinely employed by Thai celebrities to deflect criticism.
At the news conference Thursday, Pechaya said tax officials have also contacted her since she posted the photos, asking her whether she had paid the customs duties, so she told them the same version of the story.
"Let me stress that the photos on IG were taken while I was abroad, and I haven't brought any of the bags to Thailand," the actress said.
Pechaya is best known for her role as the nang ek of all nang eks, Pojaman Sawangwong, in the 2015 remake of classic lakorn "Golden Sand Mansion." Her Instagram has 3.2 million followers.
Related stories:
Tax Revenue Falls Short Due To Political Crisis: Official
Teeranai Charuvastra can be reached at [email protected] and @Teeranai_C.