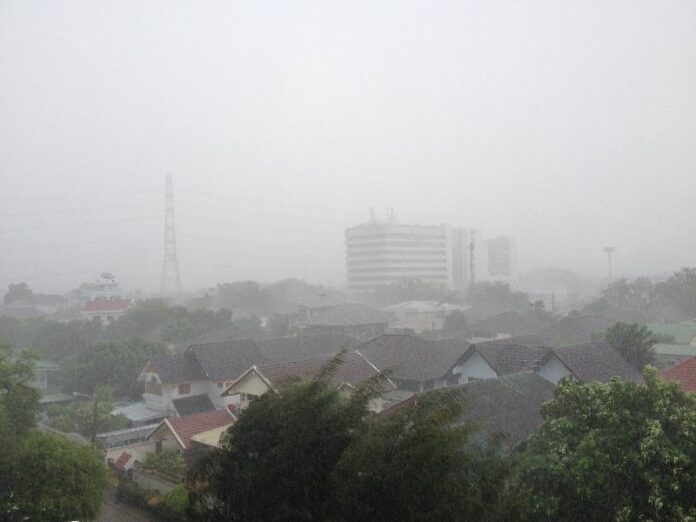 BANGKOK — Lightning arced over the capital city to herald the arrival of monsoon season with a furious thunderstorm Monday afternoon.
As predicted by two oxen last week and summoned Sunday by a storm of rockets fired over Yasothon city, much-needed rain fell for a second day on Monday. Less conveniently, it was also back-to-school day for students.
Netizens reported flooding and auto accidents in a number of places such as Wong Sawang intersection in Bang Sue district and the Huai Khwang tunnel on Ratchadapisek Road. Poor visibility, driving conditions and flooding were also reported in some parts of Bangkok.
Coming off a record heat wave, temperatures were expected to fall to the mid 20s.
Thunderstorms are expected to continue through the week.

A rocket takes off Sunday at the annual Rocket Festival in Yasothon province

Districts experiencing the heaviest average rainfall include Bang Sue, Chatuchak, Phaya Thai, Din Daeng , Huai Khwang, Wang Thonglang, Bang Kapi, Bueng Kum and Khan Na Yao, according to City Hall's flood protection center.
Meteorologist Royon Jitdorn of the Hydro and Agro Informatics Institute suggested commuters get an early start back home or risk being stuck on the roads.
Thailand has been suffering one of its worst droughts in recent history. The annual rainy season is critical to agriculture such as rice growing, and many traditions and rituals greet it annually. Last week the royal plowing ceremony was declared a success when two royal oxen consumed what was deemed the right combination of food and drink. On Sunday, Yasothon staged its annual rocket festival, in which teams compete by sending a volley of of homemade rockets into the sky. No fatalities were reported this year.
This past Thursday in Chanthaburi, locals paraded baskets containing cats which are splashed with water to make them cry, which is believed to encourage the sky to part with its bounty.
Related stories:
Oxen Soothsayers Predict Enough Rainfall, Prosperous Economy
Bangkok Battered by Summer Storm (Photos)