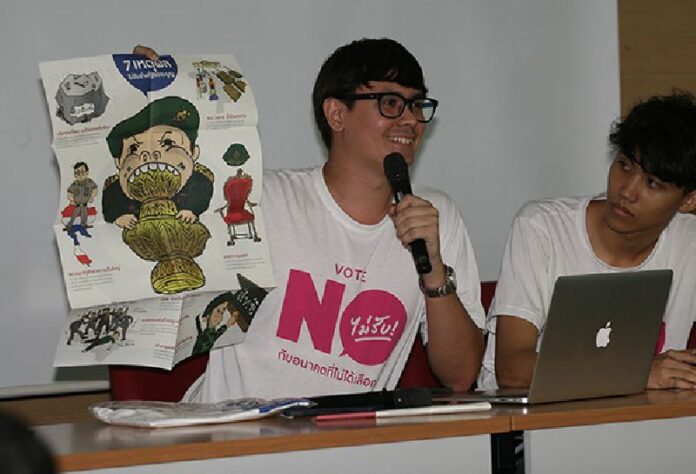 BANGKOK — Those who wrote what could be Thailand's next constitution today declined to defend it in a public debate called by its critics.
A spokesman for the drafting committee rejected a debate challenge issued Sunday by a group of pro-democracy activists who believe the charter, if passed, would doom Thai democracy and stifle future elected governments voted into power.
---
Charter Draft First Look: When Will the Junta be Really Gone? (Analysis)
---
Responding to a call from members of the New Democracy Movement, Udom Ratamarit said it was not the Constitution Drafting Committee's job to get involved in politics or argue the merits of their work in such a manner.
"The CDC isn't the opponent of any political group," Udom told reporters Monday. "Therefore if the New Democracy Movement wants a debate, they should find a debate opponent who's a fellow political group, or those who agree with the constitution draft. That would be more appropriate."
Udom stressed that it is not fear deterring him or other charter drafts from meeting the group in an open debate.
"The CDC does not have any fear for a debate with anyone," he said. "But we'd like to perform the duties specified by the law, which was to draft the constitution. And I can confirm that the CDC did not write the new constitution to be a dictatorial one, we wrote it to solve country's problems."
The draft charter is set to go to a public vote Aug. 7.

Election Commission officials unveil ballot boxes and papers Monday in Bangkok for the upcoming referendum.
Udom's view is not shared by critics such as New Democracy Movement leader Rangsiman Rome, who Sunday lashed out at its many undemocratic elements, such as leeway for an unelected official to be appointed prime minister and a military-stacked Senate comprised of appointed officials
"We are often accused of distorting facts in our words, even though we state facts that are written in the constitution," Rangsiman said. "Therefore, if the CDC believes it's indeed a distortion, the New Democracy Movement would like to debate with the CDC, and truths will surface: Who it is that distorts facts in this constitution."
Rangsiman expressed disappointment upon hearing the debate won't happen.
"I'm sad," he wrote on Facebook.
The junta, which seized power and voided Thailand's previous charter in the May 2014 coup, has urged the public to vote to adopt the new one written by drafters it appointed. A first-round draft of the charter was sunk by another junta-appointed body late in the process last year.
If passed, the junta has promised an election will take place in late 2017, and a new civilian government will be installed by 2018.
However, the regime has not said what would happen if the public rejects the constitution.
Related stories:
Govt Hints 'No' Vote Could Restart Charter Process Third Time
Redshirts Alarmed by Vague Restrictions on Charter Campaigns
Campaign Guideline Bans Campaigning Before Charter Vote
Prof Denies Breaking 'Vague' Referendum Law, Junta Spokesman Says She Did