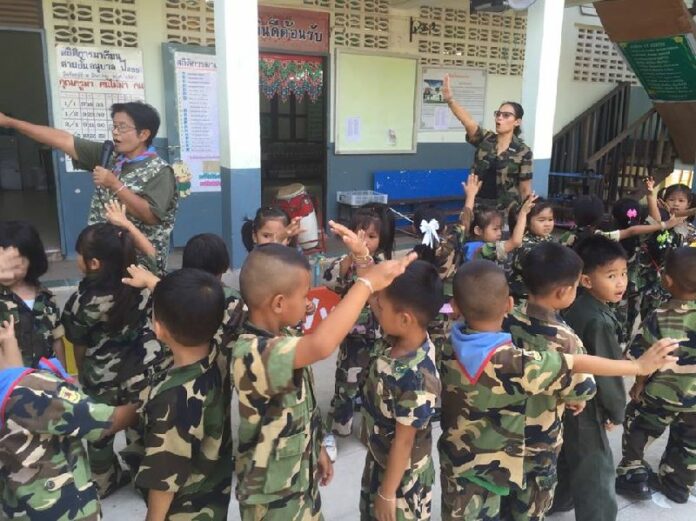 By Teeranai Charuvastra
Staff Reporter
KHON KAEN — A preschool in northeastern Thailand raised many eyebrows after its director ordered its young pupils to show up for class in army uniforms.
For that policy, the Dun Sat School in Khon Kaen province has won praise from a government education official and criticism from those who see the kiddy bootcamp as a sign that Thai society is becoming increasingly militaristic under the current junta.
---
Thai Schoolchildren To Be Re-educated Under Junta's New Guideline
---
Arun Bhodisri, head of Dun Sat School's kindergarten, said her students were told to wear the miniature army garb every Thursday. She said the program is meant to instill loyalty to the monarchy and discipline among the 130 or so students enrolled at the school.
"We have received good feedback from both the children and their guardians," Arun said Friday. She added that the weekly army theme has been in place for four years now.
But the school only attracted wider attention after photos of little children dressed in army uniforms were posted online Friday.
Naturally, the images drew strong reaction from netizens. On one side were those condemning Arun's policy as instilling militarism at a time Thailand is ruled by the iron-fist of the actual army officers who seized power in May 2014.
"This is wonderful. They not only start teaching kids about authoritarianism and violence when they're still young, but they also [teach] them to do Heil Hitler!" wrote Mitrapab Amatysuriyasila in a thread on Hode Sudt, a Facebook page that regularly publishes WTF photos.
Some disagreed, saying the army theme will help turn the students into good citizens.
"What the hell is wrong with you guys?" wrote Natto Plern Mhs in the same thread. "When they only force students to wear school uniforms, you say it's boring. Now they have something else to make it interesting. They want to instill some values. Don't you get it?"
A senior education official also weighed in on the issue.
"I have to admit that it's a praiseworthy idea," Karun Sakunpradit, sec-gen of the Office of Basic Education Commission, said Friday. "Because it reflects that the school wants to build the children of their community into quality youths and adults."
He continued, "The fact that the activities have been going on for three-to-four years without any opposition further demonstrates that the community and guardians see the benefits that their children will receive from this activity of instilling values."
Karun also said the army garb doesn't violate school uniform regulations.
Related stories:
Math Teacher Under Investigation for Slapping Schoolgirls
Bullying and Violence Make Schools Unsafe for LGBT
Teacher Accused of 'Sawing' Student's Ear
Navy Camp Tackles Student Gang Fights
Teeranai Charuvastra can be reached at [email protected] and @Teeranai_C.