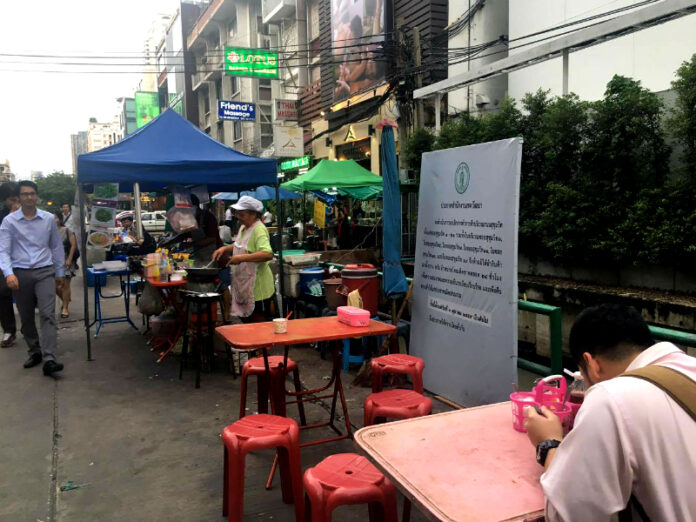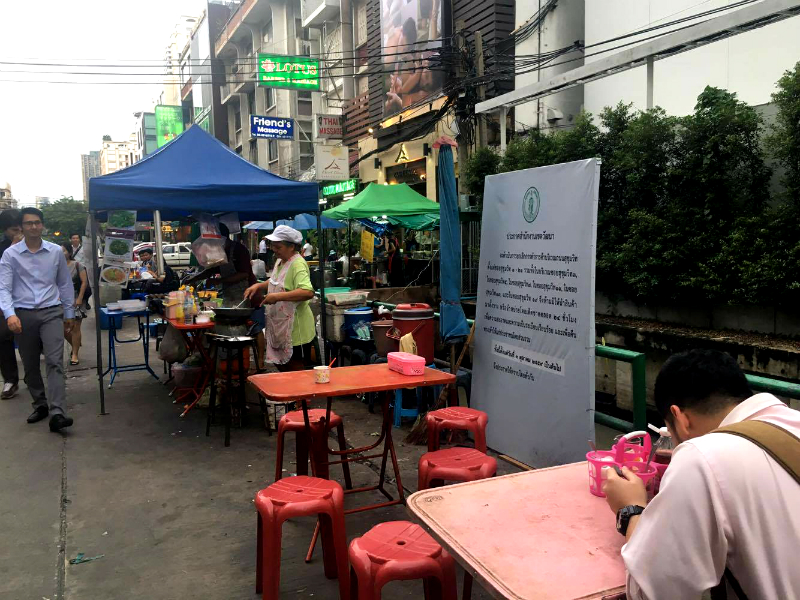 BANGKOK — Come tonight, the football jerseys, wooden elephants, cheap electronics, sex toys, Viagra, cheap food, DVDs, velvet paintings, sarongs and everything else that has been sold along the northern side of Sukhumvit Road for decades is supposed to be a thing of the past.
Vendors said notices first appeared two weeks ago warning that come Oct. 3, they would no longer be allowed to set up stalls in the evening from sois 1 to 21, which routinely turn that side of the road into a kind of busy night bazaar.
The bid to reclaim the public sidewalk, part of an ongoing campaign, was revived again in July with a stricter edict that no stalls will be allowed at any time.
There's no guarantee it will succeed. While the city has prevailed in places such as Saphan Lek and Khlong Thom, it has failed repeatedly to end similar street commerce in the Siam and Silom areas, where its ultimatums have come and gone.
On Thursday, vendors petitioned junta leader Prayuth Chan-ocha to extend the deadline until City Hall can arrange an alternate site for them with the same access to tourists and foreign customers. City officials have not yet responded.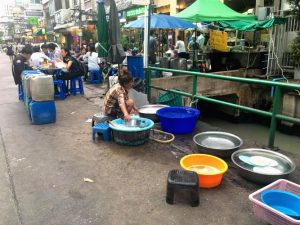 On a recent day, a long row of street food vendors were lined up in Soi Sukhumvit 19, next to the Terminal 21 shopping mall.
"I've heard they will extend it again until the new year. They have extended it many times," said a pad Thai vendor who discussed the bribes she pays to operate her stall only if her name was withheld. "I will just sell here until they don't let me. I don't have anywhere else to go yet."
The first attempt to eliminate street vendors came in April 2015. It ended with City Hall insisting vendors not to set up their shops until after 7pm.
Under the law, vendors who set up during the permitted time had to follow some regulations but were not required to pay rent.
The pad Thai seller said she pays 3,000 baht monthly to the municipal security officer, or tessakit,  to set up her sidewalk kitchen and three small tables. She said the cost is only 500 baht, if the vendor only wants to place one stall.
The city campaign has yet to target the even-numbered sois comprising the road's south side, which includes several busy locations such as Nana Plaza, a red-light district popular with foreigners.
"An officer told me they will crack down those on the main road first, so I can continue selling for now," a woman pushing a drink cart in Soi Sukhumvit 4 said Wednesday. "If they really are going to arrest us, I will just let them take me and pay the fine."