BANGKOK — From Saphan Lek's labyrinth of toys to the blooming sidewalks of the Pak Khlong Talad flower market and on and on across the capital, some of the best examples of Bangkok's vibrant street life are being swept away.
The messy charm of street markets touted in the pages of travel guides has been the target of a cleanliness and order campaign taken up by City Hall almost immediately after the military seized power in the 2014 coup d'etat. When anyone complains, officials repeat they are merely carrying out junta policy to restore public space.
---
Explore the changing face of Bangkok with our interactive map. Story continues below.
See the map full-screen.
---
The campaign has met a split reaction.
Some see it as trading away the Thai capital's charms for what is actually a giveaway to developers. They point to the fact that the targeted areas lie along routes where commuter rail lines system are set to expand; land that will see its value explode.
For those who find "vibrant street life" synonymous with bumper-to-bumper traffic, hip-to-hip sidewalks and general chaos, the campaign is a long overdue attempt to make the city more livable.
What's not clear from the conversations taking place, is what kind of city Bangkok is striving to become in another decade or three. What is the master plan?
No one can answer best these questions like Vallop Suwandee, who has headed what the city calls its "reorganization" campaign since it began in 2014. Vallop, who holds the title, chairman of Advisers to the Governor of Bangkok, said he and the Bangkok Metropolitan Administration are only guided by one principal: pedestrians rights.
Where critics see a top-down approach that ignores the markets' place in the social ecosystem, Vallop argues the street offensive is for society's benefit.
He pointed to the August 2015 bombing of the Erawan Shrine as one example.
"Imagine if there is an attack like the one at Ratchaprasong, the BMA would have difficulty getting to the spot," he said. "Moving the victims, controlling fire – all would be tough because the street is covered by stalls."
What City Hall is trying to get rid of, Vallop said, is not a way of life, but the selfishness of street vendors who never pay neither rent nor taxes yet invade public sidewalks, obstruct traffic and pour pollution down city drains.
In addition to worrying about terrorism, he said people should be concerned about the morality of some products sold in the street.
"Khlong Thom and Saphan Lek were full of untaxed products or goods that promoted bad sexual behavior," he said. "Are these things considered ways of life? I say no."
Even more, he played to anti-immigrant sentiments to make his case.
"Furthermore, there is also an issue about national security," Vallop said. "Street vendors now are not Thais but immigrants hired by stall owners."
Unseen Function
Given basic economics, there would be no street stalls if there was no demand for them.
'Footpaths should be walkable. But there should also be a right to accessible food.'
In an expensive city where the majority earn the 300 baht minimum wage or less, and people often have to hurry to beat the traffic, an architecture urban design thinker argued street stalls serve important functions, such as providing food at an accessible price and time.
"Footpaths should be walkable," Yanyong Boon-Long, who is researching means for linking the khlong and rail systems for the Rockefeller Foundation, said. "But there should also be a right to accessible food."
The lack of time or money to sit down in a proper restaurant for every meal has created what Yanyong describes as the DNA of the city.
Moreover, Bangkok is a safer place as the vendors out day and night provide a natural surveillance system.
"They are eyes on the street," he said. "People feel safer at night when there are street shops around."
The writer of the book "Bangkok: Handmade Transit" said knocking it all down is not an optimum solution. Instead, government should regulate and make use of its economic function.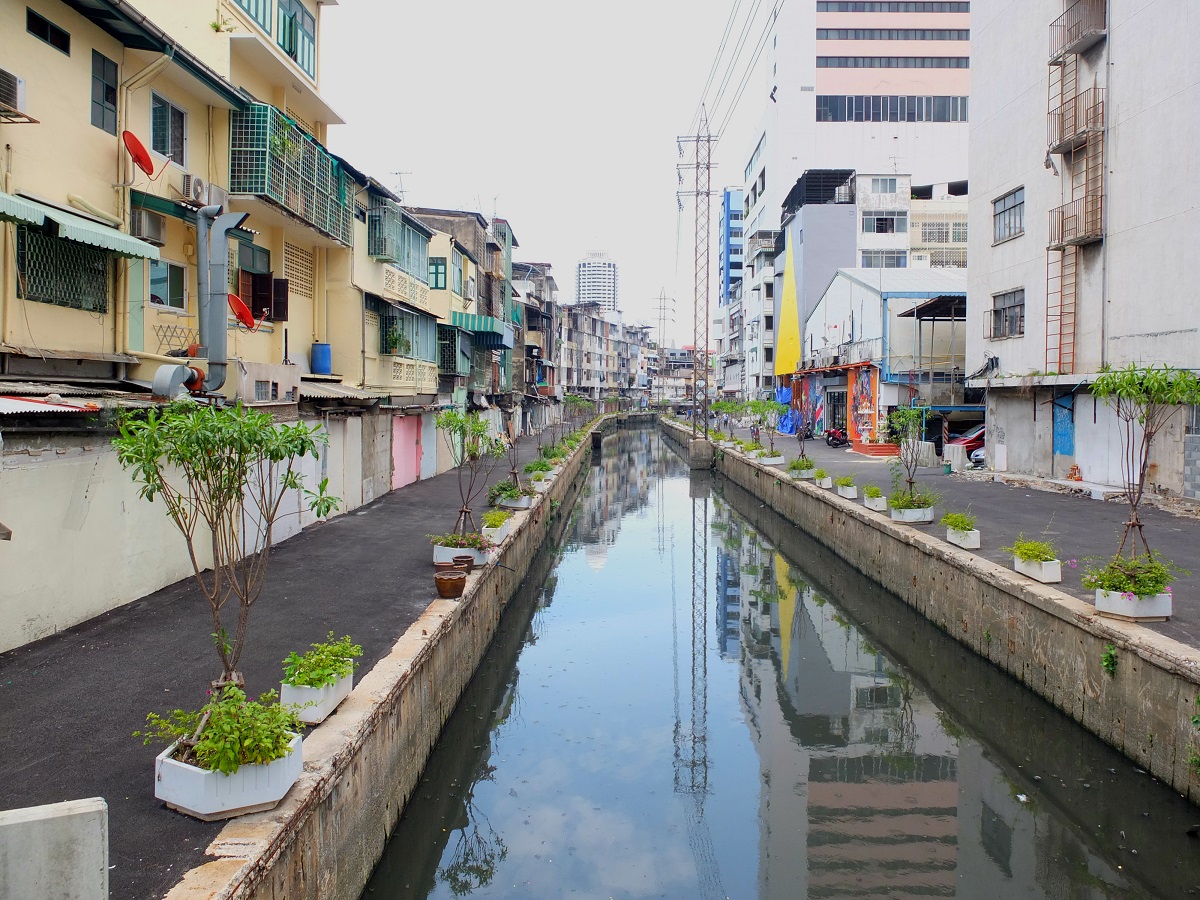 Top-Down Policy
Those affected aren't just street vendors, but historic communities that happened to rise over what is now considered public property in Bangkok.
'Instead of looking at the present context, they bring what they want and try to force it into an area'
One controversial case is Pom Mahakan, where a number of families have been living for over a century behind the walls of a historic fort in the old quarters. They've been living on borrowed time for a quarter of that century, fighting eviction by the city. Late last month city officials sat down to talk to them for the first time in a historic meeting after their most recent eviction notice was served in April.
Sanon Wangsrangboon, who owns a hostel nearby, was struck by the problem and recently got involved in helping the community protect their neighborhood. It did not take long for the 26-year-old to see problems with the way urban development is being carried out.
"It is very conventional," he said. "Instead of looking at the present context, they bring what they want and try to force it into an area."
Not only is the top-down policy executed by decree without any consulting with the people and communities affected, Sanon said there's also no proof for the public to see that what the BMA does is part of an intelligent vision for the city's future development.
Instead, the obvious example is Khlong Ong Ang, an old waterway reclaimed "for the public" late last year when workers demolished Saphan Lek and the stalls squatting over it.
"And it now has become useless space," he said. "There were a lot of areas that they could have developed without affecting people," Sanon said. "If they can prove that benefit would be made, they will be able to create legitimacy to removing people."
The part-time community development advocate agreed that the city needs regulation. But as everywhere is always a home for someone, those policies should be based on human needs.
"What I want to see is a changed vision of governance, from top-down to bottom-up," he said.
Related stories: