BANGKOK — Masked demons ride go-karts, take selfies and make coconut pudding in a new music video from the tourism authority that a former cultural watchdog has deemed offensive.
"Tiew Thai Me Hey (Travel in Thailand is Fun)" was released earlier this month to promote domestic travel among Thais with a wacky depiction of traditional khon characters having fun. But it will be re-edited after Ladda Thangsupachai, who once headed a government agency tasked with going after "inappropriate" culture, said the video "defamed" tradition.
It's director, Bhandit Thongdee, who heads the Thai Film Director Association, said that he can't win as an artist when different sides are actively battling over what is "acceptable" culture.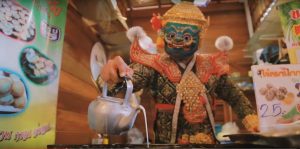 Although he couldn't be reached for comment, Bundit complained online Monday that he's been threatened with legal action as a "culture destroyer" in the same day others called him "too conservative" for his film committee's selection of "Arpat," a film about a troubled monk, for Oscar consideration.
He decried the notion that traditions are immutable things that cannot be updated, recontextualized or driven around in a go-kart.
"Cultural values should be kept only on the shelf and cannot be developed in other ways to benefit the nation?" he wrote.
But soon after Ladda complained, the government-backed traditional arts school whose performers Bundit used in the video issued a critical statement. The board of Bunditpatanasilpa Institute said the character of Thotsakan – the demon king abductor of women – should not be portrayed doing "undignified" activities such as go karting or taking selfies.
A master of khon who himself once enraged the establishment by contemporizing it wrote that traditions need no protection.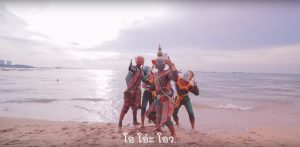 "To block others' opinion reflects the diminished intellect of the speaker," Pichet Klunchun wrote on Facebook. "Traditional art needs no protection under discussion or social restrictions."
There's been an outpouring of support for the video by many who say Ladda is out of touch.
A Change.org petition posted Wednesday has already drawn more than 30,000 signatures by today.
"I agree with the MV. After I watched it, I liked it and love Thailand. Still, I don't agree with Ladda Thangsupachai because I think the MV doesn't destroy Thai culture in any way," wrote Arak Suwanrat of Nonthaburi.
Supachai Manoonpatarachai from Rayong wrote that it may generate interest among children and link the past to the present.
"Thai kids who watch this MV might ask what the name of the giant is and find out more information about it afterward. And foreigners can see applied cultural arts that blend with contemporary society," Supachai wrote.
During her years at the Culture Surveillance Bureau, Ladda famously went after double entendre in music (such as itchy ears) and pushed for stricter censorship, such as a film which depicted a nontraditional family.