BANGKOK — A coalition of filmmakers, distributors and movie lovers gathered Wednesday to demand equal access and fair competition for the Thai film industry.
Frustrated by a system that makes it difficult for their films to be seen, filmmakers united as the Thai Filmmakers Network to take on the commercial interests they see holding back their industry and art.
"Now, the industry is hitting its low point, where Thai films lack support and equal screening opportunity," said independent director Boonsong Nakphoo. "I know how to get by, but it's not enough. The industry must be able to survive."
Those who see the domestic film industry as producing only formulaic comedies, horror movies and period dramas may find common cause with the network, who blame the two major corporate cinema owners for colluding to be box office king-makers.
On Wednesday at the Bangkok Art and Culture Centre, the eight representatives from different parts of the industry, made four demands of the two major corporate cinemas that control the market: SF Cinema and Major Cineplex.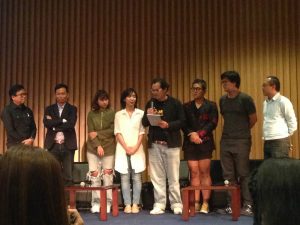 For one, they want multiplex cinemas to give over no more than 20 percent of their screens to a single film in order to make space for non-blockbusters. They also asked that Thai-made films be shown five times daily for at least two weeks, and a 2008 law fixing a ratio of imported and domestic films be enforced.
The network also asked for the abolition of the Virtual Print Fee, an outdated subsidy theaters still demand distributors pay. Intended to help ease the transition to digital, the subsidy is a costly hurdle for mid- and small-size filmmakers. Finally, they asked the national antitrust commission to address the anti-competitive market forces in the industry so all Thai filmmakers have equal footing.
The network said it would submit its requests to the influential national film industry federation on Friday in hope it could help push for fair competition in the industry.
A representative from SF Cinema present at the event said communication was important.
"Filmmakers and cinemas have to rely on one another," said Suwannee Chinchiewchan, executive vice-president of marketing. "It's best for us to communicate and discuss more on the issue."
She added that SF Cinema provides equal shares to distributors. Major Cineplex had not responded to inquiries by Thursday afternoon.
Stories Waiting to be Told
Domestic filmmakers believe audiences and the market for movies are being underserved.
They make films lauded by critics abroad that never get seen at home.
"Some people say that if Thai filmmakers make good films, people will definitely watch them," said director Tanwarin Sukkhapisit, whose recent film 'A Gas Station' has received praise and been selected for the 2016 Busan International Film Festival.
Despite that, it opened in Thailand to earn only 9,000 baht on opening day.
"As word of mouth started to work, the film was kicked out after being shown in the chain theaters for seven days," Tanwarin said.
A 16-year industry veteran, Tanwarin has learned its lessons the hard way. In 2010, his film "Insects in The Backyard" was banned by the Culture Ministry on moral grounds of for sex scenes between same-sex and opposite-sex couples and the main character's decision to become a prostitute instead of finding another solution to life's problems. After a five-year court battle, the film can now be shown, but only if a three-second sex scene between two men is deleted.
Even without the ban, the 43-year-old director says he barely profits from his films because of the unequal share offered by the chain theaters and the Virtual Print Fee costs.
Chartchai Ketnust said he faced similar problems with his directorial debut last year, a Thai-Burmese co-production. He said "From Bangkok to Mandalay" earned nothing in Thailand, but made 20 million baht in Myanmar.
The flood of Western imports drowns the domestic industry, he said.
"Thai movies often have to make way for Hollywood flicks, which take over 80 percent of the cinemas," said Chartchai, whose film showed on few screens and was dropped in favor of Japanese animation hit "Your Name."
Despite the growth of the Thai box office in recent years, domestic filmmakers have suffered.
The market share for Thai films fell from 22 percent in 2014 to 13 percent last year. More specifically, 38 Thai films earned only 565 million baht at the box office in 2016 compared to 4.1 billion baht from 245 foreign films.
Although the Wednesday press conference gained interest from the press, film fans and those in the business, the network has yet to win the support of industry commercial interests.
While they risk antagonizing those who control their reach to audiences, the cinema chains must be aware of changes in how and where people see films.
"Certain big cinemas don't give fair shares to all distributors," said Pat Eaimtrakul of HAL Distribution. "Fortunately we can gain something from House RCA and Bangkok Screening Room, which give equal after-tax shares along with adequate screening schedules."
Tanwarin the director said it wasn't only for their own sakes.
"What we do doesn't mean to make enemies or ostracize anyone's rights," he said. "We just want to build a bridge so that Thai films can survive and to make the industry firm and sturdy," he said.

Related stories:
Lack of Competition Stifles Thai Film Industry