BANGKOK — After taking three top prizes at the Golden Swan ceremony earlier this month, an indie film on the 1976 massacre at Thammasat University won more acclaim Wednesday night from film critics.
Director Anocha Suwichakornpong was awarded Best Picture, Best Director and Best Film Editing for her acclaimed film "By The Time it Gets Dark" of the nominations it received at the Bangkok Critics Assembly Awards held last night at the Thai Army Club.
Competing films were selected by vote by a panel of judges, and in full disclosure, this reporter was one of the 47 critics, filmmakers, cinephiles and media representatives casting ballots.
Earlier this month, the Anocha's team won the distinctions from the National Film Association Awards, aka the Subannahongsa (Golden Swan) Awards.
"By The Time It Gets Dark" tells the interwoven story of characters related to the Oct. 6 massacre which remains an unresolved and taboo topic 40 years later. Despite being criticized for its very limited theater run, the film is now back in theaters and can be seen through Sunday at SF Cinema in the CentralWorld shopping mall.
READ: Few Saw Thailand's 'Best Picture' and That's the Problem
The surprises of the night were in the Best Actress and Best Actor categories, which broke differently than at the Golden Swans – the former went to Davika "Mai" Hoorne for a second year for her portrayal of a 74-year-old woman's younger self in "Suddenly Twenty," an adaptation of a Korean romantic-drama. Country singer Ekachai Srivichai clinched Best Actor for "Serd," a film about preserving southern Thailand's Manora traditional dance which also provided his directorial debut.
Pimpaka Towira's "Island Funeral" earned two awards: Best Screenplay and Best Original Score while Tanwarin Sukkhapisit's "A Gas Station" won Best Art Direction and Best Supporting Actress from Apa "Maggi" Bhavilai.
Other awards included Best Supporting Actor for Nathasit Kotimanuswanich's performance in "Grace." A cinematography prize for Urupong Raksasad and "Wandering." Lifetime achievement awards went to Metta Rungrat and Chumporn Theppitak.
The 25th Bangkok Critics Assembly Awards has been held annually since 1990.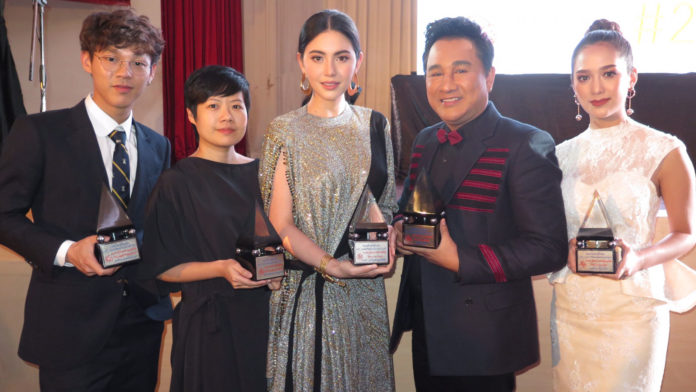 Related stories:
Few Saw Thailand's 'Best Picture' and That's the Problem