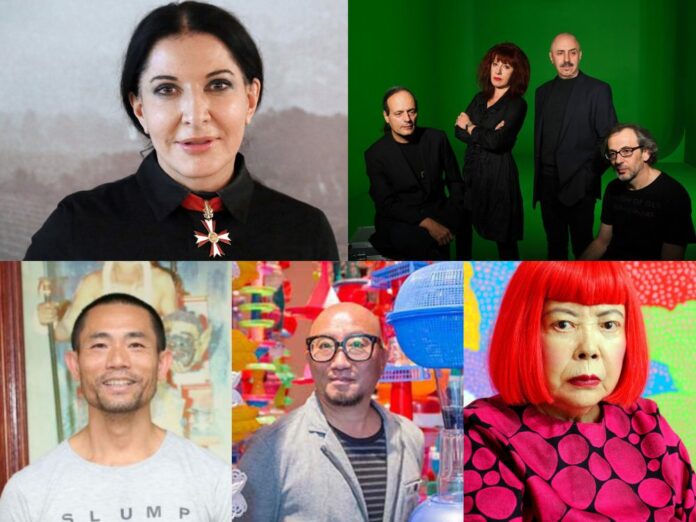 BANGKOK — Watch out and make way: The "grandmother of performance art" and "queen of polka dots" are coming to Bangkok.
Marina Abramovic, dubbed the "grandmother of performance art," and polka dot-obsessed, Japanese artist-writer Yayoi Kusama were confirmed Thursday to be among 75 artists to join the first edition of epic art fest Bangkok Art Biennale later this year.
In addition to Abramovic and Kusama, the lineup of 40 foreign artists include Russian art collective AES+F, Chinese-French conceptual artist Huang Yong Ping, Tokyo-based cartoon illustrator Yoshitomo Nara, Danish-Norwegian duo Elmgreen and Dragset, according to the announcement made at the Bangkok Art and Culture Centre.
The remaining 35 are local artists including celebrated choreographer Pichet Klunchun, visual artist Sakarin Krue-On, performance artist Chumpon Apisuk and video artist Kawita Vatanajyankur.
The full list of artists is available online.
The Bangkok Art Biennale will run Oct. 19 to Feb. 3 under the theme Beyond Bliss.
Not to be confused with the Bangkok Biennial, it's one of three major biennale-style events in the works, and the most commercial of the three.
It aims to blend art with local attractions such as the temples along the Chao Phraya River and historical sites, and make extensive use of corporate partnerships to stage events in galleries and shopping malls.
The months-long jamboree will take place in over a dozen venues and attractions around the city, from Wat Arun and Lumphini Park to CentralWorld and the old Venetian-style East Asiatic Co. building.
"This exhibition should be about making the unheard heard and the unseen seen, introducing the world to many amazing cool works they have never known existed, particularly in a place full of conflict and segregated political beliefs," said event spokesman Rirkrit Tiravanija.
Related stories:
Marina Abramovic to Top Artists at Bangkok Art Biennale