Top: Temples and other venues along the Chao Phraya River that will be used for the Bangkok Art Biennale, one of three major art events coming to Thailand in 2018. Photo: Bangkok Art Biennale / Courtesy
BANGKOK — Thailand will welcome not one but three major biannual art events next year – each billed as the kingdom's "first" – with vastly different philosophies.
In the vein of renowned international events such as the 123-year-old Venice Biennale, the three events – two in the capital and one in Krabi province – aim to make up for lost time.
One is an insurgent challenge to the corporate-art establishment while another is the very embodiment of commercially underwritten culture, while the third seems an ambitious marriage of promotion and aspiration.
Bangkok Biennial
The best claim to being "the first" goes to the Bangkok Biennial, which will kick off July 1, 2018 and run through Sept. 30, 2018. It will focus on different experimental approaches in art and daily life with no articulated theme, no central curator, no sponsors and no venue restrictions, as some events will be held virtually.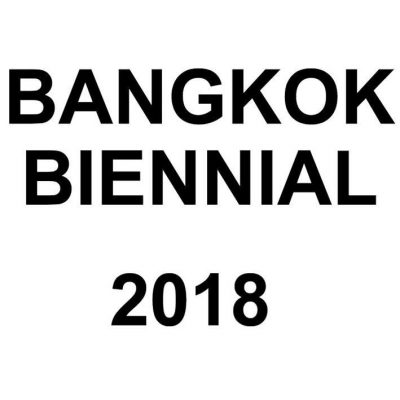 Its organizers are set on keeping things genuine and true to the art rather than commercially compromised.
"We are not here to 'boost' or 'promote'. We are here as an attempt at a more relevant means of representation than what we see going on around us," wrote an organizer in reply to inquiries. They chose to remain anonymous, saying it was necessary to be consistent with a decentralized organizational structure and not discourage artists from participating due to art-community politics.
Some artists and curators have been linked to the project, such as Angkrit Ajchariyasophon, Mit Jai Inn and the Bangkok Underground Film Festival team of Sam Freeman and Dhyan Ho.
The underground event aims to set itself apart from mainstream biennial festivals held around the world by challenging the art world's usual top-down structure. Meant to invert that power structure, organizers said they will discard convention by giving full power to autonomous stakeholders to set up their own "pavilions."
"Each pavilion is responsible for its own resources," they wrote. "This allows for an unlimited amount of participation by whoever is capable of creating a pavilion; the Bangkok Biennial is not restricted by a central budget."
They hope the groundbreaking event will contribute to a representation of what's going on in the broader art world.
Without central management and a hefty marketing budget, it remains to be seen whether it can gain traction. How to sustain an event intended to repeat every two years without sponsors or centralized management? This practical question was met with a very conceptual answer.
"It will be sustained if there continues to be a need for it. Every aspect of the Bangkok Biennial depends on participation – from stakeholders getting actively involved, using their voices and believing that it is an important thing to sustain," they wrote.
Bangkok Art Biennale
At the other extreme, the Bangkok Art Biennale arrives with its future secured for three editions over six years with generous corporate backing 150 million baht from brewer ThaiBev, retailer Central Group and developer Siam Piwat. It also enjoys public-sector support the Bangkok Metropolitan Administration and Tourism Authority of Thailand and will unfold at venues including the capital's luxury shopping malls.
After announcing the event in May at the Venice Biennale, its artistic director, former Culture Ministry Permanent Secretary Apinan Poshyananda, held a press conference this month at the Bangkok Art and Culture Centre, or BACC.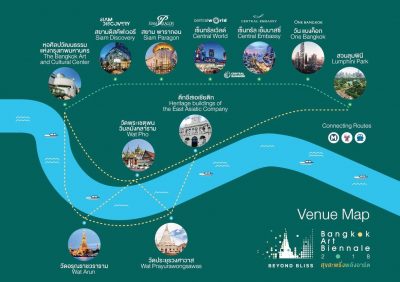 There he said the Bangkok Art Biennale, or BAB, would gather artists from various fields with an emphasis on young, contemporary talents. For him, the more major art events in Thailand the better, as it will expose more people to art and give artists more opportunities.
Scheduled to run November 2018 through February 2019, the Bangkok Art Biennale will be modeled on Italy's oldest biennale, albeit on a smaller scale. It will blend art with local attractions such as the temples along the Chao Phraya River, historical sites and downtown galleries and shopping malls.
Timed with the tourism high season, the event is definitely a "booster," as organizers hope to draw approximately 3.3 million Thai and international tourists to those venues and give an economic boost.
Given the ebullient theme "Beyond Bliss" and involvement of government agencies sometimes at odds with free expression, it's reasonable to wonder about the festival's commitment to artistic expression. Just last month, soldiers visited two art galleries and removed several works from one.
"I don't have a particular answer to that," ThaiBev president Thapana Sirivadhanabhakdi said. "But I look at [the] issue optimistically, positive that actually some of the key messages can go out broadly to whoever might be involved in such issues."
Thailand Biennale
Also coming during the high season at the same time as BAB, the Andaman coast province of Krabi will roll out the Thailand Biennale. It's organized by another government agency, the Culture Ministry's Office of Contemporary Art and Culture. The plan is hold the festival every two years in different provinces.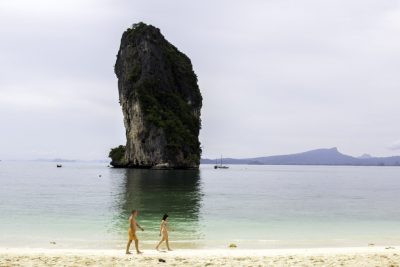 First announced as the Krabi Art Olympics to be held every four years, it was revised to be a biannual outdoor festival staged on natural sites such as beaches, waterfalls, cliffs and rainforests. Its curators will be led by Jiang Jiehong, a professor from the Birmingham Institute of Art and Design.
"How would any artistic response to the sites harmoniously and creatively become part of the landscape?" he wrote in a statement on the website. "This First Thailand Biennale is a cutting-edge exploration driven by visual practice, which takes a proactive attitude and a practical hold to approach, imitate, reinterpret and extend reality."
With the theme "Edge of the Wonderland," more than 50 artists will be invited to showcase their work. There will also be an international competition to select young artists' work for the exhibit along with educational programs including talks, workshops and conferences in Krabi, Bangkok, Chiang Mai and other select locations.
The organizers seem aware of the task before them.
"The world does not necessarily need another grand biennial or triennial and we are committed to make it unique," their announcement reads.
Three biennial art events to attend next year will definitely bring benefits in terms of art appreciation and revenue but only time will tell which event comes out on top as the real "biennale" of Bangkok and Thailand.