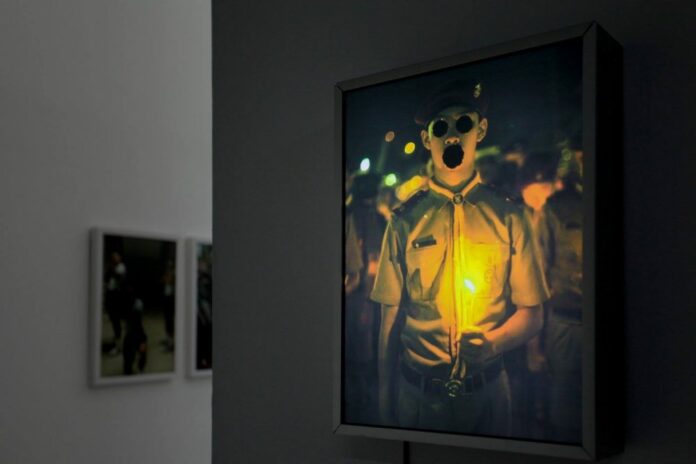 BANGKOK — Soldiers visited two art galleries in downtown Bangkok Thursday and ordered one to remove three photographs from an exhibition without citing any reason.
Held in two adjacent art galleries, one exhibition depicted the lives and memories of political prisoners while the other was an homage to the 2010 military crackdown on Redshirt protests which left more than 90 people dead.
It's the latest effort by the military to micromanage their ban on political activities, in place since the May 2014 coup. Soldiers have previously blocked film screenings, academic seminars and even university football parades.
Tada Hengsapkul said "three to four" uniformed soldiers first came at about 1pm to his exhibition at the Cartel Artspace gallery and demanded entry. They misunderstood that lese majeste convict Pronthip "Kolf" Mankong was the one hosting the exhibition, Tada said.
In fact, Pronthip's portrait was featured among other political prisoners' in the "The Shards Would Shatter At Touch" exhibition, which opened May 20 and ends Tuesday. Pronthip, now a campaigner for the welfare of women prisoners, had written a critical piece about the use of her image without her permission for Prachatai, a news site known for its progressive and anti-establishment stance. Tada believed that's how the military learned of his exhibition.
"I already apologized to her. I thought the matter was over, but she wrote about it on Prachatai," Tada said Friday, adding that he knew the article might invite attention. "I knew it right away, soldiers would definitely come visit us."
The soldiers only learned Pronthip was uninvolved upon entering the gallery, Tada said. He also told them he had removed her portrait – and all others – long before their arrival because of her complaint. Satisfied with the explanation, the soldiers soon left the gallery.
While Tada might have been spared censorship, Harit Srikhao, whose exhibition "Whitewash" was being held next door – was not, by chance.
While officers waited for Tada's staff to fetch the key to get inside, the soldiers wandered into a nearby building and ran into Harit's exhibition, which contrasts images of the bloody 2010 crackdown with pictures of everyday life.
Upon spotting the exhibition, soldiers entered the venue, called Gallery Ver, and demanded the owner take down three collages from the wall. Harit said he was not at the gallery at the time, so he had no idea what offended the soldiers.
"I'm not sure what the reasons were," Harit said. The spots where the pieces hung have been left empty without explanation per agreement with the gallery owner, he added.
Tada said the soldiers were unarmed and were accompanied by several police officers. None of them identified their unit, he said.
Sompot Suwancharas, chief of the police station with jurisdiction over the area, said he had not heard anything about the visit.
Soldiers have become a common sight in everyday life since the 2014 coup, having adopted dual roles as law enforcement officers and security forces for the ruling junta. To enforce the junta's ban on political activities, soldiers have forced the organizers of various events to cancel, from discussion panels to cultural shows.
They've become regular sights monitoring and filming shows which might be interpreted as political, such as an abstract performance piece based on the 1976 massacre of students at Thammasat University.
On Wednesday, security forces were dispatched to the concert of a country singer the prime minister had criticized for dressing and dancing provocatively. They asked her to put on a jacket. Kolf, whose article critical of her image being used in Tada's exhibition prompted the military response, was herself jailed for a student play deemed offensive to the monarchy.
Tada said he was not that surprised by the soldiers' visit. His exhibition is about current and former prisoners serving time on political charges.
"I'm already used to this kind of thing in this country," Tada said, adding that he worried the attention and publicity about what happened would "scare off" new generations of artists.
Harit, whose exhibition was censored by the soldiers Thursday, said what happened "was not beyond expectation" but lamented the effect on his work.
"It doesn't personally affect me, I don't think so, but it affects the content of my work," Harit said. "Three pictures are missing. It's now an incomplete work."
Related stories:
Police Sent to Cover Up Teen Country Singer 'Lumyai'
Junta Bans Bookstore Talk on Draft Charter