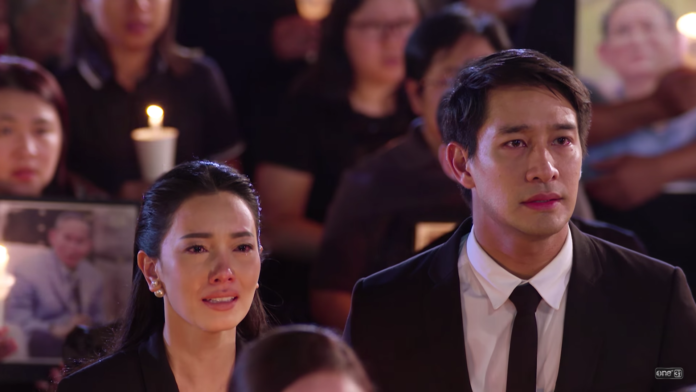 BANGKOK — Thursday concluded a primetime soap series glorifying His Majesty the Late King, with multiple storylines blending fact and fiction.
Produced by GMM One, "I Was Born in the Reign of Rama IX: The Series" aired Monday through Thursday last week with lessons of morality and a political subtext weighted by reverence for King Bhumibol.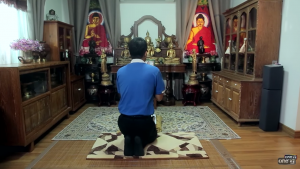 The four-episode series, which began after a month-long ban on entertainment lapsed, followed several middle-class Thais from Oct. 13 when they heard the news through Oct. 22, when they attend a mass performance of the royal anthem at Sanam Luang.
Asked to comment on its cultural significance, several experts on mass media culture declined, either saying they hadn't seen it or weren't comfortable with the topic. However an expert at Chulalongkorn University's Faculty of Arts said that, as a work of cultural expression, the series' fixation on the past doesn't help society move forward.
"The lakorn 'I Was Born In the Reign of Rama IX' pushes people to keep living in that time, prolonging the grief and mourning period," Pasavit Boonkongchuen said. "Even the time-travel plot element keeps people in the past instead of preparing people for the future."
More than 100 cast and 300 crew members collaborated to create several stories of middle class characters reacting to the King's death. They included a dek van, (motorcycle gangster) who changes his ways, fighting siblings who reconcile, and an office worker who tries to hide the devastating news from his parents who love the King.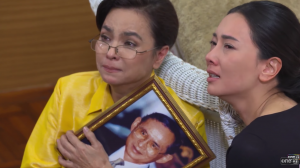 In another vignette, a couple solves their marital problems after an accident sends the woman into a coma and back 10 years to the 60th anniversary of the King's accession to the throne. There she meets a yellow-clad portrait collector who shows her photos of the King and Queen's relationship. The husband, waiting in the hospital lobby near a portrait of the King, is taught the same lesson by nearby nurses.
"In matters of love, I will follow the King's footsteps," the husband says.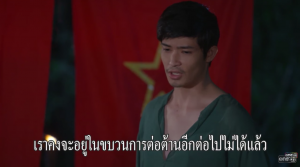 Another young male character is transported back to Sakon Nakhon in 1980 where he falls in with red communists, who eventually abandon their ideology.
"I used to fight to have material goods, but we never succeeded. But this King is like a monk that brings forth everything else. I would be an evil, degenerate person if I didn't respect him," a character says.
Interspersed with 13 songs glorifying Rama IX and montages of the late King and actual footage of crowds in yellow in 2006 and in black, the series blends fact and fiction to try to keep alive the stabilizing moral force that many in the status quo attribute to the King's reign.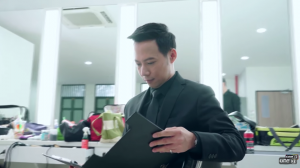 There is even a cameo by the royal news presenter who announced the King's death, which went viral for his ability to hold back his tears.
Pasavit described the series as an "ideological project" that actually serves to further polarize society by reinforcing a myth of social unity.
"The soap assumes that everyone is grieving and doesn't give people the space to be neutral on the matter," he said. "You either react like the world is ending, or else you're a traitor to the fatherland."