SAMUT PRAKAN — Agents of Shield: Assemble Friday in Bang Na.
That's when Southeast Asia's first Marvel Entertainment theme park opens in a surprisingly large complex behind the Mega Bangna Ikea. But visiting The Marvel Experience Thailand will require some Stark Industries-level funding.
Avenger wannabes and Marvel fangirls and fanboys are expected to shell out ฿1,500 to enter the 20,000sqm complex, where they will tour a series of attractions which mostly consist of walking through large rooms with 3D projections. Expect to spend about two hours here.
Adults and those only interested in the Marvel film franchise may be disappointed with said experience, since it focuses more on the comic characters and seems aimed at children. However, some of the rooms you walk through are more interactive and have impressive technical facilities.
Fire blasters at a large double-sided screen in the Holoblaster Shooting Gallery, which can support up to 100 players. Strap on 3D glasses as your seat shifts and tilts in flight alongside Iron Man in a transport shuttle in a 4D theater. Gape in awe as Wolverine teams up with Black Widow on a domed ceiling projection.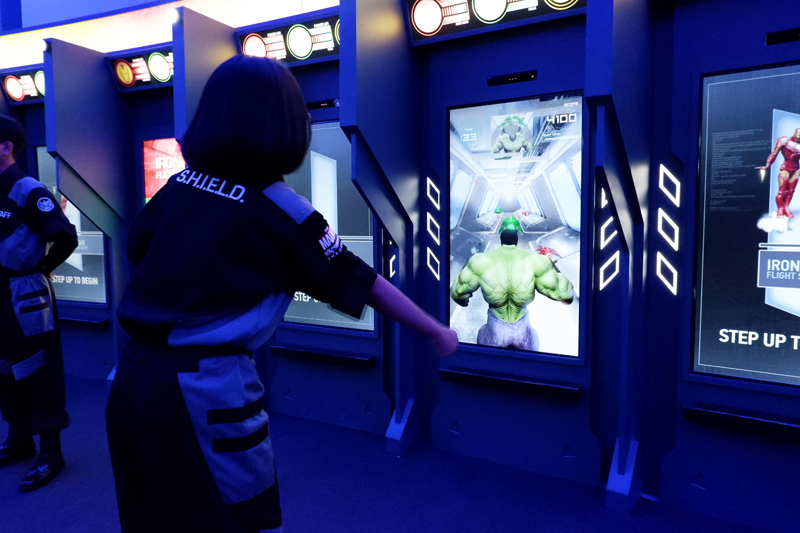 In the Training Center, hone your superhero skills such as punching like the Hulk or jumping like the Black Panther through games that rely on motion detection.
While walking through the complex, you follow the story of the Avengers as they defend Bangkok against villains Red Skull and Madame Hydra. Participants take the role of Agents of Shield recruits who play sidekick to Captain America, Iron Man, Spider-Man, Black Widow, Doctor Strange and so on.
At the end of the journey, take a photo with a random superhero before exiting through the gift shop. Although some products are international theme park-level expensive, such as Muay Thai pants that cost ฿1,790 or the Thanos Gauntlet toy (฿1,195), more affordable options include T-shirts (฿399 to ฿450), plushies (฿395) and mugs (฿229 or ฿289). By the reception area, peckish superheroes-in-training can grab sandwiches and drinks at the Avengers Cafe.
The Marvel Experience, run by Hero Ventures and Marvel Entertainment, first launched in the United States in 2014. The Mega Bangna branch opens Friday and be open 9am to midnight daily. The last admission is at 10pm. Tours are available in Thai, English and Chinese. Tickets are ฿1,500 for adults and ฿1,350 for children under 120 centimeters.