It seems as if every producer or DJ is dabbling with techno nowadays. But in the case of Bangkok drum n' bass veteran DJ King Kong, or Kritsada Vadeesirisak, transitioning from that genre to techno came naturally after spending hours experimenting and tweaking sounds on his hardware synthesizers.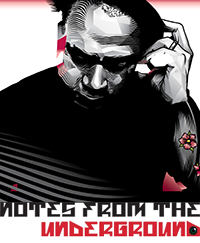 I witnessed this first hand, dropping in on one of his rehearsals at his recording studio on a monday afternoon.
Inside the studio sequencers, drum machines and effects units are laid out on a desk. The heart of the setup is his modular synthesizer, a big metal box that looks similar to something from a science lab. Inside the box are filters, oscillators and tone generators connected together by an array of cables. Kritsada hovers above the machines improvising melodies on the keyboard, dropping drum loops and tweaking robotic bleeps by turning knobs and pressing various blinking buttons.
After the demonstration he turns down the music and says "it's all about improvisation."
"I was inspired by [Bulgarian DJ] Kink's live sets, so I bought a drum machine and sequencer and had a lot of fun  jamming  with them," Kritsada said smiling.
Before producing techno, Kritsada earned props in the scene as the frontman of Thai drum n' bass band Animal Machine. He also produces music which he releases from his own label Zoo Studio, which he started in 2009.
He came up with his latest project "Marmosets" two years ago and focuses on producing and performing techno – which in April of this year saw him performing for the first time in Amsterdam and Berlin. So far Kritsada has released two tracks. One of them is a collaboration with Phuket's house don Q Narongwate on Italian label SunClock. His second release saw the producer flipping the script on Netflix's Stranger Things theme song and turning it into a dancefloor stormer.
"I'm a huge fan of Stanger Things, and I thought I'd remix the theme song because it sounds kinda cool, Mixmag heard it and decided to share it on their soundcloud," Kritsada said.
I asked him if he's ever going to get back to producing drum n' bass music.
"I do want to get back to releasing drum n' bass, but this year I want to focus on finishing my techno EP first" he said, referring to a project which he plans to release later this year.
On Saturday, Kritsada will ditch the turntables and bring his set up of synthesizers, sequencers and effects to perform at Kolour Live. Joining in the lineup are DangerDisko from Kuala Lumpur, Peking opera and Slum Disco Soundsystem.
Tickets are 750 baht at the door and include two beers. Doors open at 3pm at Quaint Bangkok on Sukhumvit Soi 61, which can be reached via a 10 minute walk from BTS Ekkamai.