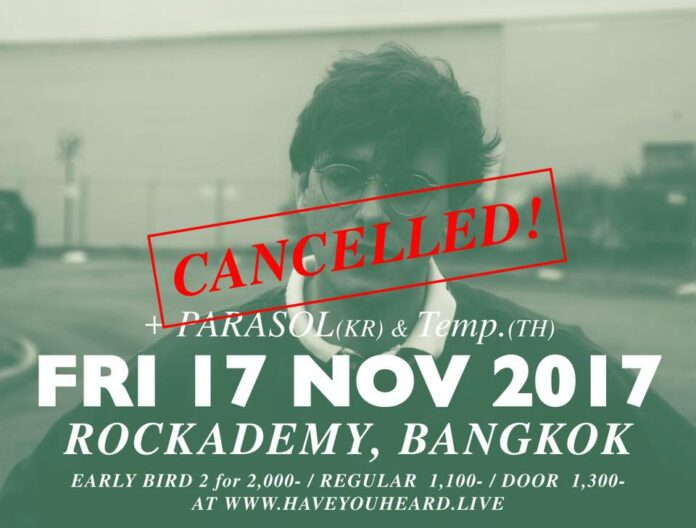 BANGKOK — A Bangkok promoter on Monday canceled a performance next month by American lo-fi act Ducktails due to allegations of sexual misconduct involving its front man.
Indie music organizer Have You Heard announced online it was removing Ducktails from its schedule following Friday reports that Matt Mondanile was ousted from his previous band, Real Estate, for mistreating women.
The band disclosed their decision to Pitchfork in the wake of revelations about Hollywood producer Harvey Weinstein which have rallied people to push back against those who enable or tolerate sexual harassment and assault.
Have You Heard cited their solidarity on the issue while apologizing to the band's fans.
"From our perspective at HAVE YOU HEARD?, being a mostly female managing team, we also do not condone misconduct or mistreatment towards women in any way, and hope that this incident will serve as a resounding message to others," the statement said.
Reached for comment, cofounder Kiratra Promsaka Na Sakolnakorn said the decision was made along with other promoters.
"Not only in Bangkok, but the shows have been canceled throughout Asia," Kiratra said. "It's an action to show that we don't support misconduct toward women."
Mondanile had publicly stated he had left Real Estate, a popular band that played Bangkok in February 2015, to focus on Ducktails, which began as a solo project and had grown into a full band.
Real Estate on Friday did not specify Mondanile's alleged behavior. In a statement, the band told Pitchfork:
"Matt Mondanile was fired in February 2016 when allegations of unacceptable treatment of women were brought to our attention. While we urged him to seek counseling at the time of termination, we are no longer in contact. We feel that any abuse of one's power or status to victimize another is completely unacceptable. We applaud the courage of the women who came forward to make us aware so that we could address the issue head on."
Attempts to contact Mondanile by email and social media weren't immediately returned. He hasn't been active on social media since Oct. 12.
Concert-goers who purchased tickets via a credit card or debit card will be automatically reimbursed within 30 business days. Those who paid through Ticketmelon must follow these steps to get a full refund within seven business days.
Related stories:
Real Estate Guitarist Brings 'Ducktails' to Blow Psych Pop Breeze in Bangkok