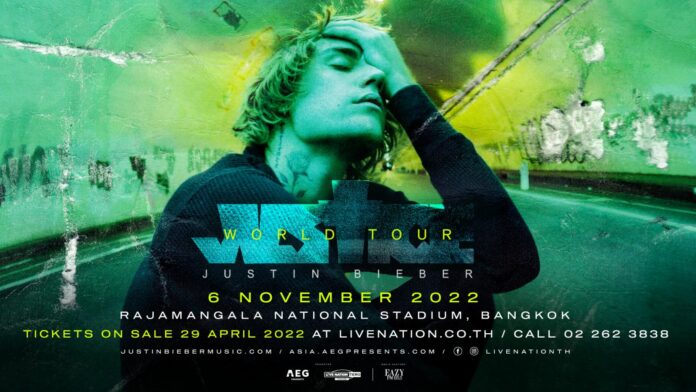 AEG Presents Asia and Live Nation Tero Entertainment announced Wednesday afternoon the delayed JUSTIN BIEBER JUSTICE WORLD TOUR BANGKOK, as well as concerts in the United States, Ireland, France, Poland, Australia, Denmark, and the Czech Republic, has been cancelled. 
"Customers who have purchased tickets can receive refunds through ThaiTicketMajor's 11 main outlets. Please contact ThaiTicketMajor call centre on 0 2262 3838 or email [email protected] if you have any questions.
Refunds will be available from March 6, 2023 until April 30, 2023," the firms said on its FB page.
"AEG Presents Asia and Live Nation Tero Entertainment deeply apologize for any inconvenience caused…"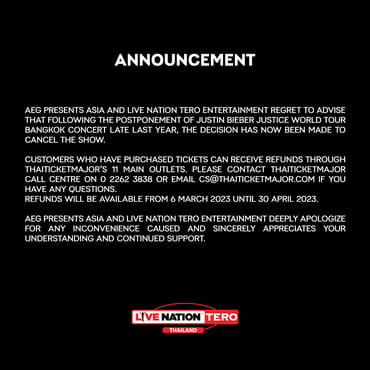 According to CNN, The artist and his reps haven't commented on the cancellations or given a reason.
Fans in London, where Bieber was originally scheduled to perform in February, received an email from events company AXS on Tuesday stating: "We regret to inform you that the Justin Bieber shows planned to take place at The O2 arena have been cancelled."
Bieber first announced that he would be taking a break from performing in June, one month after his tour began, due to having Ramsay-Hunt Syndrome, which left his face partially paralyzed.
The pop star then resumed touring at the end of July.
However, after going to Europe and performing six live shows, "it took a real toll" on him, the singer announced in a statement posted on Twitter in September.
He added that he needs to make his health "the priority" right now: "I'm going to be ok, but I need time to rest and get better."