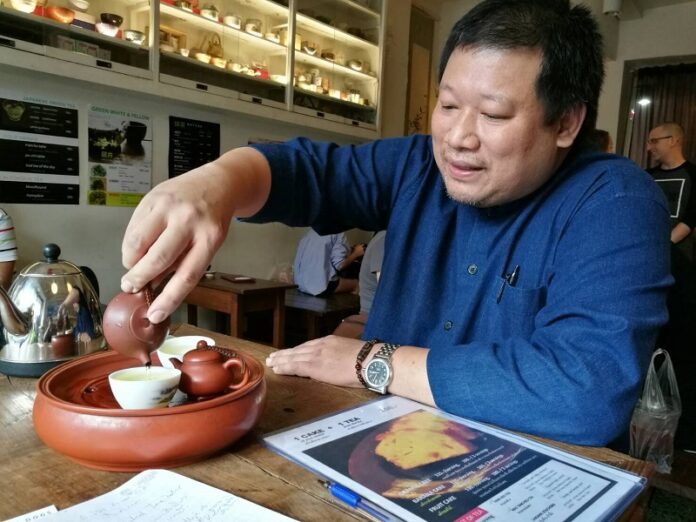 BANGKOK — The irony of Bangkok's Chinatown is that it's hard to find a tea house that specializes in brewing fine tea. There's virtually no competition on Yaowarat Road, with only one standalone shop house specializing in it – Double Dogs Tea Room.
Put it this way, there are more places to sit and feed on a controversial shark fin, or even good coffee, than places to sip fine oolong tea.
The unassuming place has an air of rustic beauty or wabi sabi, as it's known in Japanese. Outfitted with some old tables revealing a raw wooden texture, Double Dogs is run by a 46-year-old Thai-Chinese more concerned about offering a refuge from the hustle and bustle of the neighborhood with a few cups of fine tea than maximizing profits.
"At least it's self-sustaining," said Jongrak Kittiworakarn, the heavily-built man who co-owns the place of its financial viability. Jongrak said capitalism places profits at the center at the expense of identity for those who focus on doing whatever it takes in the name of revenue.
Jongrak is knowledgeable about tea and this comes from over two decades of passion for fine Chinese and even Japanese tea. The place opened five years ago but only became a proper tea house after the first two years, when Double Dogs phased out cocktails. It is now a place for fine tea and quiet contemplation set to meditative background music.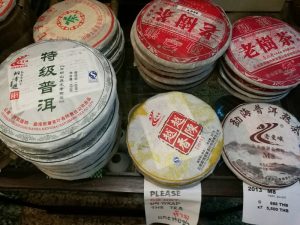 Seventy percent of customers are not Thai, said the co-owner. They are mostly Westerners, and some Japanese, Singaporeans and Malaysians, Jongrak said. Thai customers are mostly not from Chinatown.
"I set up this shop for those who are seriously into tea drinking," he stressed, pouring floral Tie Guan Yin tea from Fujian province from a tiny earthenware pot, designed to maximize the pleasure of drinking. "It's a pastime and aesthetic, like being a wine connoisseur."  
Double Dogs' range of tea starts at 150 baht per serving for one person and comes in a tiny Iching teapot with a stainless steel electric kettle of water. Uninitiated customers will be guided on how many seconds they should leave the hot water on the pot before pouring it to their tiny porcelain cup to sniff and savour.
Such methods of tea preparation and drinking, called called Gong Fu Cha, originated from southern China, particularly Guangdong and Hainan provinces. Chinese traditional cakes, Japanese rice cakes as well as Japanese green tea are also available. Selections range from Ripe Pu-erh tea from Yunnan province, which is an aged brick tea (earthy and strong, with an aroma reminiscent of earth after rain) to highly drinkable Shui Hsien from Fujian province, which is light in structure and floral in fragrance.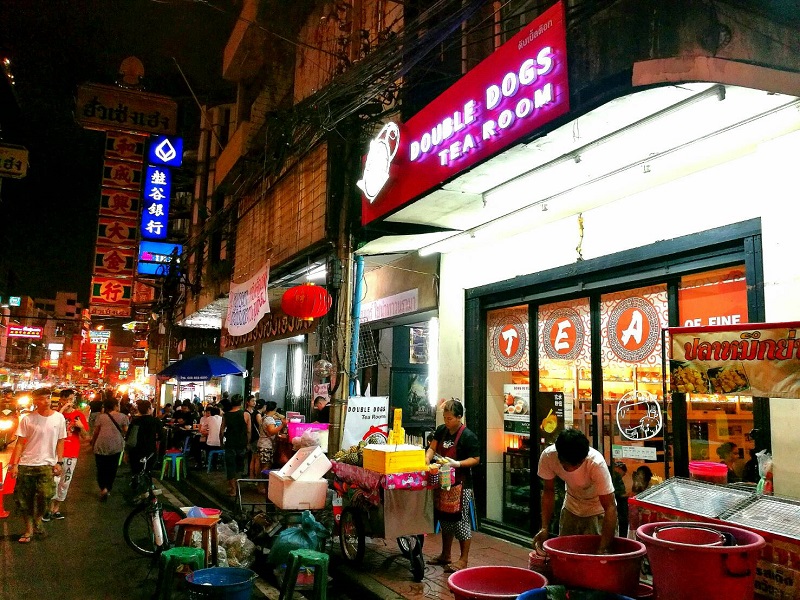 Jongrak, a bio-chemist by training who lectured at Mahidol University for 10 years before quitting, isn't hoping to make fine tea the next big thing. He believes fine Chinese tea will remain a niche market in the country. His shop has just half a dozen tables and can accommodate no more than 20 tea drinkers at a time. The quality of tea also means the price cannot be cheap, and that will itself act as a barrier to some consumers.
"It's like wine drinking. Do you drink for the pleasure of it, to get drunk, or because of the logos?," he said. "If you drink for pleasure, it will always be a niche market as opposed to mass consumption that needs to be popularized."
Commonly consumed tea, insisted Jongrak, is "low quality tea."
"It's almost impossible to discern any quality by drinking it," he noted.
Double Dogs Tea Room is open 1pm to 9pm from Monday through Thursday and 1pm to 10pm on weekends.