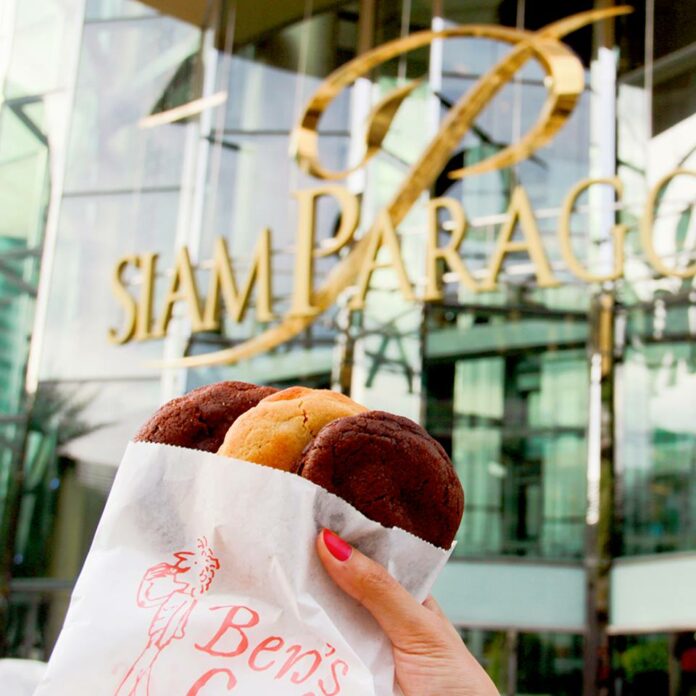 Update on June 19, 2017: In a Facebook post Sunday night, Ben's Cookies Thailand Facebook page revealed that the branch opens Monday.
BANGKOK — An English cookie company announced its next international branch will open in Bangkok to the delight of dessert fans.
In a post on their Facebook page Friday night, Ben's Cookies posted several photos of Ben's Cookies being held up to the Bangkok skyline, captioned "Can you guess where we're opening very soon?"
In an update Wednesday night, the Facebook page revealed the branch will open in June at Siam Paragon.
Known for its cookies embedded with chunks rather than chips of chocolate, Ben's Cookies is best known to Thais as a popular carry-on item from trips abroad or as indulgent snacks to those living overseas in the United Kingdom, Singapore or Japan among others.
Pricing information is not yet available, but these cookies don't come cheap. They sell for GBP17 per kilogram in the United Kingdom, with an average-sized cookie costing GBP1.45 to GBP1.70 (63 baht to 70 baht). Comparatively, American brand Mrs. Fields sells their smaller cookies for 39 baht.
Ben's Cookies was founded in 1983 in Oxford.
"I'm looking forward to buy it in Bangkok. Welcome to Thailand 🍪🍪🍪," wrote Facebook user Mam Gristsana.