BANGKOK — Chinese signs dominate both sides of the road along which shops cook up fiery Szechuan mala hot pot, mapo tofu, tender pork dishes from Yunnan province and northern-style gyoza.
Except it's not Yunnan – nor is it even Yaowarat Road. Far from Bangkok's rapidly gentrifying original Chinatown, a new hub of Chinese businesses and culture has taken root on a half-kilometer strip stretch of Pracha Rat Bamphen in the capital's Huai Khwang district.
On Monday, my Mandarin-fluent friend Sa-nguan Khumrungroj and I chose Fu Wah Restaurant, a simple eatery near Soi Pracha Rat Bamphen 6/1. Sa-nguan said someone had recommended the place. It was about noon when we ordered three dishes: omelette with prawns, braised pork belly in soy sauce and dry fried string beans with minced pork – a popular Szechuan dish (it proved tasty but a tad too oily).
The fare found in this "New Chinatown" is attracting curious Thais to wine, dine and explore unfamiliar cuisine from regions not traditionally represented in Thailand by earlier waves of Chinese migrants.
Fu Wah is among older establishments predating the emergence of "New Chinatown," a designation disputed by Sa-nguan.
As we strolled along the strip, Sa-nguan that he doesn't think the place can yet be called New Chinatown as there are no visible civic spaces, such as the various ethnic and clan associations found in Bangkok's original Chinatown of Yaowarat. There's also no shrines or temples, and no Chinatown Gate, said Sa-nguan, who himself is Thai-Chinese.
Sharing his assessment is Chada Triamvithaya, who has researched Chinese migration to the area. Chada, who works at Chulalongkorn University's Asian Research Center for Migration, prefers the term "Chinese hub" – at least at this stage development.
"It's not Chinatown yet. That requires a settlement. It should rather be called a hub. During Chinese new year, this place is quiet as people return home. In Yaowarat, there're associations while here there aren't," Chada said. "The ties to Thailand are also feeble."
In the past two decades, Chinese from Taiwan and Hong Kong have moved in for the reasonable rents, easy road access to other parts of town and proximity to the Chinese embassy. This was so even prior to the existence of the MRT subway system and arrival of mainlanders who've solidified its identity as a Chinese enclave.
Most people came to make money quickly in Thailand, Chada added, rather than flee famine or communism as earlier waves of migrants had.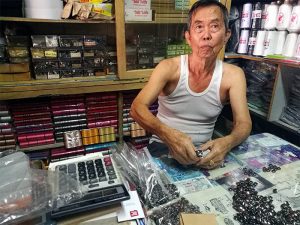 Walking along the half-kilometer strip with Sa-nguan on Monday, we saw about a dozen or more hot pot restaurants. No tea house to sample fine kungfu tea was visible, however. A few shops selling cosmetics or natural rubber pillows or advertising Thai massages could be found. About 75 percent to 80 percent of the establishments along the road are geared primarily toward Chinese mainland customers.
Chada said the area's growth has been most noticeable in the past two years. Some young Thais who went to study in China sometimes drop by to eat the food they missed, such as mala hotpot or Northern-Chinese gyoza.
The area has also become a center for Chinese-language teachers sent by Beijing as part of an intergovernmental program between both nations' ministries of education.
The number of such language teachers rose exponentially over a decade, from 100 in 2003 to 1,800 in 2013, Chada said.
At an old shop house near Soi Pracha Rat Bamphen 6/2, Somchai Euasiriphan sells tailoiring supplies including threads of various colors.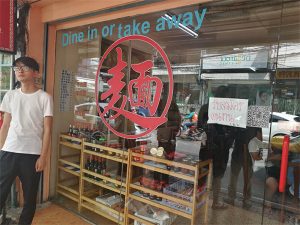 Somchai, who is Thai-Chinese, has been selling such wares for more than four decades. The irony of how the place has changed is that the 75 year old has no real contact with it. The Chinese mainlanders overwhelmingly speak Mandarin. He doesn't.
"They sell their stuff, and I sell mine," he said, packing his merchandise. "How can I communicate with them? I don't speak or understand. I don't talk with them, and we just carry on our own businesses."
Somchai got caught in a debate with Sa-nguan about calling the area New Chinatown. Somchai said despite its differences and separations from older Chinese communities, people have been calling it New Chinatown as its appearance has undergone a radical transformation in the past two years.
"Who am I to argue? They call it 'New Chinatown,'" Somchai said.
Back at Fu Wah, we ordered two bottles of "699 apple drinks." This is no apple cider or even apple juice but rather a drink supposedly made of 7.04 percent brown sugar, 1.1 percent honey, 5.5 percent apple vinegar and 86.3 percent water.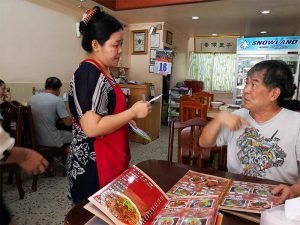 At 30 baht a bottle, the drink – which was actually made in Chiang Rai's Mae Sai district, just south of China's Yunnan province – is supposed to be a health drink to boost your immunity and assist digestion and detoxification. This is the nice thing about New Chinatown: the chance to try something new.
I can't in good conscience recommend Fu Wah, however. After the meal I went to the restaurant's bathroom on the upper floor only to find a tank filled with a few white snappers waiting to be turned into someone's meal swimming in a fish tank next to the toilet bowl itself.
By then it was too late to not pay and somehow couldn't throw up what I'd already ingested. At least I got a unique photo souvenir – as opposed to the mundane location of such fish tanks in front of restaurants in "Old" Chinatown.
As I stated earlier, New Chinatown is about discoveries.
New Chinatown can be reached via a one-minute walk from MRT Huai Khwang's exits No. 1 or 2.