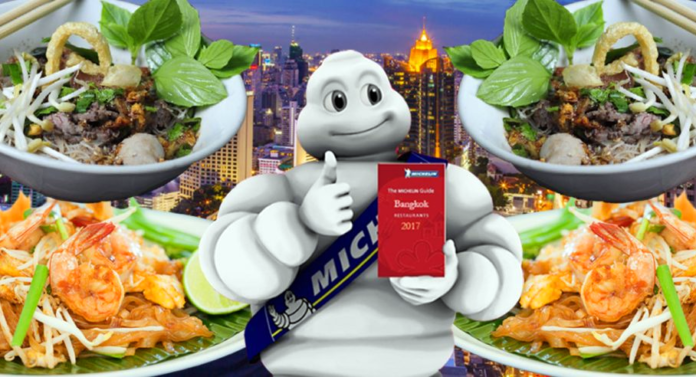 BANGKOK — A humble but pricey street food restaurant in old Bangkok received one Michelin star in the first ever such award given by the famous French culinary guidebook.
Jay Fai, a humble restaurant located at a shop house in Pratu Phee area near Mahakarn Fort was among the 14 restaurants accorded one Michelin star. No restaurant in Bangkok received three stars. Three accorded two Michelin stars were familiar names: Indian favorite Gaggan, the famous Le Normandie restaurant at The Mandarin Oriental Hotel and Mezzaluna at The Lebua.
The restaurants will be honored at an awards ceremony beginning at 7:30pm tonight at the Siam Kempinski Hotel and streamed online.
Other 1-starred restaurants included famous Thai restaurant Bo.lan, Elements at The Okura Prestige, Ginza Sushi-Ichi, Chim by Siam Wisdom, Nahm at The Como Metropolitan, J'AIME by Jean-Michel Lorain.
Read: Does Michelin Guide Mean Farangs Can Judge Thai Food?
L'Atelier de Joel Robuchon, Paste, Saneh Jaan, Savelberg at The Oriental Residence, Sra Bua by Kiin Kiin at The Siam Kempinski Hotel, Suhring and Upstairs at Mikkeller also received one star each.
"Cook like a mother would for her children… always use and choose the best ingredients," Chef Thaninthorn Chantrawan of CHIM was quoted by Michelin online Wednesday afternoon.
"It's important to preserve complexity and uniqueness in Thai flavours," chef BGee Satongun of Paste Bangkok was quoted.
Absent was the famed Blue Elephant restaurant. The dark horse was by all means Jay Fai, a humble, non-air conditioned restaurant serving dishes like crab omelettes at the rather steep price of 800 baht. It's shrimp or mixed seafood raad-nar (noodles with thick gravy) goes for 380 baht a plate. A mixed seafood tum yam gung noodle also goes for 380 baht. A middle-age Thai-Chinese woman by the name of Jay Fai, or "elder sister mole," named after a visible mole on her face, is the only chef doing her wok wonders at the restaurant. Jay Fai is open from 3pm to 2am every day except Saturday, making it suitable for not just diners but drinkers out on the night.
A review on Pantip.com praised its food but many asked why it's so expensive for a street food restaurant.
Definitely expensive but also one inclusions Bo.lan on Soi Sukhumvit 24 is better known and always expected to be a worth at least a star as chefs Duangporn "Bo" Songivsava and Dylan Jones are celebrities themselves.
Gaggan, an Indian restaurant on Soi Langsuan featured in a Netflix episode of the Chef's Table food documentary series has been a repeat winner of the Best Restaurants in Asia by Restaurant magazine.
Additional reporting Asaree Thaitrakulpanich
Related stories:
Does Michelin Guide Mean Farangs Can Judge Thai Food?
Star Power: Michelin Guide Coming to Thailand
Popularity and Profits: Bangkok's Chefs Anxiously Await 'Asia's 50 Best'