Top: Clockwise from left, enchiladas (฿399), burritos (฿299) a half quesadilla (฿299) and chicken tacos (฿299).
A new taqueria with full vegetarian options hopes to be a new fuel stop for tourist and expat passers-by.
Although Cali-Mex Taqueria doesn't deliver the dirt-cheap, guilty calories of an LA food truck, its creamy guac and share-worthy tacos make it a worthwhile and convenient pit stop for sabor mexicano at the corner of Silom and Surasak roads.
After ordering and paying at the cashier, customers edge along a counter and watch energetic servers wrap their burritos and drizzle fixings on their nachos. The experience is akin to Chipotle or Subway, or even udon chain Marugame Seimen.
"I don't think burritos at other Mexican places in Bangkok are as big as mine," Krongkan Aiemwattanaphong, 24, said from behind the counter.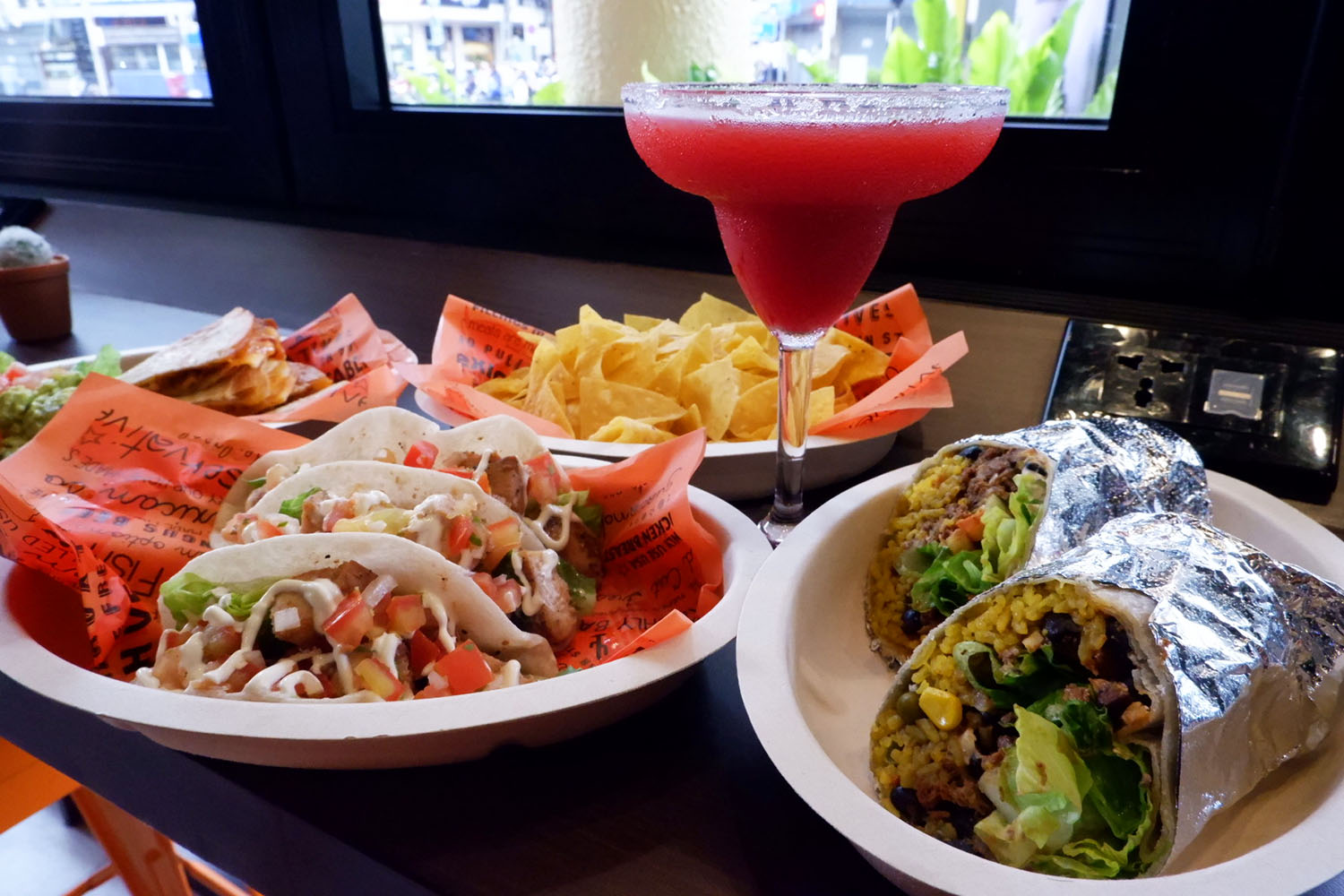 Cali-Mex is actually a Hong Kong-based chain that opened 20 chains there within three years. In Thailand, they hope to see the same explosive growth. This branch, connected to the Holiday Inn Silom, is their second. The first, in Soi Sukhumvit 22, opened in July with a full-service restaurant serving cocktails and tableside beer taps. A third opens in December in Soi Sukhumvit 11.
Keep in mind that the taqueria itself isn't huge – the space behind the counter is just enough for the employees to grill and wrap tacos with ready-made sauce mixes to be served on biodegradable bowls with plastic cutlery – it's not a wine-and-dine place with a full kitchen.
Ordering from the simple menu is easy. There are six main dishes: burritos (฿299), a set of three soft or crispy tacos (฿299), nachos (฿349), quesadillas (four pieces for ฿299, eight for ฿499), classic or ceasar salad (฿199) and enchiladas (฿399).
Then, pick a filling: chicken, pulled pork, beef (an additional ฿79) that is either minced, angus steak or barbacoa beef. Seafood option are baja fish (+฿99), shrimp (+฿99). Every dish can be made vegetarian with mixed beans, spinach and mixed vegetable fillings, or even vegan with the Venice Beach Vegan (+฿99) filing, which includes sweetly grilled broccoli, vegan cheese and sour cream.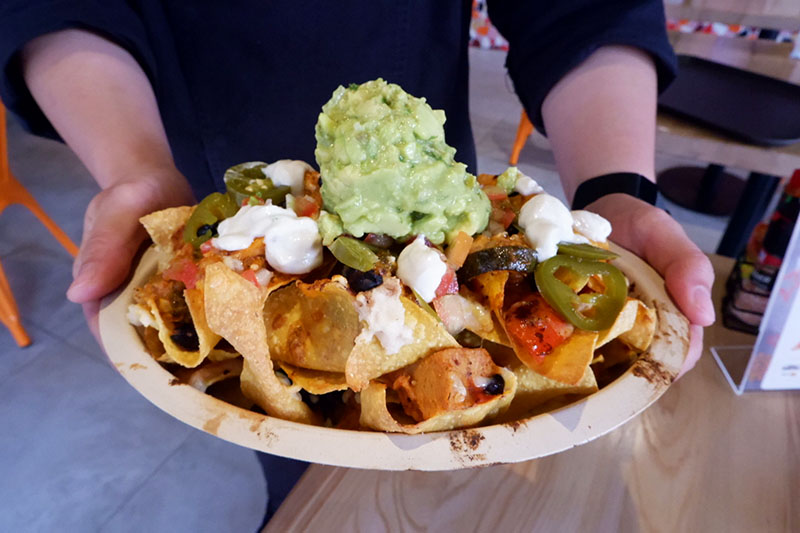 Try the quesadillas with pulled pork, tacos with chicken and enchiladas with angus beef, all good with the creamy guac. Chunks of chicken and beef in tacos and enchiladas are impressively generous cubes, and the Venice Beach vegan filling surprisingly full of crunchy zucchini, textured vegetable protein and bell peppers.
On a recent visit the burritos were too laden with rice and the caesar salad piled with too much under uninspiring Romaine. The tad-bland breakfast bowl (฿299) was a glob of eggs, black beans and hash browns fit for food-coma comfort or those homesick for one-note American diner fare. Discerning palates may be left disappointed.
Unlike those in Hong Kong, the Thai Cali-Mex stores add a fourth level of watery salsa: Super Hot. But it's not really that hot to the Thai tongue. Refreshing frozen margaritas (฿229) come in classic and strawberry are very sweet with a strong kick courtesy of the Olmeca tequila.
Meals work out to about ฿300 to ฿600 a head for a stuffed-full meal, depending on alcohol intake. To snag tacos at lower prices, come in between 9am and 3pm on weekdays to get the lunch specials: 10-inch burritos, half quesadillas or tacos for ฿199.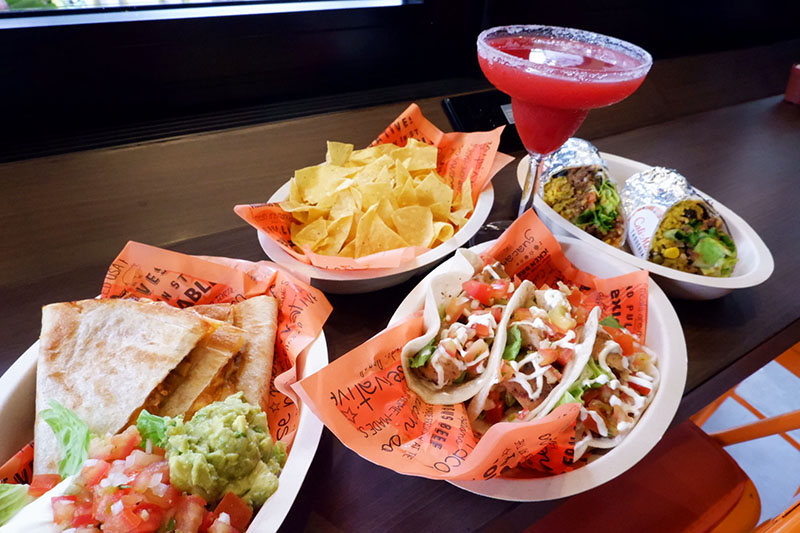 On the whole, dishes are flavorful enough to satisfy both Thais and expats alike, but play it very safe in the taste range, much how you'd expect Asian-made commercial Mexican food to be, with nothing excelling beyond the "I guess it's good" range or wowing the foodie who's looking for a daring dash of cilantro.
A short walk up Silom Road is the Hindu Mariamman Temple, and Krongkan says the taqueria is already proving popular with Indian expats, other expats and tourists as well as flight attendant types who come to rest at the Holiday Inn.
Cali-Mex Taqueria is open 9am to midnight every day. It's one kilometer from BTS Surasak exit No. 1, and is partially obscured from street view by the Punpun bike share station outside the Holiday Inn. Delivery is available through Food Panda.