Photos by Chayanit Itthipongmaetee
Top: Spicy Yuzu Tonkotsu Ramen (฿320).
A citrus fruit comes front and center in a ramen shop that tries to give traditional Japanese dishes a zesty Thai kick.
Open almost two months, Yuzu Ramen in Siam Square attempts to inject the zest of the yuzu fruit into mild-mannered Japanese dishes to appeal to spicy Thai tongues, with largely acceptable results.
"I like yuzu so much that I bought the recipe and adapted to be more zesty and modern for Thais," owner Poramin Pruangmethangkul, 26, said. "And I didn't want to make a traditional Japanese shop. I don't want it to be boring, but to have a Shinjuku, Brooklyn kind of vibe."
Choose the spiciness levels and noodle type for your dish, such as the signature Spicy Yuzu Tonkotsu Ramen (฿320). Although it's pushed as the star dish, there's only a nasal hint of yuzu in the aftertaste, which it tries to make up for with milky, spicy soup. Opt instead for the more refreshing Yuzu Tsukemen (฿320), where you dip noodles and pork slices into a bright-orange broth. The Truffle Ramen – though filled with truffles mixed into the broth and on top – is still an unrealistic ฿790.
Appetizers aren't just pushed-aside dishes either, with the Spicy Tuna Tartare (฿290) a fusion food done right – possibly better than most of the ramen dishes. Tuna cubes are mixed with crunchy yellow radish and crispy tempura flakes, drizzled with a satisfying spicy mayo-like sauce. Wrap a spoonful into a sheet of nori, and enjoy the varying flavors.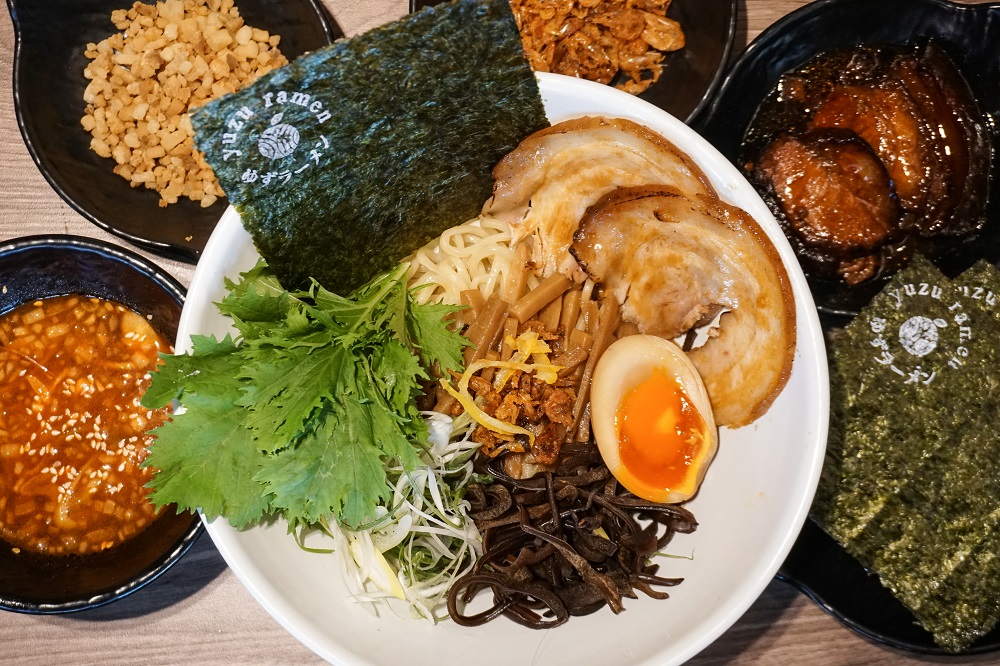 The gyoza, with pork, taro and purple potato fillings (฿140 for 6 pieces) are small but crunchy and add a playful purple tinge to regular gyoza. The Agedashi Tofu (฿130) is crispy on the outside but soft, white and wiggly on the inside and topped with a generous heap of bonito fish flakes.
Although they're ฿135 and ฿140 respectively, the Yuzu Honey Soda and Yuzu Honey Slushies are must-orders. Cutting through the creamy oiliness, the drinks might be the most yuzu thing there.
The rice dishes, such as the Teriyaki Glazed Chashu Over Rice (฿130), aren't the stars of the shop. Although sweet, fatty and filling, it's not so unique from other Japanese restaurants.
The shop imports most its products – the yuzu and seaweed from Japan and the truffles from France. On the other hand it's not exactly an ad for sustainability and local sourcing.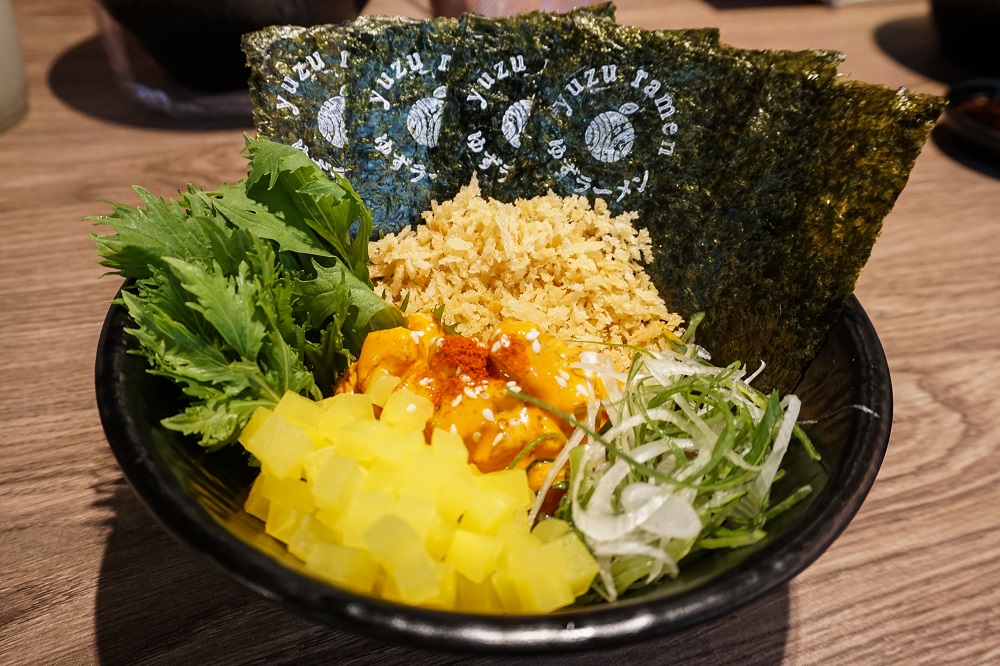 Vegetarians can try the Yuzu Shoyu Ramen (฿320), Shoyu Ramen (฿220), Yuzu Tsukemen (฿320) and Zaru Soba (฿260) – just ask for no meat with your order.
The interior is decorated in a Japanese-street style and plays music of the same genre. The walls have a Heian period-style mural and lanterns. Half the shop has individual booths where solo diners can eat undisturbed, but the dividers can be folded to chat with the person beside them.
"Thai people like to eat together, so I made the booth divider foldable," Poramin said.
Yuzu Ramen is open from 11am to midnight every day. Located in Siam Square Soi 3, it's reachable via BTS Siam.