The amuse-bouche arrives, a half-open egg served in a nest of straw. The delicate shell cups layers of flavor: caramelized naam pla and jaggery palm sugar, a sous vide egg yolk, cilantro puree, fried chilis, chili oil, shallot cream, tamarind sauce and a tiny tamarind sprig.
Stirred up thoroughly, the creamy, golden fillings become a divine version of common street dish kai look koey, which usually consists of fried, hard-boiled eggs swimming in tamarind sauce. Wash it down with a refreshing, black tea kombucha.
Street food is reimagined and hard-to-find rural food uplifted to artform by Chef Sujira "Aom" Pongmorn in 10 courses at Saawaan, which earlier this month picked up a Michelin star.
"Koi plaa is just like tartare, but Thais give more importance to the farang one, because the Thai one is hard to find and only eaten in village communities," Aom said. "Why can't it be high end or hiso? These dishes are already the queen of the streets. I want to put a crown on them here."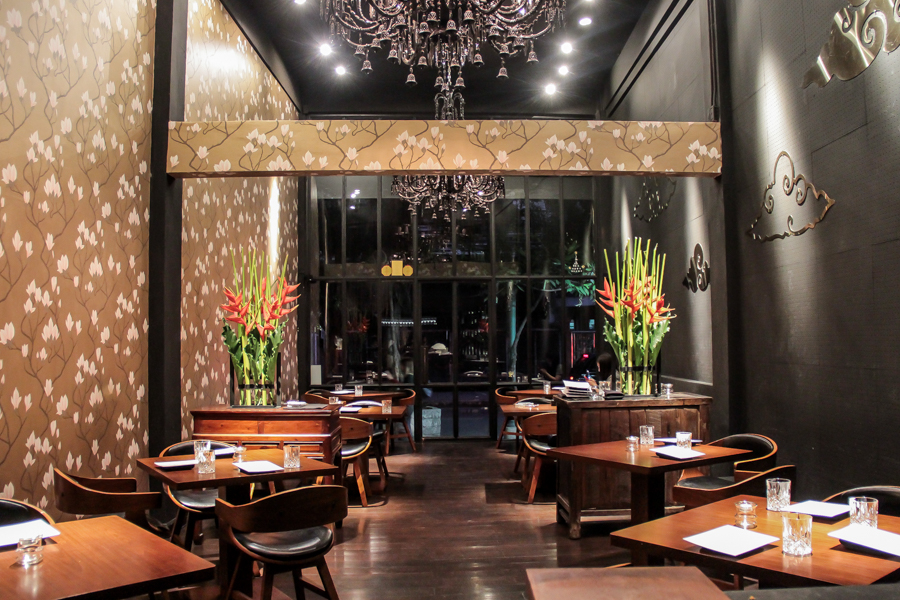 Saawaan is one of nine new Bangkok restaurants to get the Michelin nod with a single star. It serves a 10-course set designed by Aom, a Bangkok native. For her, reinterpreting common street and rural fare is rebuilt as dishes in small portions at fine-dining prices isn't pretension. It's elevation and national pride.
Heaven's Fare
In the increasingly tiny sois of Suan Phlu Road just off Sathorn, look beneath the hanging roots of a shade tree to find this slice of haute Thai cuisine. The facade is a black grid of mirrors, and inside the "heaven" (saawaan) theme is carried by a black-and-gold motif of clouds and flowers. Seating a maximum of 24 per night, it was fully booked out to mid-December when we attended a post-Michelin media event to sit down with Aom and try some of her dishes.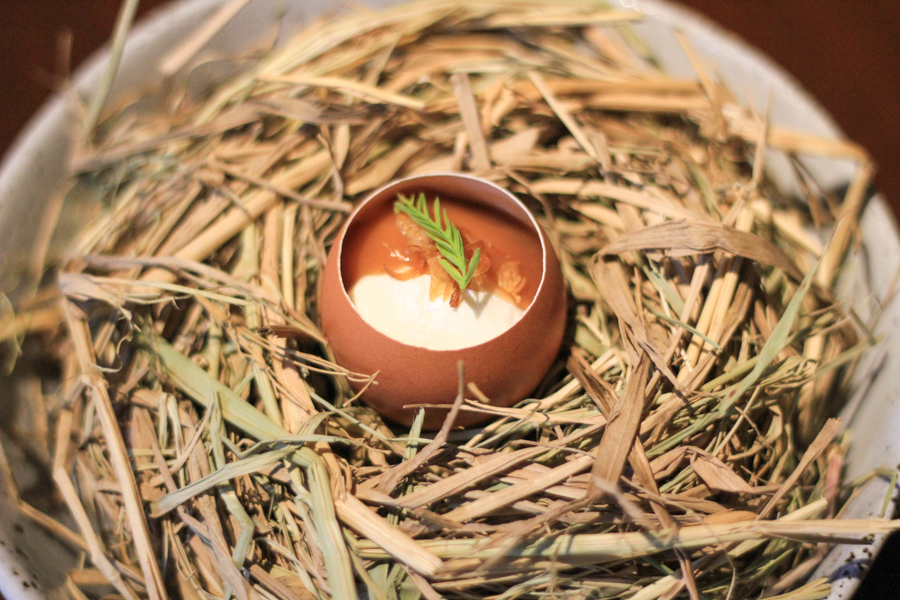 The 10-course meal with the amuse-bouche and petit fours costs 1,950 baht. Adding selected wines costs an additional 2,350 baht and a teas are 680 baht. Each course is named after familiar Thai cooking methods – Raw, Dip, Fermented, Steamed, Stir-Fried, Charcoal and so on.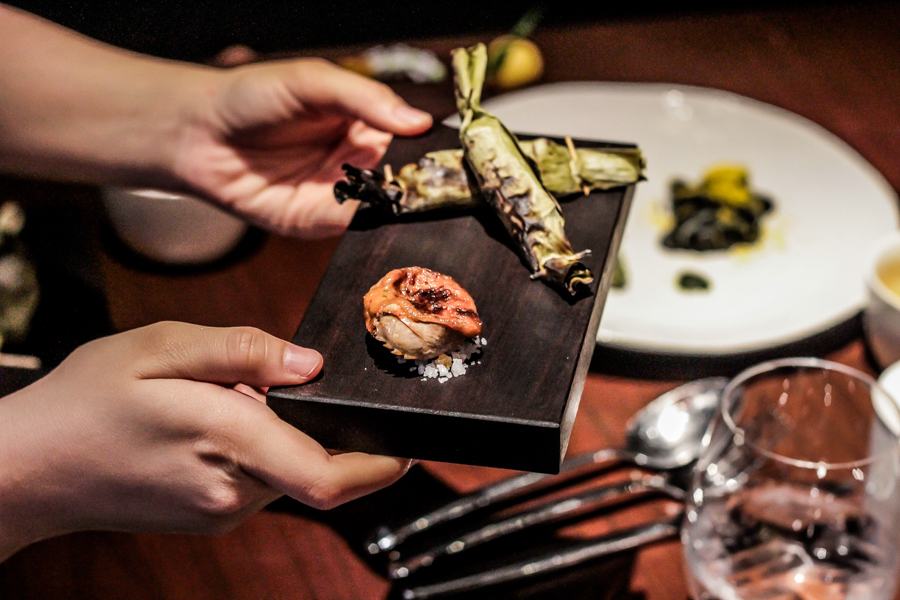 Inspired by a trip to a rice plantation where she saw farmers grilling and eating paddy crabs, Dip is a grilled paddy crab full of oily crab juices. Twist coconut milk-toasted sticky rice out from leafy husks to scoop the orange meat from the crab's body. The paired Chiang Mai green tea is a bitter seaweed-flavored palate cleanser.
"At the farm, I smelled it first. I wondered, what was so good? It was the grilled crabs they were eating with sticky rice as their break food," Aom said. "Thais are so familiar with rice but not with what rice farmers eat, like the paddy crabs that live in the rice fields. I didn't want Dip to be what people expected from a Thai dish with dip, like a chili paste."
The common squid krapao dish here becomes "Stir-Fried" – but don't expect the usual rice and spicy, stir-fried squid with mushrooms and holy basil topped by crispy, fried egg.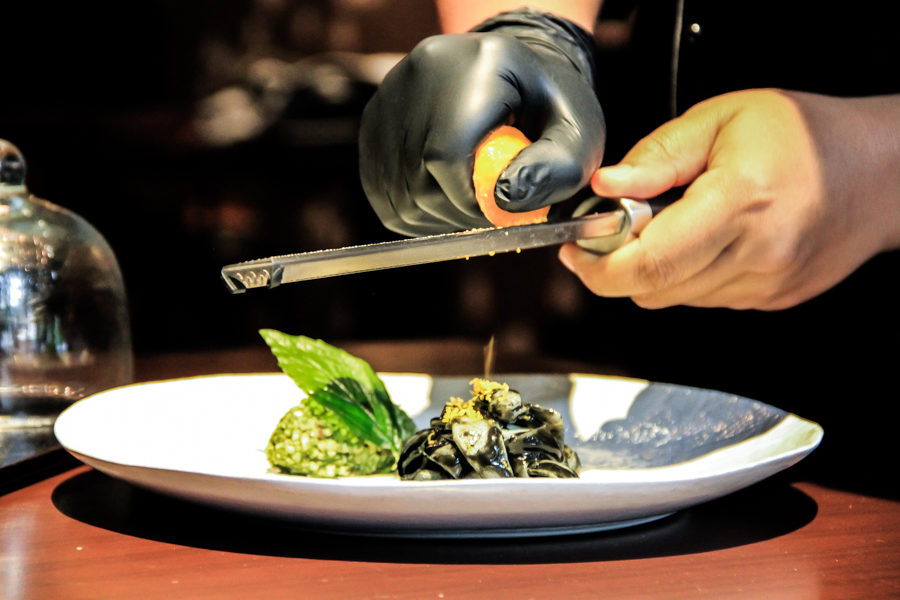 Instead, squid from Songkhla is cut into fettuccine-thick strips then stir-fried with black squid ink and holy basil. A mixture of oyster mushroom and basil sits nearby, and "Thai pesto" – a concoction of common kitchen veggies – dot the plate. Instead of a fried egg, find cheese-like flakes of dried, fermented duck's egg grated on top. Mix everything together and the familiar twangs of krapao are all there for a pleasant surprise that a routine lunch dish can be revamped for fine dining.
Thais are so familiar with rice but not with what rice farmers eat
"I want to present dishes that Thais often overlook because they're inexpensive or common," Aom said. "It was a real challenge to deconstruct something people are so used to."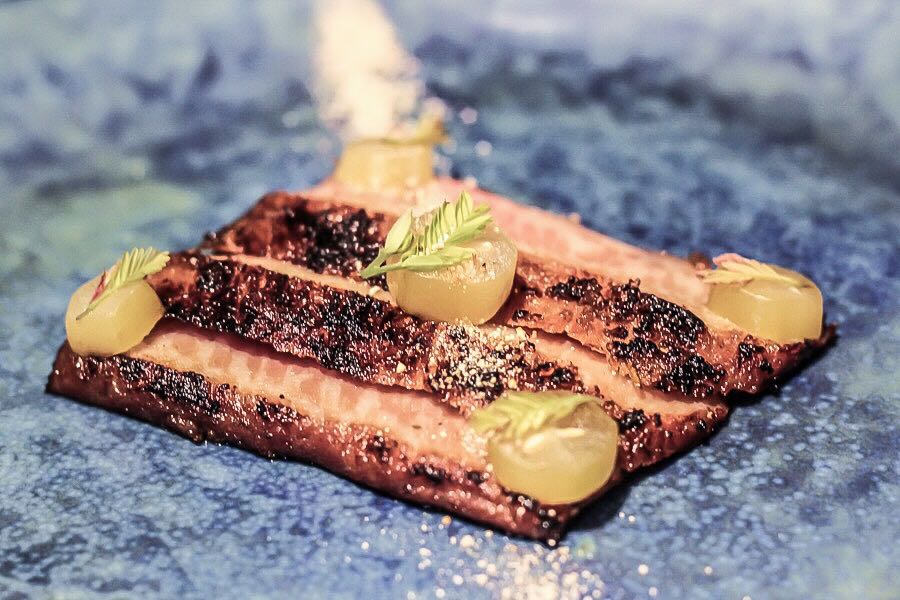 Similarly, the Isaan khor moo yaang dish of grilled pork, usually eaten with somtam or larb, get the Saawaan treatment. Aom presents slices of grilled iberico pork neck topped with five lumps of fermented bilimbi slices and tamarind shoots, all garnished with toasted ground rice. Of all her courses, it's probably one of the most gut-satisfying and comes well-paired with a clear white tea.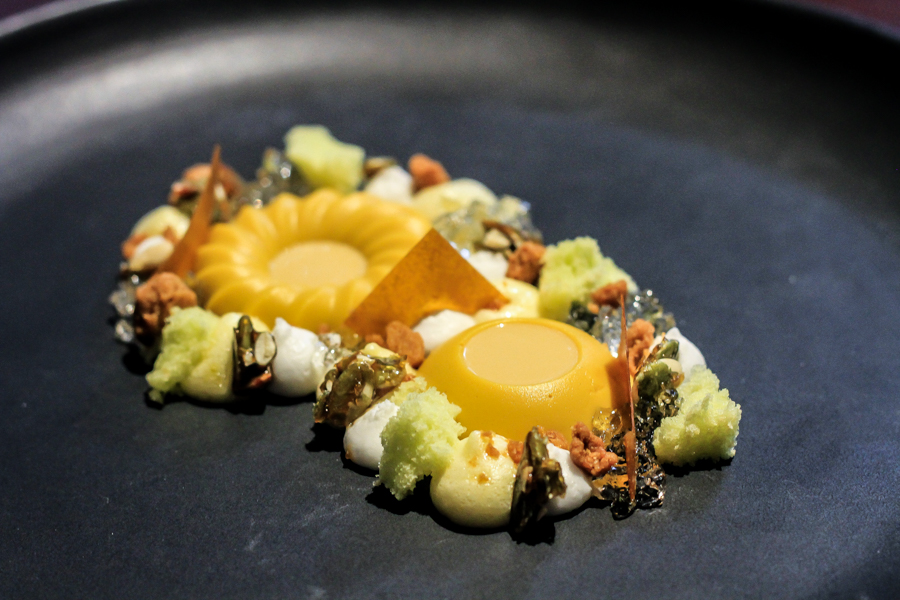 The desserts are by pastry chef Arisara Chongphanitkul: Two pools of pumpkin custard surrounded by bits of pandan chiffon cake, tangerine foam, coconut rum jelly and pralines. All together it makes for a tropical and buttery variety of textures. The petit fours are three: a sour orange mousse, a piece of durian chocolate and a magnolia-flavored meringue leading to a passion-fruit filled envelope of dried mango.
They're a delightful crash course in the best of Thai desserts, without the flour or sugar overload common to everyday Thai sweets. Teetotalers get a delicate, chilled oolong from Chiang Mai.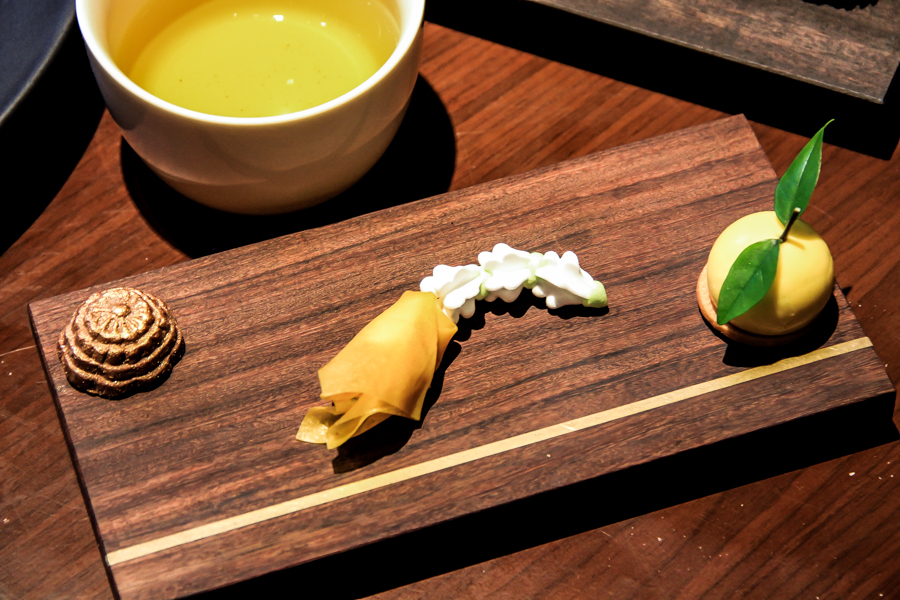 Aom says she's been pleasantly surprised that the turnout for high-end Thai food has included Thais.
"I thought only farangs would be interested in Saawaan, but it turns out half of my customers are Thai," she said. "I want to show that what they overlooked is something respectable too."
Why can't it be high end or hiso? These dishes are already the queen of the streets. I want to put a crown on them here
Although the dishes are certainly creative and delicious, those averse to the pretenses of fine dining or burnt out on its fetishizing of street food may pass on Saawaan. Tea drinkers may not be wowed by the six paired cups, only a couple of which are memorable.
Chef Aom
Despite the pedigree of her dishes, Aom isn't from the supercar and Lacoste set. She's a born-and-bred Bangkokian with a high school degree and extensive culinary training. This year, she's one of six female chefs to become Michelin starred.
"I'm so proud that women are showing that they can really 'run the world,'" Aom said, putting the last three words in English, fist in palm. "Before, people thought women couldn't be chefs in a big kitchen, but we showed that we be leaders through hard work."
Aom's first brush with cooking came at 6 when her father, home sick one day, guided her through cooking a fried omelette over coals by hand.
"We both ate it, and my dad said it was yummy. I don't know if that was true, but I thought, 'Hey, I can do this too!'" Aom, 32, said.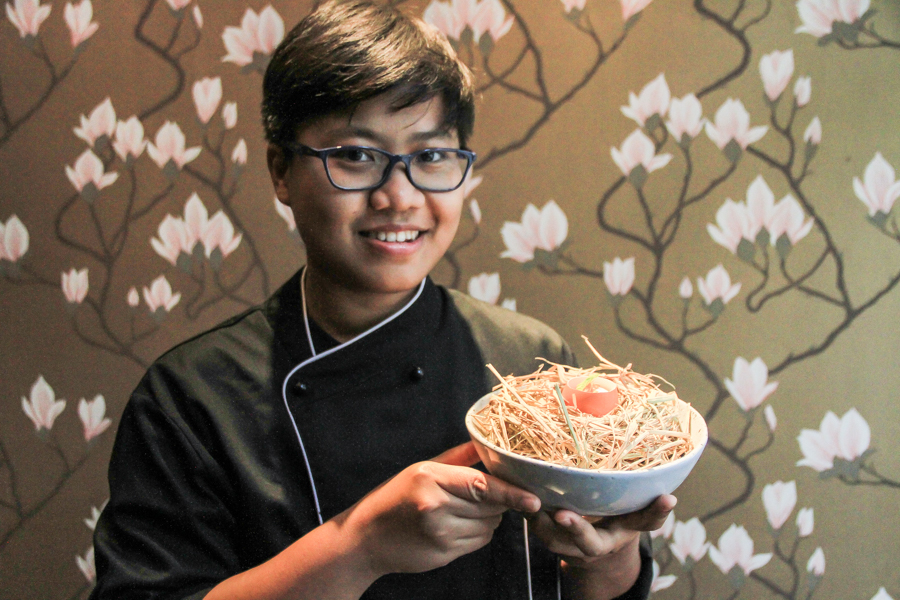 Departing from the ranks of doctors, lawyers and engineers in her family, Aom went straight for food training as soon as she graduated high school at 18 to go an apprenticeship program at the Mandarin Oriental for a year before working at the hotel for four years.
"I knew since I was a kid I wanted to go into the culinary career. I didn't need a bachelor's degree. At first, my family didn't agree," she said. "I was taking a different path, an artist's path. But when they saw I was serious and successful, they accepted it."
I went right up to the stove and started cooking and showed them
Bouncing around high-end restaurants such as the Sra Bua, Issaya Siamese Club, the W Bangkok Hotel and even a tea retailer, Aom collected experience. Her original European cuisine training at the Oriental was augmented by knowledge of molecular cuisine and Thai food at Sra Bua. She learned to pair teas with food while at TWG Tea.
"At Lord Jim's at the Oriental, the kitchen was almost all men. There was just one other woman. The pressure was on. They didn't think we could do stove work. But I went right up to the stove and started cooking and showed them," Aom said.
The next step came in June 2016 with the opening of Baan Phadthai. The casual, retro pad thai place on Charoen Krung Road 44 received a mention in the 2019 Michelin Guide in the form of a Bib Gourmand award – a special mention by the guide recognizing less spendy eats.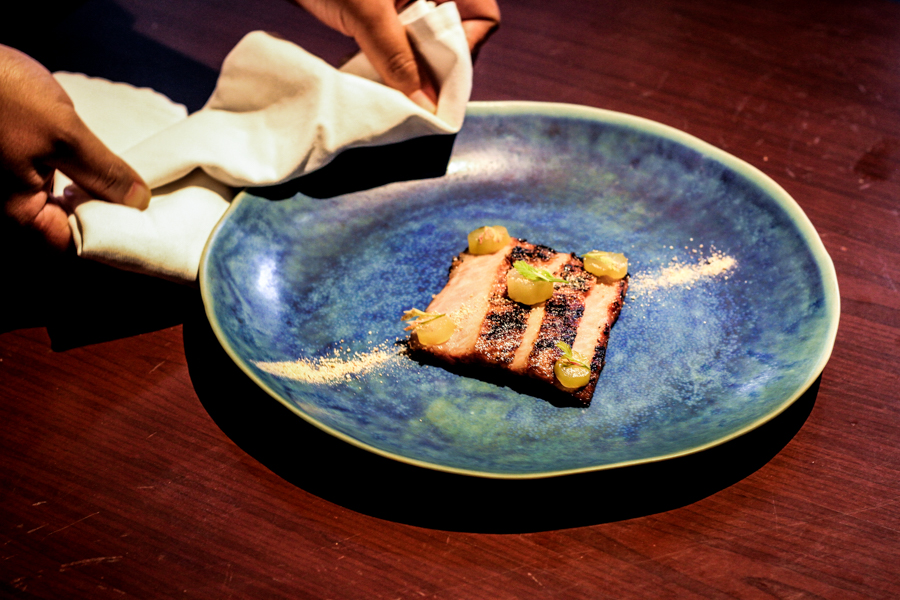 But it was Saawaan's April opening that drew upon all of her experience.
Aom said the Michelin inspector who came to her restaurant did so invisibly.
"They came and went anonymously. Even now I don't even know when they came. I only knew it when I got an invitation to go to the announcement event," Aom said. "I had a little hope that I might get a star, but I didn't want to assume it because I'm not a big name in the business."
Saawaan is open 6:30pm to 11pm every day except Tuesday. Last orders are at 9:30pm. The restaurant is on Suan Phlu Road, reachable by a short motorbike ride from BTS Chong Nonsi or MRT Lumphini.
Photos by Chayanit Itthipongmaetee